Japan reports a record number of Chinese ships near contested Senkaku Islands
by
Caitlin Doornbos and Hana Kusumoto
December 3, 2019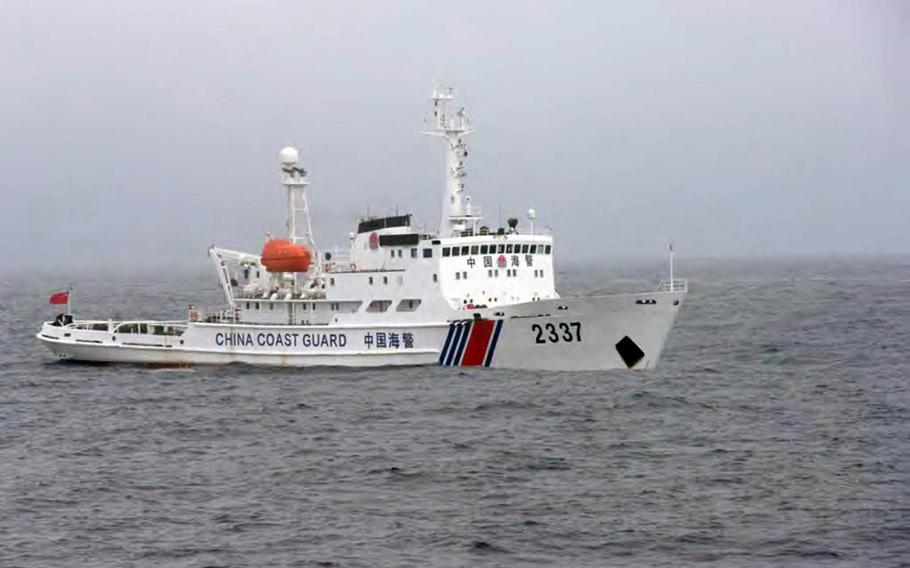 TOKYO — China has sent a record number of its ships this year past an island group in the East China Sea whose control it disputes with Japan, according to the Japan Coast Guard.
As of Tuesday, 1,007 Chinese government ships had been spotted in the contiguous zone of the chain known as the Senkaku Islands in Japan and the Diaoyu Islands in China, the coast guard told Stars and Stripes. That's an increase of more than 18% from the previous record of 819 Chinese ship sightings in 2013.
The coast guard said the vessels include any that belong to the Chinese government, including navy and coast guard ships.
A contiguous zone is the 12-nautical-mile area between the outermost edge of a state's territorial waters and international waters, according to the United Nations Convention on the Law of the Sea.
The two countries for decades have disputed sovereignty over the uninhabited group of five small islands and three rocks that amount to 2½ square miles of dry land southwest of Japan and east of Taiwan. Though the islands are barren, the seabed around them is thought to contain large reserves of oil and natural gas.
The islands were "generally accepted as being Japanese-owned" until December 1970 when Beijing declared they were "part of 'China's sacred territory,'" according to a declassified CIA intelligence report.
This year China sent its vessels into the contiguous zone for the longest stretch on record. Chinese ships were seen in the zone for 64 consecutive days between April 12 and June 14, according to the Japan Coast Guard.
A spokesman said the coast guard will continue to deal with the issue "calmly with fortitude" and continue to protect Japanese waters.
It is customary for Japanese government spokespersons to withhold their names from press reports.
The coast guard is the primary agency in charge of policing Japanese waterways and can call the Japan Maritime Self-Defense Force for help if necessary.
Japan in September announced plans to create a police unit dedicated to the Senkakus. The force, which would be separate from the coast guard but likely work with the service, will be trained in border security tactics and deploy next year.
The United States considers the Senkaku Islands under the administration of Japan but takes no formal position on their sovereignty.
However, since 1972 it has held that the U.S.-Japan mutual security agreement — which obligated the U.S. to help defend Japan if attacked — covers the Senkakus, according to a 2016 Congressional Research Service report on U.S. treaty obligations.
doornbos.caitlin@stripes.com Twitter: @CaitlinDoornbos
kusumoto.hana@stripes.com Twitter: @HanaKusumoto