Japan law to defend US, allied troops takes effect next week
---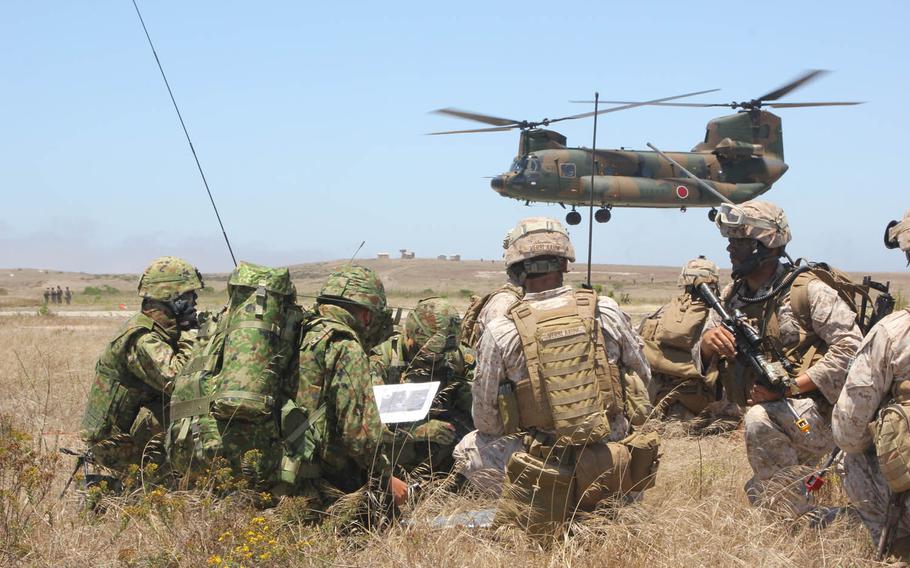 TOKYO — Laws that would allow Japan's forces to defend its close allies if under attack will take effect March 29, following a Japanese government cabinet resolution Tuesday.
The enactment of the security laws, which passed the national Diet in September despite majority opposition in most polls, broadens Japan's ability to work with the United States and other militaries to its greatest extent since World War II.
Prime Minister Shinzo Abe told his cabinet Tuesday that the legislation "further ensures peace and security of our country through increasing deterrence and proactively contributing to peace and stability of the region as well as the international community," according to Chief Cabinet Secretary Yoshihide Suga.
Under existing law, if U.S. forces were attacked in a scenario where Japan was not also being attacked, Japanese forces could not legally fight back.
The new laws also permit Japanese forces to deploy globally through a less cumbersome process. Previous non-combat deployments to Iraq and Afghanistan required the Diet to pass special temporary laws.
It remains to be seen how active Japan's troops will be under the new legislation. A decision on sending troops to South Sudan with weapons as a part of United Nations peacekeeping efforts is expected later this fall.
Japanese officials haven't ruled out sending Maritime Self-Defense Force ships on South China Sea patrols with the U.S. in the future, but thus far haven't committed to it.
"We need to make careful and thorough preparations so that new missions under the legislation are carried out appropriately with the safety (of personnel) ensured," Abe said Monday at a National Defense Academy graduation ceremony in Yokosuka, according to a Jiji Press report.
The legislation passed following a cabinet reinterpretation of Japan's post-WWII constitution, which renounces "war as a sovereign right of the nation and the threat or use of force as means of settling international disputes."
Abe's decision to reinterpret the constitution, rather than attempt to amend the constitution for the first time, was received poorly by the public. He ordered his cabinet Tuesday to thoroughly and carefully explain the legislation, saying widespread understanding is important.
"I think the citizens will gradually understand since this legislation was enforced with deepening of U.S.-Japan alliance and world peace in mind," Abe said.
An Asahi newspaper poll taken prior to passage of the laws showed 54 percent against the bills, with 29 percent in favor and the remainder undecided.
Tens of thousands of people protested near the Diet building, voicing concerns that the laws would draw Japan into conflicts that do not directly threaten the nation.
"Abe said [the laws] are for the peace and security of our country, but that is sophistic and deceptive," Seiji Tominaga, a secretariat member of the citizen's group Anti-War Committee of 1000, said Tuesday.
Tominaga's group and others opposed to the laws have banded together to support an opposition candidate in an upcoming election.
However, Abe's Liberal Democratic Party/Komeito coalition holds a commanding majority in both houses of the Diet, while support for opposition parties remains weak.
Abe's coalition swept into power in 2012 on the strength of promises to rebuild Japan's stagnant economy.
Stars and Stripes reporter Hana Kusumoto contributed to this report.
slavin.erik@stripes.com Twitter:@eslavin_stripes
---
---
---
---