Japan is building an expeditionary air force, with help from the US military
by
Seth Robson
September 15, 2020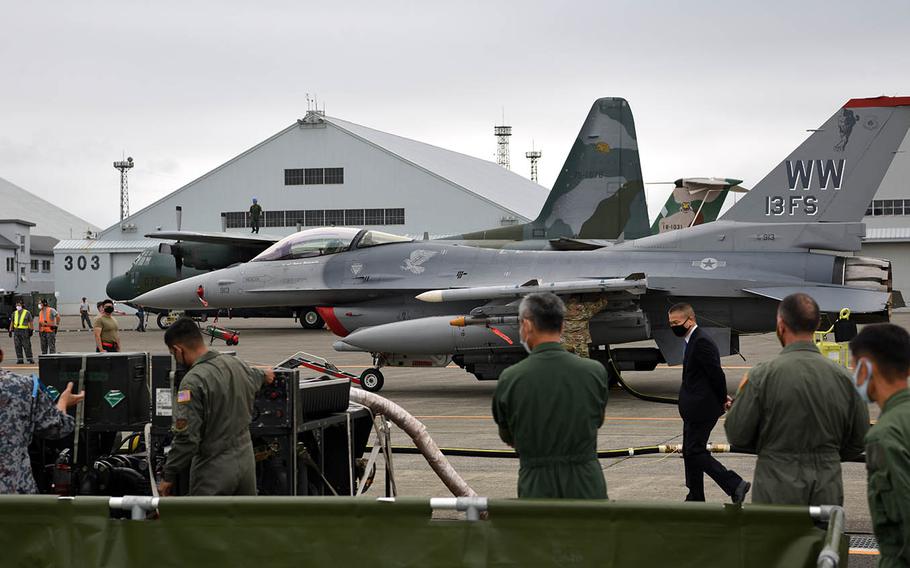 YOKOTA AIR BASE, Japan — Transferring fuel from cargo planes to jet fighters and guarding spartan airfields are skills honed by the U.S. Air Force over decades of expeditionary warfare.
Recent training on Japan's northern island of Hokkaido offered a chance to pass on lessons learned to local counterparts building their own expeditionary skills, 5th Air Force vice commander Brig. Gen. Leonard Kosinski told Stars and Stripes on Monday.
The Japan Self-Defense Forces have been transforming their capabilities in recent years in line with the government's reinterpretation of the country's pacifist constitution to allow for a more pro-active military.
"It's something you'd think is easy to do, but it's something we practice a lot," Kosinski said. "We have been working to help develop Japanese capabilities."
During the Hokkaido training Aug. 23-28 at Chitose Air Base, fuel was transferred on the ground from an Air Force C-130J Super Hercules to a Japan Air Self-Defense Force F-15 fighter. A Japanese cargo plane in turn sent fuel to a U.S. Air Force F-16, Kosinski said.
The ground refueling technique allows aircraft to operate from forward bases during a natural disaster or contingency. It's a method that allies like Australia easily synch into and one that the Japanese are learning to do, Kosinski said.
The Hokkaido training also included U.S. and Japanese airmen providing airfield security. That's something that the United States has done routinely in places such as Iraq and Afghanistan but not a skill that Japanese airmen practice often, Kosinski said.
It's routine for the Japan Ground Self-Defense Force, the country's army, to guard airfields. However, during the training at Chitose, the airfield perimeter was guarded by teams of U.S. and Japanese airmen.
"For us, it is practicing, but for Japan it is rethinking the way they deploy and operate," he said.
Developing a Japanese expeditionary force requires changes in policy and equipment, Kosinski added.
For example, when the U.S. and its allies went into Afghanistan in 2001, planners hoped to utilize Japanese helicopters. However, the aircraft were not configured to be easily transportable on C-17 cargo planes like their U.S. counterparts, he said.
"Doing this is challenging," he said, adding that the U.S. military has the experience to help.
The son of a Marine Corps aviator, Kosinski spent his teenage years in Iwakuni, Japan, and later studied Japanese in the country under a military scholarship. He's qualified to fly C-17 and C-5 cargo planes and KC-135 aerial refuelers and served as Japan country director on the Joint Staff from 2007 to 2008.
He's seen plenty of change in the way the two militaries have interacted over the years.
"Twenty years ago, it was just an idea to have this integration but now it's amazing how much integration we have," he said.
There will likely be more bilateral training on expeditionary skills since the United States and Japan see an increasing threat from Beijing, according to Jeff Kingston, director of Asian studies at Temple University's Tokyo campus.
Japan is particularly concerned with Chinese incursions into its territory in the East China Sea, including the Senkaku Islands, which as administered by Japan but also claimed by China and Taiwan.
Chinese ships and planes entered Japanese airspace and waters 100 consecutive days over the summer, Kingston said.
"Last week [outgoing Japanese Prime Minister Shinzo Abe] broached the subject of developing the capacity for preemptive missile strikes," he said. "This will encounter opposition both at home and in the region but is a sign of the times as the [government] seeks to shed the constitutional constraints on its military forces and security posture."
robson.seth@stripes.com Twitter: @SethRobson1