Japan hopes to have alternative to Aegis Ashore missile-defense system by year's end
by
Hana Kusumoto Seth Robson
October 6, 2020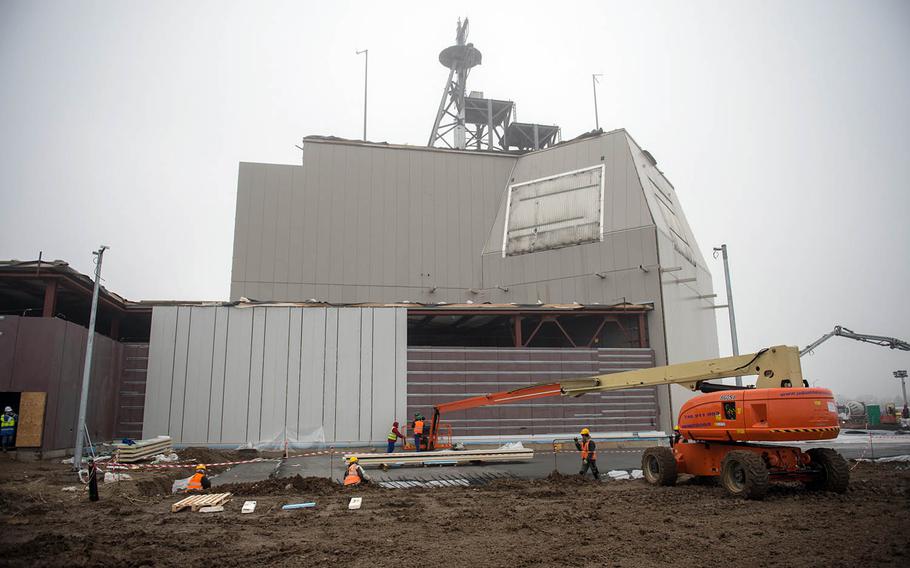 TOKYO — The Japanese government has ordered officials to quickly come up with an alternative to the rejected U.S.-made Aegis Ashore missile-defense system, possibly one that can float on a platform at sea.
The U.S. ally scrapped plans to deploy the U.S. system in Yamaguchi and Akita prefectures in June due to the cost and a projected 10-year delay to ensure that interceptor missile boosters fell safely on unpopulated areas.
The system was intended to provide all of Japan with seamless, 24/7 protection against North Korean ballistic missiles.
Prime Minister Yoshihide Suga has instructed Defense Minister Nobuo Kishi to come up with an alternative plan by the end of the year, according to Japan's Defense Ministry.
Research on the plan, which would involve a floating platform, will start soon, a ministry spokesman said Tuesday.
The ministry is seeking applications from private companies with the expertise to support the project, the spokesman said, adding that Japan is discussing the issue with the United States.
Japanese officials quoted in the Asahi newspaper Tuesday expressed skepticism that a plan could be ready on time.
That skepticism was echoed by Jeff Kingston, director of Asian Studies at Temple University's Tokyo campus.
"It doesn't seem like they are learning from past mistakes," he said in a telephone interview Tuesday, noting the earlier problems with booster safety.
"They are trying to rush ahead with this on a very tight timeline and the technological challenges of converting to a floating platform seem rather daunting," he said.
An offshore platform would be exposed to inclement weather, he added.
"It doesn't seem like this will lead to enhanced security in Japan, but it will cost a lot of money and it would placate the U.S., which is concerned about its trade deficit," he said.
Official government figures put the U.S. goods and services trade deficit with Japan at $56.3 billion in 2019.
The Aegis Ashore system originally had a price tag of $2.15 billion, but a slew of problems, including increased costs to prepare sites, raised the estimated price tag to $4 billion over 30 years, Nikkei Asia reported June 15.
Japan's Defense Ministry last week proposed its largest-ever defense budget, about $52 billion. The budget did not specify the cost of any offshore missile-defense system.
Kingston said he recently visited Ishigaki, one of the proposed Aegis Ashore sites, and saw posters opposing the system.
"People are worried that Aegis Ashore is more likely to attract an attack," he said. "If the government wants to proceed it would behoove it to better communicate about Japan's security situation."
It might make sense to put the system on a U.S. facility such as Misawa Air Base, in sparsely populated northeast Japan, Kingston said.
American bases are already targeted by Chinese and North Korean missiles.
"It would be wise and prudent for Japan to factor what the United States missile defense architecture of Guam will be," Riki Ellison, founder of the Missile Defense Advocacy Alliance, which lobbies for missile defense, deployment and development, said in an email Tuesday.
Guam urgently needs Aegis Ashore to protect vital military assets from an increasingly aggressive China, the head of U.S. Indo-Pacific Command, Adm. Phil Davidson, said last month.
INDOPACOM, in a report to Congress, put the cost of a system providing 360-degree air- and missile-defense on Guam at just under $1.7 billion.
It hasn't been determined exactly what the Guam system would involve, Ellison said.
"There will be studies to define the best system we can create to have the best layered missile defense the world has seen," he said.
Japan lacks the investment and experience to do what the U.S. can, has and will do with missile defense, Ellison said. It would be unwise to invest billions of dollars in something that might not be the right solution, he added.
robson.seth@stripes.com Twitter: @SethRobson1
kusumoto.hana@stripes.com Twitter: @HanaKusumoto