Japan defense ministry's white paper warns of coronavirus threat, aggressive competitors
by
Caitlin Doornbos
July 14, 2020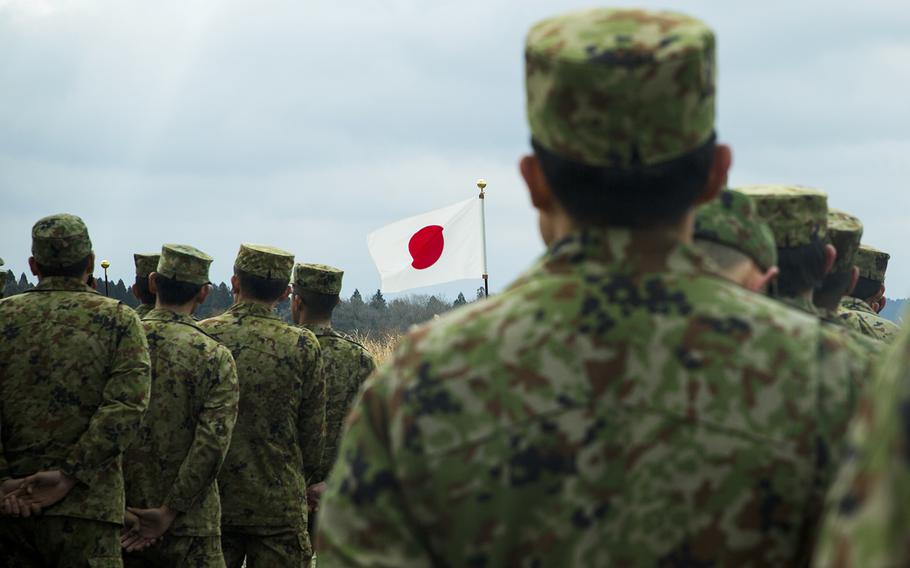 Stars and Stripes is making stories on the coronavirus pandemic available free of charge. See other free reports here. Sign up for our daily coronavirus newsletter here. Please support our journalism with a subscription.
YOKOSUKA NAVAL BASE, Japan — The coronavirus pandemic made the list of primary security concerns for Japan this year, alongside familiar names like China, Russia and North Korea, according to a Ministry of Defense white paper released Tuesday.
The ministry releases a report on its guiding philosophies, goals and challenges each summer. This year's document outlines security trends similar to those highlighted in 2019, including China's "relentless" militarization and coercion in the South China Sea and North Korea's nuclear weapons program.
"Such military trends in North Korea pose grave and imminent threats to Japan's security," the document said.
The defense ministry paper advises the government to "keep an eye on" the coronavirus' spread as it brings "diverse impacts and restrictions to military activities of respective countries."
The virus reached global pandemic status in March and temporarily sidelined a U.S. aircraft carrier, but it has not crippled military activity by Japan's chief ally or its competitors, according to the white paper. In Russia, "even amid the spread of the COVID-19 pandemic within the forces, military activities have remained active," the report said. COVID-19 is the respiratory disease caused by the coronavirus.
The Japan Self-Defense Forces contributed significant efforts against the coronavirus, the white paper states. About 2,700 JSDF personnel worked aboard the Diamond Princess cruise ship that in February quarantined its 3,700 passengers and crew in Yokohama Bay.
Japan's service members also administered nearly half of all coronavirus tests given at Tokyo's Narita and Haneda international airports between March 28 and May 31.
JSDF hospitals and the National Defense Medical College Hospital have accepted coronavirus patients and conducted a clinical trial to see if Avigan could treat coronavirus, according to the white paper. The drug ultimately failed to provide such benefits, Kyodo News reported on Friday.
The ministry document warned that China may be using the pandemic to its advantage, creating propaganda and sending medical professionals and equipment to other nations to gain favor and attack U.S. credibility.
China is spreading disinformation about the virus on social media, saying U.S. armed forces introduced it to China and that Chinese herbal medicine is having a therapeutic effect against COVID-19, according to the ministry.
Territorial disputes Beijing remains one of Tokyo's primary security concerns, according to the document. Last year, a record 1,097 Chinese vessels were spotted in Japan's contiguous zone, the 12-mile-wide belt between a nation's territorial waters and international waters. In 2018, 607 Chinese vessels were spotted in Japan's contiguous zone.
"China has relentlessly continued unilateral attempts to change the status quo by coercion in the sea area around the Senkaku Islands, leading to a grave matter of concern," the ministry said in the document.
The two countries dispute sovereignty over the five small, uninhabited islands and three rocks southwest of Japan and east of Taiwan; the surrounding seabed is thought to contain large oil and natural gas reserves. The U.S. considers itself bound by its mutual-defense treaty to defend Japan if a conflict with China arises over the Senkakus.
China is "suspected of intending to regularize" its presence in region with its patrols, representing "coercion to create a fait accompli," according to the document.
The Japan Air Self-Defense Force scrambled jets 947 times last year in response to foreign aircraft. China was behind 675 of the intrusions, up from 638 in 2018. Russia was responsible for 268.
Moscow continues to station troops on the islands of Etorofu, Kunashiri, Shikotan and Habomai, the white paper states. Russia has illegally occupied the northern territories since the end of World War II, according to the Japan Ministry of Foreign Affairs.
Budget boost Japan's defense budget this year includes money for F-35 Lightning II multirole stealth fighters. The jets' "superior electronic protection capability" should work to "minimize electromagnetic jamming from opponents who intend to invade Japan," according to the report.
The budget funds a new F-35A Lightning II fighter squadron at Misawa Air Base and refurbishment of its JS Izumo helicopter carrier to withstand the heat of F-35B takeoffs and landings, according to the white paper.
The overall budget, about $47.35 billion, is up 1.2% from last year "to adapt to increasingly rapid changes in the security environment," the document states.
Other planned expenses include underwater drones for underwater defense, and construction of two guided-missile destroyers, a submarine and a minesweeping vessel.
Stars and Stripes reporter Hana Kusumoto contributed to this report.
doornbos.caitlin@stripes.com Twitter: @CaitlinDoornbos