Iwakuni neighbors win noise suit but flights OK to continue
By
Hana Kusumoto Seth Robson
October 15, 2015
---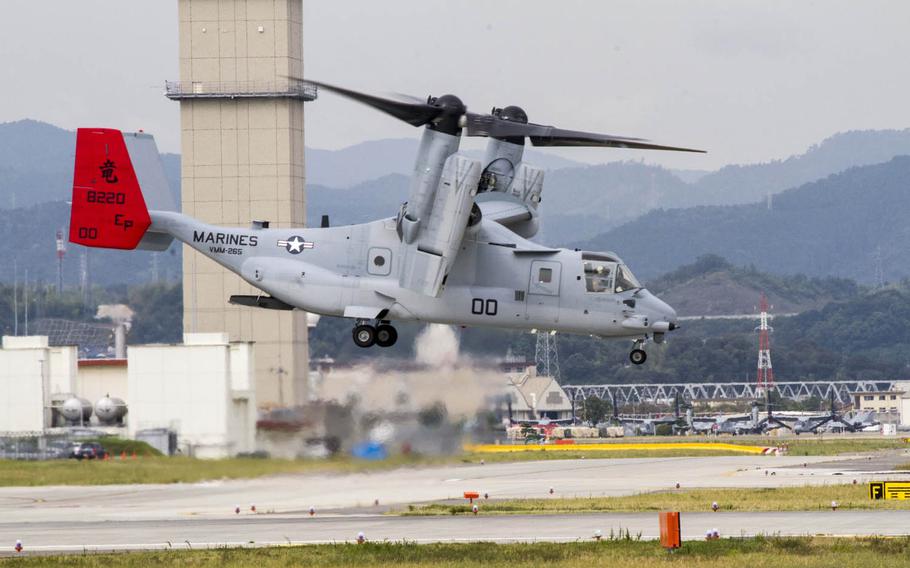 YOKOTA AIR BASE, Japan — Residents near Marine Corps Air Station Iwakuni have been awarded $4.7 million in compensation from a noise lawsuit, but failed in an attempt to restrict flight operations and block the arrival of more U.S. aircraft.
The district court in Iwakuni ruled Thursday that the Japanese government must compensate residents but rejected a claim that would have suspended the relocation of a U.S. carrier air wing from Naval Air Facility Atsugi in Kanagawa prefecture.
It was the first court ruling involving a noise lawsuit at Iwakuni.
Six hundred and fifty-three residents will receive 558 million yen ($4.7 million), said Junko Otsuki, a spokeswoman for the plaintiffs.
The residents also sought restrictions of flight operations — including a ban on flights between 8 p.m. and 8 a.m. — at the air base, but those requests were rejected, she said.
"We're not satisfied [with the decision], which rejected the claim to ban flights … since we are seeking quiet life and not compensation," Otsuki said.
The court also rejected future damages despite the fact that noise levels will be higher with more aircraft at Iwakuni, she said.
Japanese Ministry of Defense officials said they are considering whether to appeal.
"We will address the matter after carefully reviewing the decision and sufficiently coordinating with related ministries," they said in a statement.
Realignment of U.S. forces at the base saw the arrival of a KC-130 squadron from Marine Corps Air Station Futenma last year, said Maj. Lyle Gilbert, MCAS Iwakuni spokesman. The carrier wing from Atsugi is expected to arrive within two years, he said.
robson.seth@stripes.com Twitter: @SethRobson1
---
---
---
---