International community turning up the heat on North Korea
by
Paul Alexander
February 26, 2016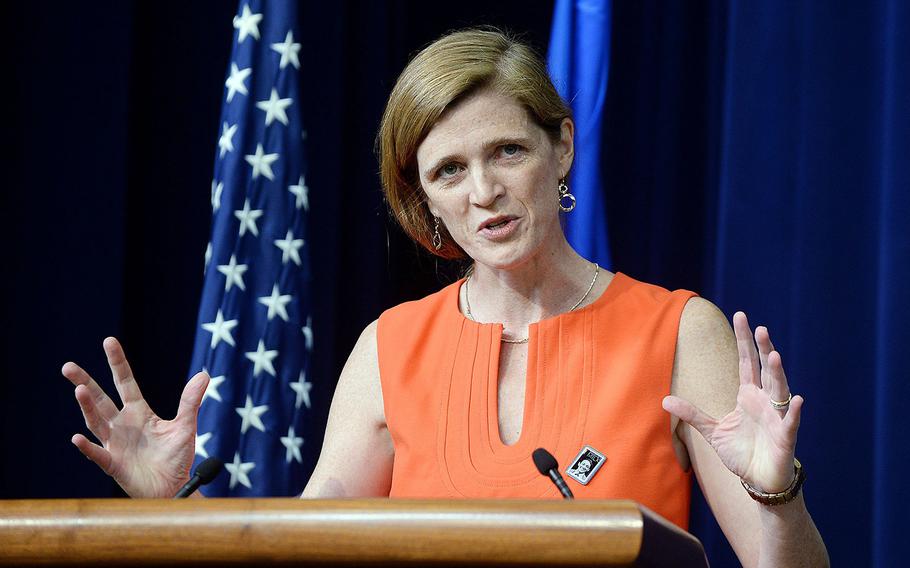 Tensions on the Korean Peninsula could be stoked even higher with the U.N. Security Council finalizing new sanctions against the rogue nation, the U.S. test-firing an ICBM missile in a show of force, and the American and South Korean militaries preparing for their largest-ever military exercises.
But North Korea has shown no signs of backing down, with leader Kim Jong Un recently appointing hardliners to key national security positions ahead of the first ruling Workers' Party congress in more than two decades in May.
Also, the North's main newspaper, Rodong Sinmun, on Thursday called the upcoming U.S.-South Korean Key Resolve exercise tantamount to a "declaration of war" and threatened to turn South Korea, the U.S. and U.S. bases in the Pacific into a "sea of fire."
Samantha Power, the U.S. ambassador to the U.N., described the U.S.-proposed sanctions as the toughest in 20 years, and they're clearly aimed at hitting the North in two crucial areas: its already-weak economy and its military.
"These sanctions, if adopted, would send an unambiguous and unyielding message to the DPRK regime," Power said Thursday. "The world will not accept your proliferation. There will be consequences for your actions."
A draft of the sanctions, which are expected to be nailed down in the coming days with key support from North Korea's closest ally, China, include cutting off imports of aviation and rocket fuel — which could ground the country's airline and hamper military flights and rocket launches — and exports of mineral resources that have provided Pyongyang with hard currency.
The sanctions also call for mandatory inspections of all North Korean cargo entering or leaving a country. An arms embargo would be widened to include small arms.
Assistant Secretary of State Daniel Russel flew to Seoul on Friday and goes to Beijing on Saturday to discuss implementation of the U.N. sanctions.
"This is a very important time to put our heads together and think about the way forward," Russel told reporters on arrival in South Korea.
It is key for China to be on board with imposing sanctions, which have proven ineffective in the past. And it will be even more critical for Beijing to enforce them, given its concerns that too much pressure could lead to a sudden collapse of Kim's regime, spawning a flood of refugees and the possible rise of a pro-West government on China's border.
But China's patience with its neighbor has clearly been fraying, and even while calling for negotiations with the North, it has agreed that it must be punished for its recent provocations. Still there are concerns over who would really pay the price for sanctions: when China did tighten its supply pipeline, an estimated 2.5 million North Koreans starved in 1994-96.
The current crisis on the peninsula began with North Korea's fourth nuclear test on Jan. 6, followed a month later by a rocket launch that was widely seen as a test of ballistic missile technology that would allow Pyongyang to reach the continental U.S. with a nuclear warhead.
While most experts believe the North still has more work ahead to achieve that capability, particularly with any reliability, it has shown resolve in pushing ahead, no matter what the costs, calling the nuclear program its self-defense insurance against efforts to destabilize its government.
The U.S. has made several shows of force in recent weeks, sending a B-52 bomber on a low-level flyover of South Korea from Guam, then dispatching four F-22 fighters there from Okinawa. In the latest move, it launched an unarmed Minuteman III missile from Vandenberg Air Force Base in California late Thursday to show the effectiveness of U.S. intercontinental capabilities.
"We and the Russians and the Chinese routinely do test shots to prove that the operational missiles that we have are reliable," Deputy Defense Secretary Robert Work told reporters. "And that is a signal ... that we are prepared to use nuclear weapons in defense of our country if necessary."
38 North, a website run by Johns Hopkins University that monitors North Korea, carried a report Thursday in which analyst Michael Madden wrote about the recent high-level appointments of three hardliners "who support a more belligerent policy toward the ROK (South Korea), the United States and Japan, and who generally do not favor North-South engagement."
"Pyongyang watchers should expect the coming months to resemble the tense geostrategic environment last seen during the spring of 2013, after the North's third nuclear test, when Pyongyang declared a national emergency, mobilized its military and declared that the safety of foreign citizens in the two Koreas could not be guaranteed," analyst Michael Madden wrote.
---
---
---