In South Korea, Mattis reaffirms joint stance against North Korea threat
---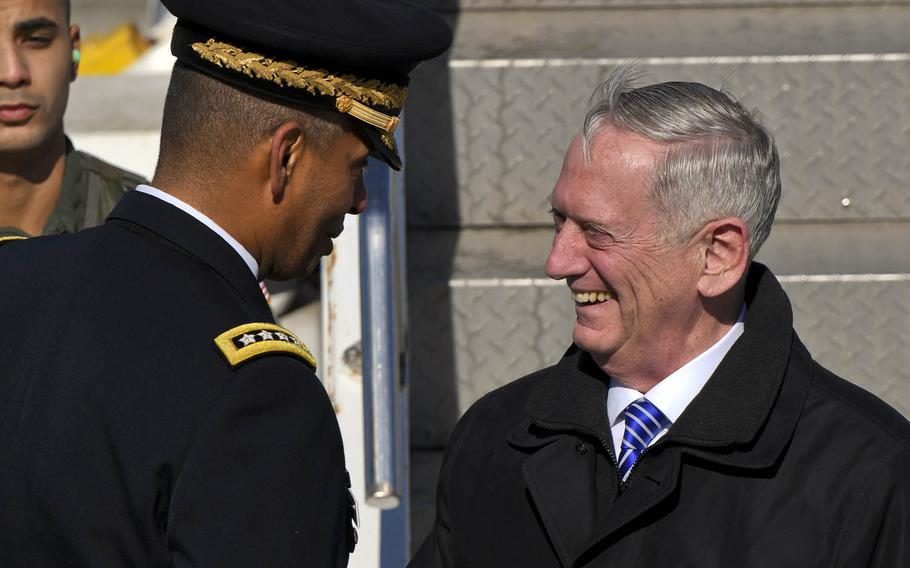 SEOUL, South Korea — Defense Secretary Jim Mattis promised to stand "shoulder-to-shoulder" with South Korea on Thursday as he began his first trip abroad in his new role with the threat from North Korea and a need to reassure jittery allies at the top of his agenda.
The two-day visit comes amid speculation that the North is planning to test-fire another missile after a New Year's declaration by Kim Jong Un that the country is in the "final stages" of developing an intercontinental ballistic missile. President Donald Trump tweeted "It won't happen!" in response.
Officials in Seoul welcomed the presence of the retired Marine general as a sign that the Trump administration will maintain its commitment to defending their half of the divided peninsula.
The new president has said very little about the Koreas since taking office — focusing instead on the threat from Islamic extremism — although he called the leaders of Japan and South Korea over the weekend.
There are some 28,500 U.S. servicemembers stationed in South Korea and 50,000 in Japan.
South Korea's acting President Hwang Kyo-ahn's office quoted Mattis as saying that Trump had asked him to "make a very clear statement" that the administration is making the alliance a strong priority.
The retired Marine general, who plans to travel next to Japan, said the new U.S. administration is committed to South Korea's defense and determined to strengthen the relationship between the two countries, especially considering North Korea's provocations.
"We intend to be shoulder to shoulder with you as we face this together," he added, according to a press release.
The two sides also reaffirmed plans to deploy a U.S. Terminal High Altitude Area Defense System in South Korea despite strong opposition from China, which fears the anti-missile battery's powerful radar could be used against its own military.
In earlier remarks, the Pentagon chief stressed that only the North has anything to fear from the THAAD.
"THAAD is for defense of our allies' people, of our troops who are committed to their defense and were it not for the provocative behavior of North Korea we would have no need for THAAD out here," Mattis told reporters on board his plane before landing at Osan Air Base.
"There is no other nation that needs to be concerned about THAAD other than North Korea," he added.
Trump has said he would press China to do more to rein its communist protege. Beijing signed onto punishing sanctions but has been accused of failing to enforce them.
Washington and Seoul agreed to station a THAAD in a rural southeastern region last year after North Korea conducted its fourth nuclear test and launched a long-range rocket.
Tensions spiked as the North carried out a fifth atomic explosion in September and test-fired some two dozen more ballistic missiles, including one launched from a submarine. That showed alarming progress despite tightened economic sanctions by the U.N. Security Council and international condemnation.
Mattis said he also planned to speak to his South Korean and Japanese counterparts about what new defensive steps may be needed to deal with Pyongyang's nuclear weapons program.
Hwang, meanwhile, stressed the importance of diplomatic pressure and sanctions to change the North's "strategic calculus," a nod to South Korea's hopes that Trump will continue with that policy instead of pursuing unconditional talks with the North.
The defense secretary met earlier Thursday with U.S. Forces Korea commander Gen. Vincent Brooks and South Korea's national security chief Kim Kwan-jin before going into the meeting with Hwang. Hwang is prime minister but took the helm of the country after lawmakers voted to impeach President Park Geun-hye over a corruption scandal.
Mattis planned to meet with Defense Minister Han Min-koo on Friday, after which he will fly to Japan.
Both countries are nervous about Trump's plans because the billionaire businessman said during the campaign that they should pay more for their own defense and possibly even develop their own nuclear weapons. Since becoming president last month, however, he has phoned their leaders to reiterate an "ironclad commitment" to the alliances.
Earlier this week, the Senate Foreign Relations Committee also held its first policy hearing to discuss North Korea since Trump took office on Jan. 20.
Pyongyang has been relatively quiet so far this year. Experts say it is likely laying low until Trump's policies become clear, and to avoid stoking security concerns while the political drama over Park's impeachment plays out.
That could be put to the test next month when the U.S. and South Korea are due to hold annual war games that usually anger the North, which considers them a rehearsal for an invasion. Seoul and Washington insist the joint exercises are defensive in nature.
North Korea's agency handling inter-Korean affairs warned on Wednesday that it was prepared to take action against the upcoming drill, which it said will lead to the "shameful destruction" of both countries, according to the state-run Korean Central News Agency.
The Unification Ministry in Seoul condemned the statement and urged North Korea to "stop its bellicose rhetoric," the Yonhap news agency reported.
The two Koreas are divided by the world's most heavily fortified border after the 1950-53 war on the peninsula ended in an armistice instead of a peace treaty.
Stars and Stripes reporter Yoo Kyong Chang contributed to this report.
gamel.kim@stripes.com Twitter: @kimgamel
---
---
---
---