Images suggest North Korea wrapping up missile site upgrade
---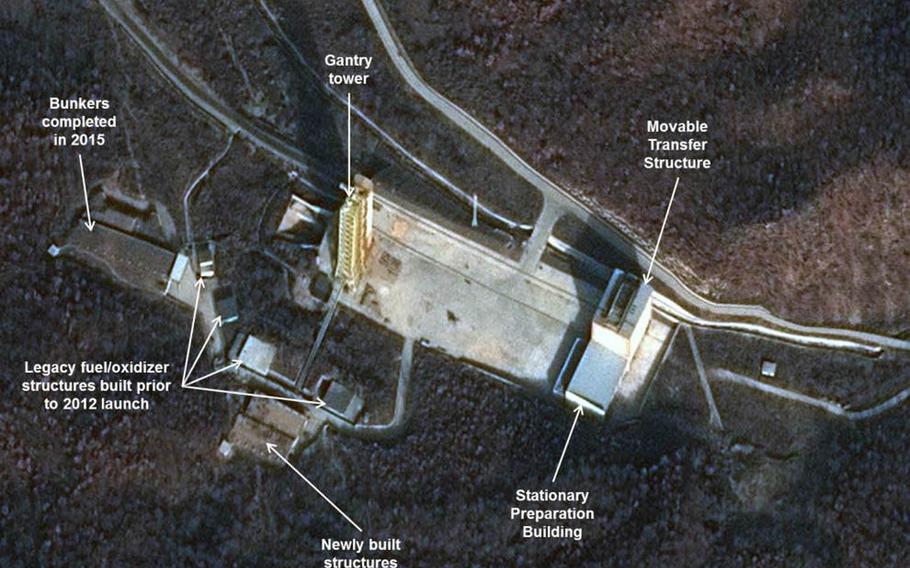 YOKOTA AIR BASE, Japan — North Korea appears to be wrapping up a 3-year-old upgrade to its Sohae satellite-launching station and could fire large rockets from the site as early as next year, a Washington, D.C.-based think tank reported this week.
Recent satellite images show construction of new fuel/oxidizer propellant storage bunkers at Sohae's launch pad and engine-test stand, according to 38 North, a website run by Johns Hopkins University's School of Advanced International Studies that monitors North Korean activities.
"That program is probably designed to support future activities related to the testing and launching of larger rockets," a 38 North statement said. "With the upgrade program nearing completion, North Korea will be ready to conduct further activities at Sohae, including space launches, by the first quarter of 2016 should the leadership in Pyongyang decide to do so."
The upgraded facility could be used to launch long-range missiles twice the size of the 30-meter-long Unha-3 that put a satellite into orbit in December 2012, South Korean military and intelligence officials told Yonhap News on Friday. North Korea has claimed the launch proved it has the capacity to reach the U.S. mainland.
Dictator Kim Jong Un on Thursday suggested the North is prepared to detonate a hydrogen bomb — hundreds of times more powerful than an atomic bomb — though the White House and South Korean officials have reportedly expressed skepticism the country has developed a thermonuclear weapon.
While touring a Pyongyang arms factory, Kim said his grandfather, Kim Il Sung, "turned [North Korea] into a powerful nuclear weapons state ready to detonate a self-reliant [atomic] bomb and [hydrogen] bomb to reliably defend its sovereignty and the dignity of the nation," according to North Korea's state-run news outlet KCNA.
The United States on Tuesday sanctioned North Korea's Strategic Rocket Force and blacklisted six individuals, two banks and three shipping firms thought to be involved in arms trade for "engaging in activities that have materially contributed to the proliferation of weapons of mass destruction or their means of delivery."
The rocket force is responsible for a series of ballistic missile launches last year that included two medium-range Rodong-class missiles, the Treasury Department said.
"North Korea threatens international peace and security by expanding its nuclear program and continuing its proliferation of weapons of mass destruction and conventional weapons," Adam J. Szubin, acting undersecretary for Terrorism and Financial Intelligence, said in a statement. "[The Treasury Department] is committed to exposing North Korea's global proliferation network and excluding these facilitators from the international financial system."
There have been allegations that North Korea has cooperated with Iran on missile and weapons development, and there are concerns that Pyongyang would be willing to sell to the highest bidder, including terrorists.
Earlier this month, 38 North reported that North Korea has been digging a new tunnel at its Punggye-ri nuclear test site on the country's east coast.
"While there are no indications that a nuclear test is imminent, the new tunnel adds to North Korea's ability to conduct additional detonations over the coming years if it chooses to do so," 38 North said.
North Korea completed three increasingly powerful nuclear tests at Punggye-ri in 2006, 2009 and 2013.
Japan, South Korea and China recently announced efforts to pressure North Korea to return to five-nation talks on its nuclear program. The North has threatened to use nuclear weapons against South Korea and the U.S., although its claims that it can produce a bomb small enough to fit into a missile warhead cannot be verified.
It also has claimed to have developed the capability to launch missiles from a submarine, but experts say photographs of a test launch appeared to have been faked.
Twitter: @kiddaaron
---
---
---
---