Hundreds of airmen try out F-35 stealth fighter during simulator's visit to South Korea
---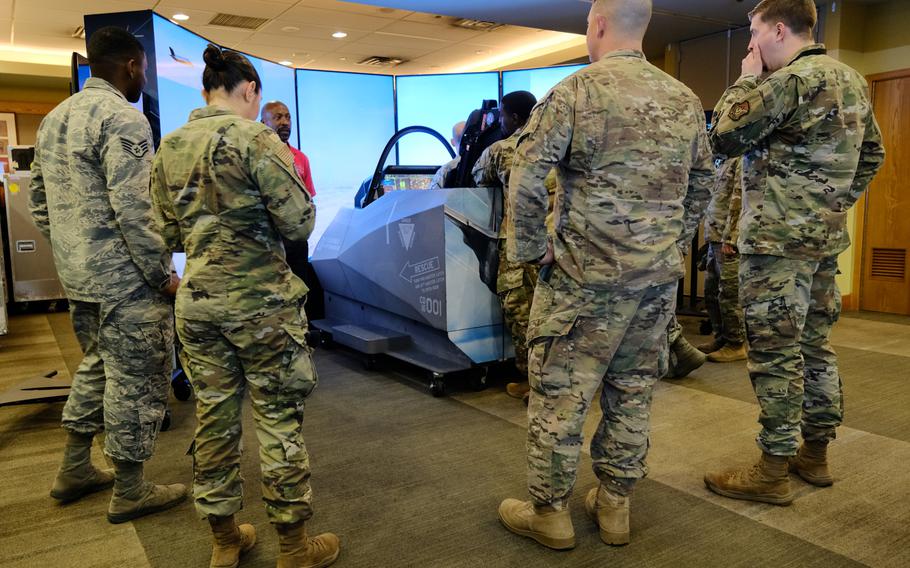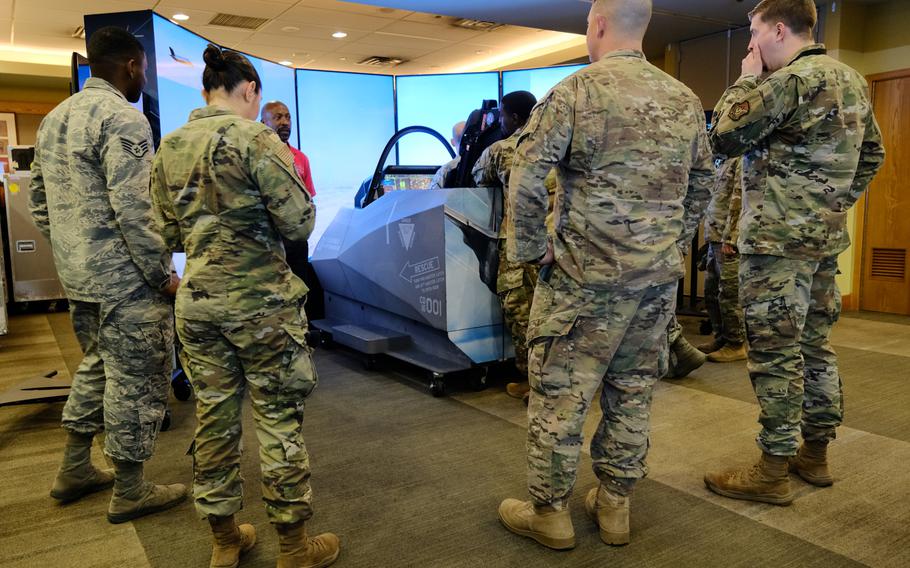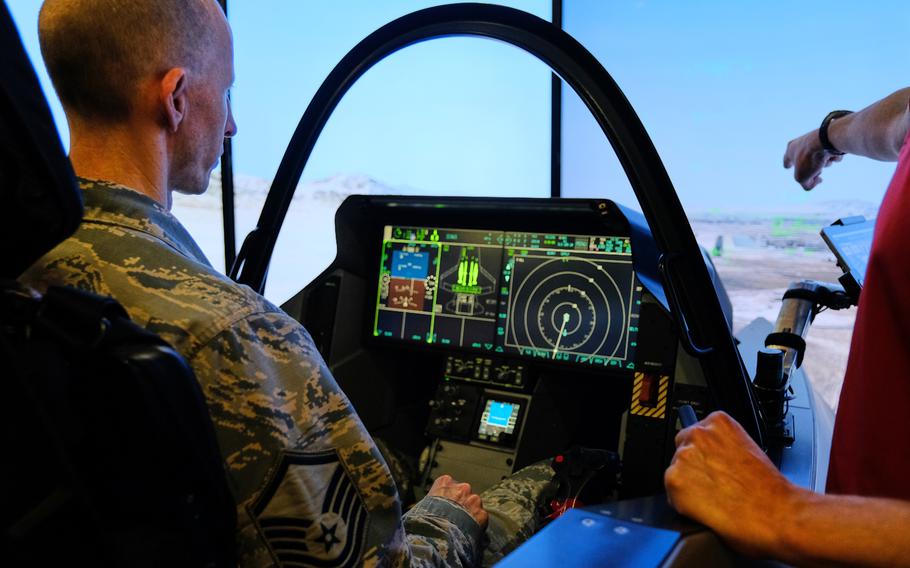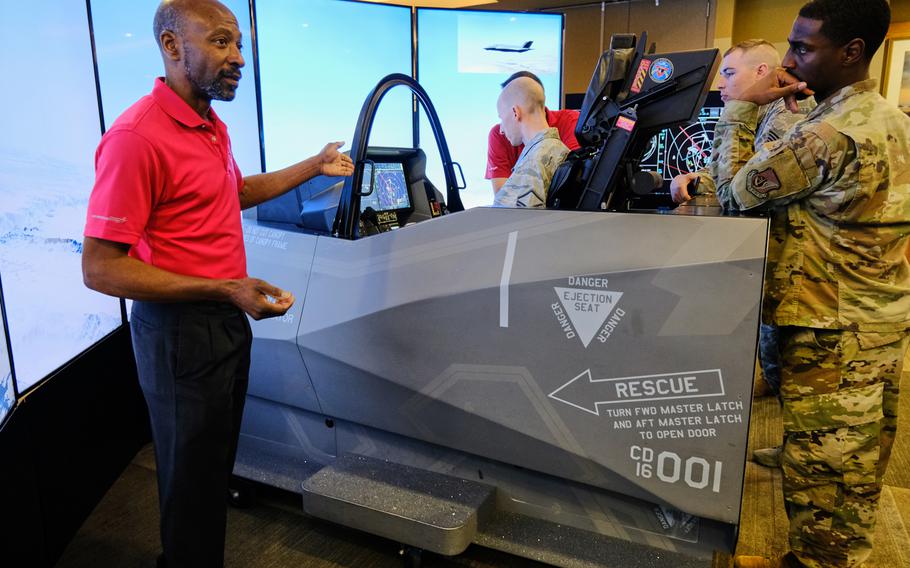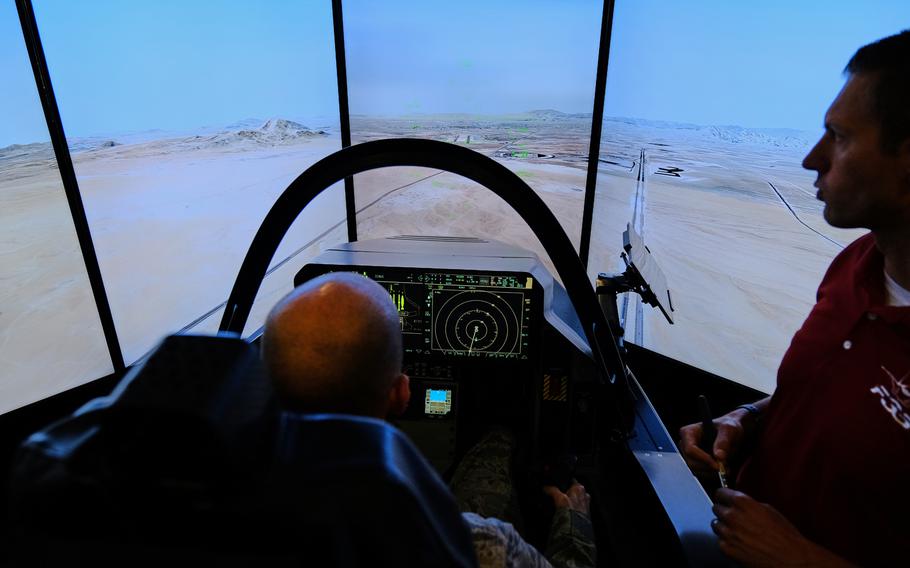 OSAN AIR BASE, South Korea — Airmen in South Korea recently got a chance to learn about the tactical capabilities of the F-35 Lightning II and operate the stealth fighter in a full-size cockpit simulator provided by engineers from Lockheed Martin Aeronautics.
A simulator demonstration team from Lockheed Martin attended the International Aerospace & Defense Exhibition last week in Seoul. Before leaving the peninsula, retired Air Force Maj. Gen. Bob DuLaney — now an F-35 customer engagement representative for the company — arranged for the simulator to spend Wednesday and Thursday at Osan, where more than 200 airmen experienced the advanced jet.
"We bring the simulator to Air Force bases so the airmen can see, touch and ask questions about the airplane," DuLaney said Thursday. "There are airmen here that are seeing this airplane because the South Korea air force have three on the peninsula and airmen don't know much about it."
The Air Force does not keep F-35s permanently based on the peninsula.
More than 430 F-35s have been delivered to eight countries since production started in 2011, according to Lockheed Martin's website. The fifth-generation fighter is available in three variations — including a short-takeoff and vertical landing version — tailored to the different military branches
They range from roughly $90 million to $115 million depending on the model. South Korea has agreed to purchase 40 of the jets.
The F-35 simulator is a full-size cockpit featuring all the controls that a pilot would see. Capable of running various scenarios, the simulator allows airmen to perform take-offs, landings, air-to-air engagements, lock onto multiple targets and destroy simulated enemy aircraft over Nellis Air Force Base, Nev.
"It was a unique opportunity to get a firsthand view of the works of the F-35," said Master Sgt. David Snowman, the superintendent for advanced programs for the 51st Fighter Wing, after successfully landing the simulated fighter.
"I'm a prior avionics tech working on the F-15. Just to see the upgraded sensors and instrumentation, it's really far beyond what I had my hands on when I was turning wrenches on the flight line," he said.
DuLaney stressed that U.S. adversaries are on par with the technology present in the 40-year-old F-16 fighter jet. Even the F-22 Raptor has been in the air for more than a decade and technology is moving increasingly faster, he said.
"We are resetting the bars so the U.S. Air Force remains the elite air force in the world," DuLaney said. "Avionics has changed and the F-35 is a very smart airplane."
Through what he called integrated sensor fusion, pilots now have more information in the cockpit. Instead of individual sensors providing information to pilots, the F-35's sensors talk to one another, providing data that's easier for pilots to digest.
"Our engineers have designed this plane to allow computers to do what computers do best," DuLaney said. "Now fighter pilots can be tacticians, back to being fighter pilots making tactical decisions rather than being what I call sensor managers."
---
---
---
---