Hog cholera strikes Okinawa for first time in 34 years, forcing thousands of pigs to be slaughtered
by
Aya Ichihashi Matthew M. Burke
January 10, 2020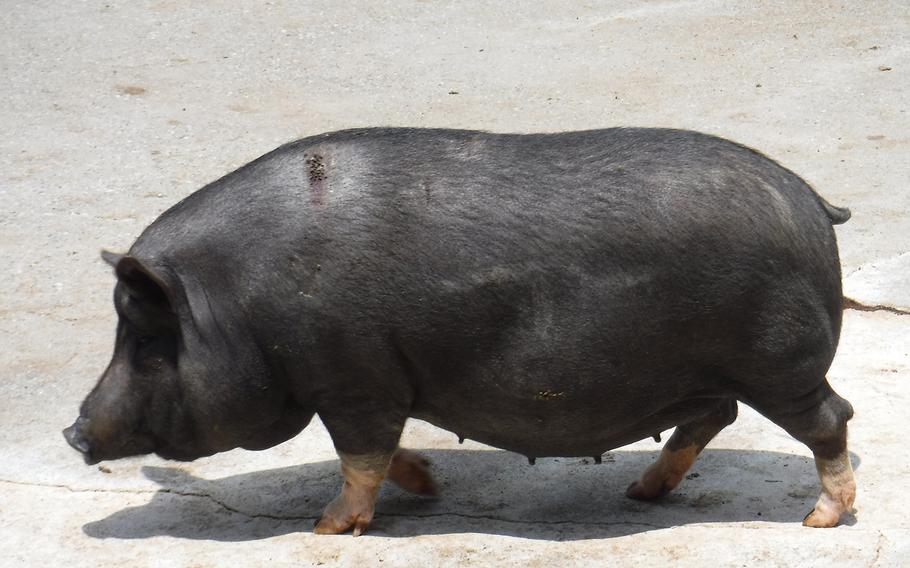 CAMP FOSTER, Okinawa — Thousands of pigs are being culled on the Japanese island of Okinawa, where classical swine fever was discovered Wednesday for the first time since 1986, government officials said.
Also known as hog cholera, the highly contagious, fatal, porcine viral disease was confirmed two days after an Uruma city farmer reported pig deaths due to an unknown respiratory ailment, according to a statement from the Okinawa prefectural government. Since then, the disease has been discovered at two additional farms in Uruma and one in Okinawa city, affecting approximately 5,000 pigs.
Japanese officials are investigating the origins of the outbreak, and while they cautioned people to stay away from the impacted farms, there is no risk to public safety.
"There has never been a reported case where classical swine fever has been transmitted to humans," the statement said. "There is no possibility that infected pork will be sold at markets and shops."
Gov. Denny Tamaki requested support Wednesday from the Naha-based Japan Ground Self-Defense Force's 15th Brigade and 360 Japanese troops have been involved in the killing and burying of hundreds of pigs, the Ministry of Defense website said.
He also ordered farmers within six miles of Uruma city not to transport pigs or boars and to sterilize their farms, the prefecture said.
The infected pigs were slated to be killed by Saturday to try and stop the disease from spreading, the statement said. As of Friday, 1,600 had been killed and were being buried, prefectural spokesman Kazushi Kubota added.
It is unclear how the disease, which affects domestic pigs and wild boars, spread to Okinawa but it can be transmitted from pig to pig as well as by rodents and vermin, the statement said. An outbreak on mainland Japan in 2018 spread to nine prefectures and killed 130,000 pigs in one year.
There were 225,800 pigs in Okinawa, an area roughly the same size as metropolitan Tokyo, as of 2018, Japan's Cabinet Office said.
Classical swine fever comes in both acute and chronic forms, the World Organisation for Animal Health website said. Animals suffering from the acute form of the disease exhibit symptoms that include fever, diarrhea and purple discoloration and generally die within two weeks.
There is no treatment for the disease. Once a pig has tested positive, all others at that farm must be killed to stop the spread, Japan's Ministry of Agriculture, Forestry and Fisheries website said.
burke.matt@stripes.com Twitter: @MatthewMBurke1
ichihashi.aya@stripes.com Twitter: @AyaIchihashi
---
---
---