Helicopters authorized over South Korean DMZ restricted airspace to contain virus
By
Yoo Kyong Chang Matthew Keeler
October 7, 2019
---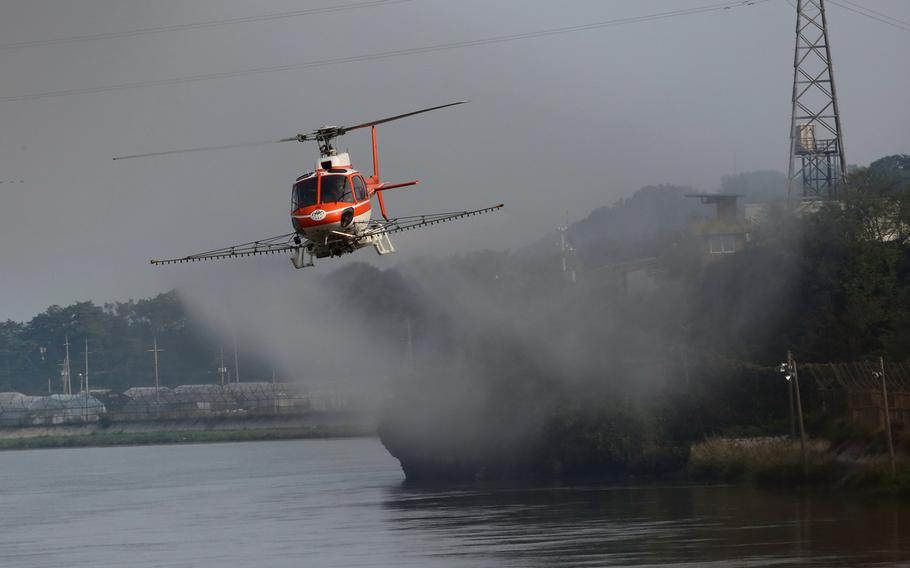 CAMP HUMPHREYS, South Korea — South Korea was cleared by United Nations Command to begin helicopter decontamination operations Saturday within the Demilitarized Zone in continued efforts to contain an outbreak of African swine fever in the area.
Thirteen cases of the highly contagious, incurable virus, which is usually fatal to swine, have been reported since Sept. 17 in South Korea, all near the border with North Korea. The virus cannot be transmitted to humans.
Gen. Robert Abrams, commander of U.N. Command and U.S. Forces Korea, authorized South Korea to fly helicopters into the DMZ — a restricted airspace, according to the armistice agreement with North Korea — to spray a decontaminate, according to a U.N. Command statement Sunday.
The South Korean government asked to fly helicopters inside the DMZ and near the Military Demarcation Line to cover as much area as possible with decontaminate, according to the statement. The country is doubling its efforts to stem the outbreak after heavy rain dropped by Typhoon Mitag rendered previous measures ineffective last week.
"UNC coordinated the effort with the Ministry of National Defense and informed the [North] Korean People's Army in order to prevent miscalculation and remain transparent with the purpose of [South Korea] helicopters flying within the DMZ," it said.
No military aircraft will be used during the operation, according to a spokesperson with South Korea's Ministry of National Defense, who spoke on condition of anonymity, which is common practice by government spokespeople in South Korea.
Seven helicopters from the South Korean Forest Service equipped with sprayers are expected to finish spraying by Friday. The area will be monitored afterward, according to the spokesperson.
A week ago, Abrams ordered the temporary suspension of visits and tours at the border truce village of Panmunjom, also known as the Joint Security Area, and the recently opened hiking trails in the area.
South Korea has culled over 10,000 pigs in response to the outbreak, increased disinfection measures and temporarily banned the transport of hogs and related livestock. The outbreak, the nation's first, was detected at a farm near the heavily fortified border that has divided the peninsula since the 1950-53 Korean War.
keeler.matthew@stripes.com Twitter: @MattKeeler1231
---
---
---
---