Heavy snow shuts down base services, transportation in Tokyo area
---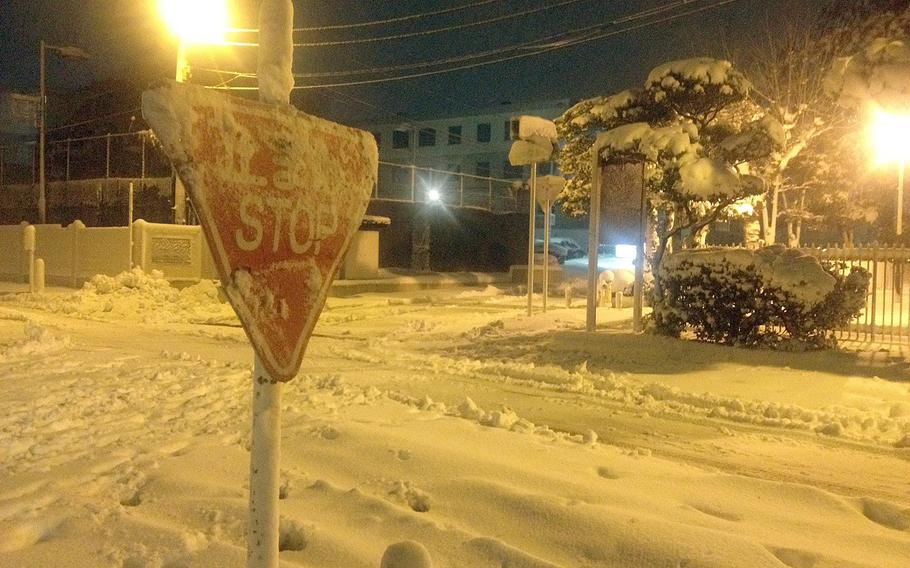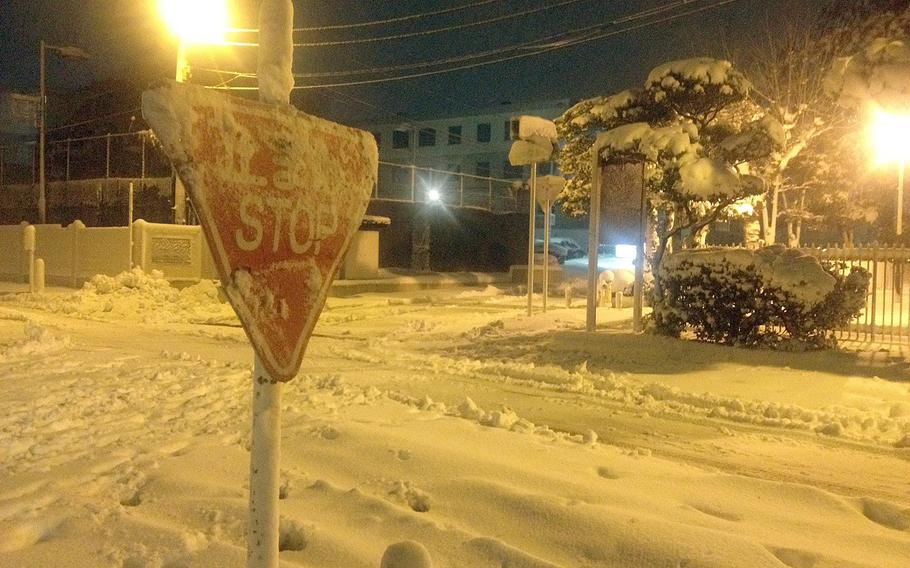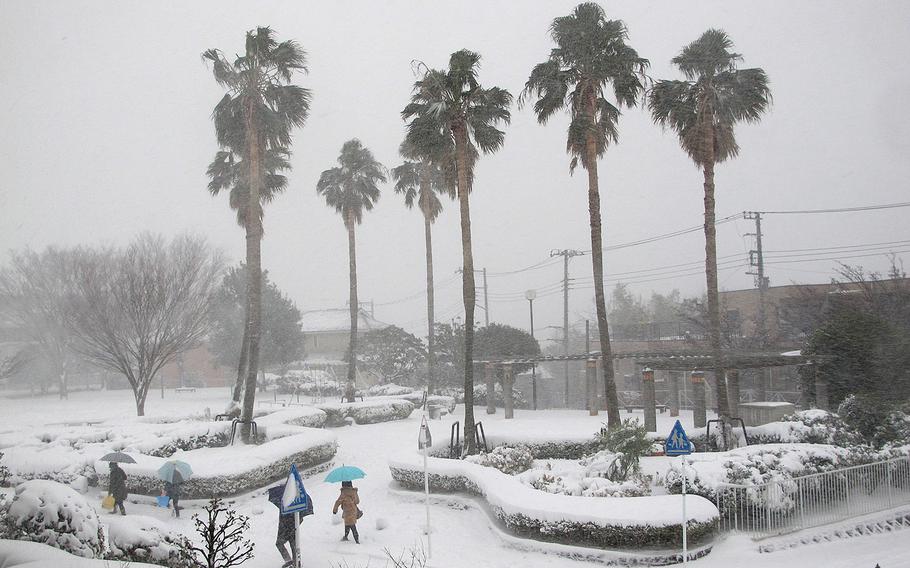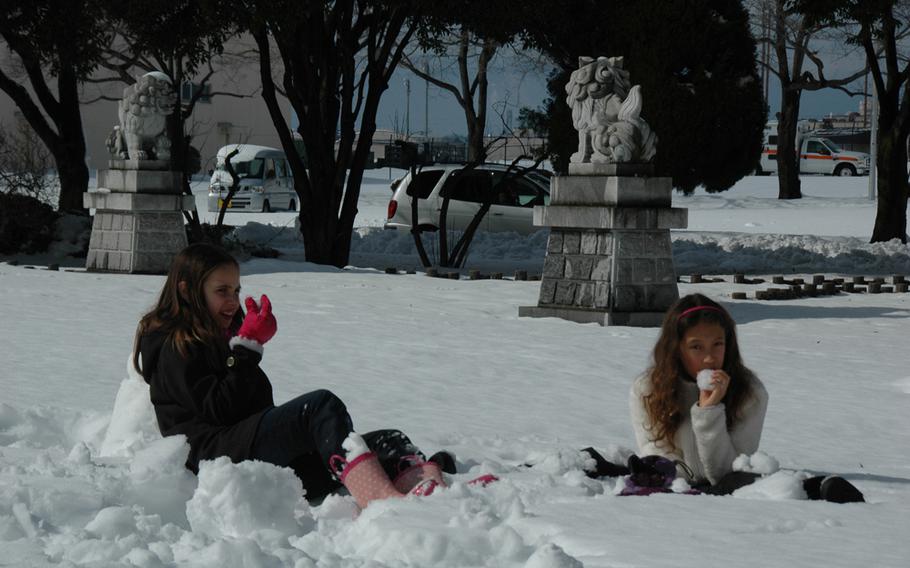 YOKOHAMA, Japan — One of the strongest snowstorms to hit the Tokyo area in years brought transportation and other services to a halt at U.S. military bases throughout the Kanto region Saturday.
A heavy snow alert was issued for the first time in 13 years for Tokyo's 23 wards, according to media reports. The heavy snowfall and gale force winds came as a shock to many in an area that had been experiencing an extremely mild winter. Earlier in the week, temperatures had soared into the mid-60s.
By 6 p.m., Naval Air Facility Atsugi, in western Kanagawa Prefecture, reported 10 inches of snowfall with a prediction of six more inches overnight.
Tokyo easily surpassed four inches for the first time in 16 years, according to the Asahi Shimbun. Japanese meteorologists forecast up to eight inches by Sunday morning, with more in western Tokyo and Kanagawa.
Japanese broadcaster NHK reported at least 89 weather-related injuries in the greater Tokyo area as of Saturday afternoon. In central Japan near Ishikawa, two senior citizens were killed in a head-on vehicle collision amid icy conditions, NHK reported.
More than 47,000 homes lost power in Tokyo and Kanagawa Prefectures as of Saturday evening, according to Tokyo Electric Power Company. The numbers included 11,700 outages in Yokosuka city, as well as 2,300 in Akishima city and 100 houses in Tachikawa, both of which are near Yokota Air Base. Residents and workers at Yokosuka Naval Base were reporting partial outages Saturday evening.
Bases throughout the area closed commissaries, base exchanges and other services by Saturday afternoon. NAF Atsugi closed its East Gate and a portion of South Perimeter Road, from its skeet range to the Japanese Self-Defense Ground Forces Gym, until further notice.
Yokota closed at 10:30 a.m. and asked that only mission-essential personnel be out on the streets, according to its Facebook site. Other bases put out similar cautionary messages.
Yokosuka Naval Base announced that Chapel of Hope services would continue as planned Sunday morning, but Catholic services at Negishi were canceled.
Most train lines either halted or delayed service throughout the area, according to updates at the JR East website. The Keikyu line, which runs past Yokosuka, was delayed but running Saturday afternoon, except for the southern stations at Misakiguchi and Keikyu Kurihama.
NHK reported that 714 domestic flights in and out of Haneda Airport were canceled as of 5:30 p.m., and many flights into Tokyo Narita Airport were delayed, diverted or canceled. Airlines are also expecting widespread cancellations and delays on Sunday, according to NHK.
Road closures included the Aqua line expressway; the Bayshore Route between Higashi Ogi Jima and Namiki interchange; the Chuo expressway from Takaido to Nakatsugawa in Gifu Prefecture; and the Yokohama-Yokosuka highway between Kariba and Mabori Kaigan. Drivers on the Tomei expressway from Tokyo through Namazu in Shizuoka Prefecture were required to use chains, according to the Japan Road Traffic Information Center as of 6:15 p.m. Saturday.
Stars and Stripes reporter Hana Kusumoto contributed to this report.
slavin.erik@stripes.com Twitter:@eslavin_stripes
---
---
---
---