Heavy rain, flooding and landslide threats in Japan prompt Sasebo Naval Base to close
by
Hana Kusumoto Seth Robson
July 6, 2020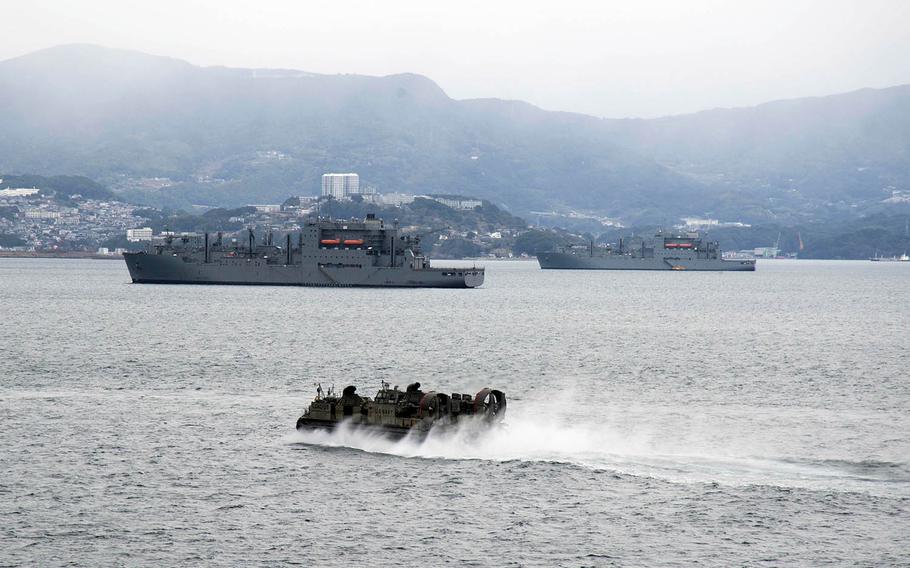 Heavy rain in southern Japan on Monday prompted landslide and flood warnings from Japanese officials and early closures at Sasebo Naval Base.
Flooding was expected in Sasebo city, according to an announcement by the Nagasaki District Meteorological Observatory.
Two inches were expected to fall each hour during peak rainfall in late afternoon and the agency warned residents that landslides and floods would be a risk until Tuesday afternoon.
Sasebo city issued an evacuation advisory at 1:22 p.m. for 242,646 residents of 103,970 households due to possible landslides, according to national broadcaster NHK.
Heavy rain in Kumamoto prefecture, on Kyushu island, over the weekend caused flooding and landslides, which claimed 27 lives as of Monday, NHK reported.
Sasebo base spokesman Aki Nichols in an email Monday said the base is experiencing record rainfall "so the (commander) has closed nonessential facilities and services on base so employees can safely get home before road conditions worsen or we have any flooding in the area."
Officials won't know until early morning whether or not they will need to delay reopening the base, he said.
In a Facebook post Monday, Navy officials said they had received no reports of flooding or landslides near Sasebo.
"We are closing all base facilities and services at noon so that everyone can get home safely," the message said. "The only exceptions will be the NEX Minimart and the Shogun Cafe (Galley) which will remain open. Base access will not be affected; however, we highly recommend everyone to stay home and avoid going out unnecessarily in these potentially dangerous conditions."
Rooms at the Navy Lodge and another facility were available for people concerned that their off-base residence might be unsafe and who preferred to stay on base, officials said in an update.
robson.seth@stripes.com Twitter: @SethRobson1
kusumoto.hana@stripes.com Twitter: @HanaKusumoto