Hawaii lab turns over remains of 64 South Korean soldiers in airfield ceremony
by
Wyatt Olson
September 28, 2018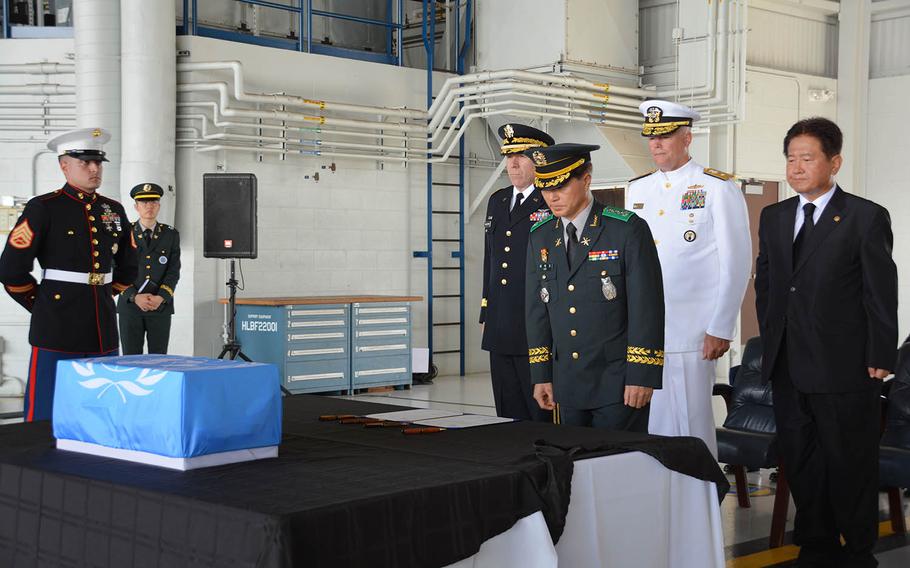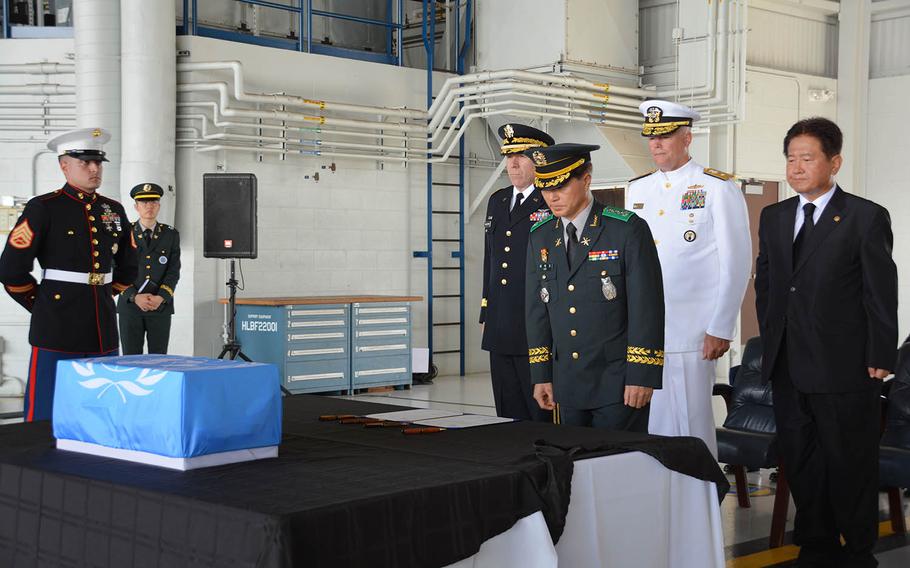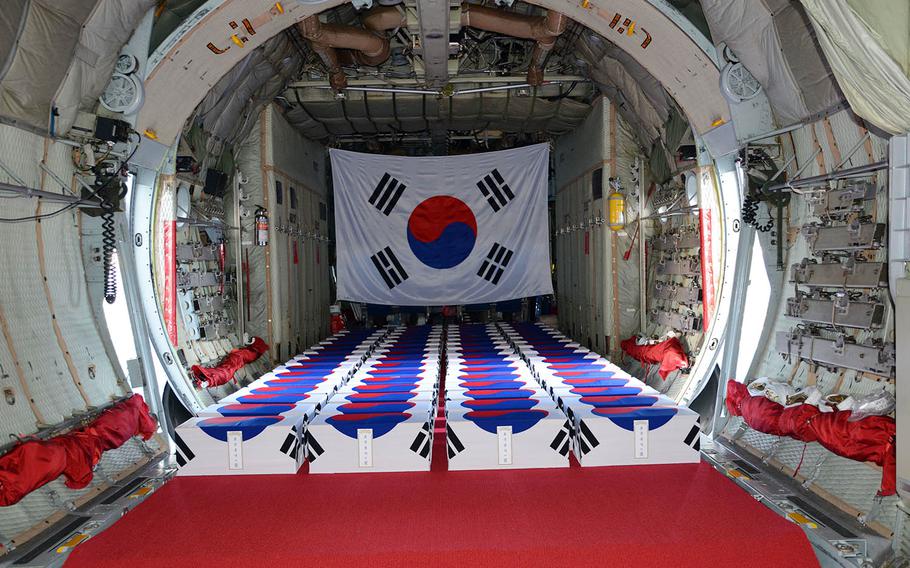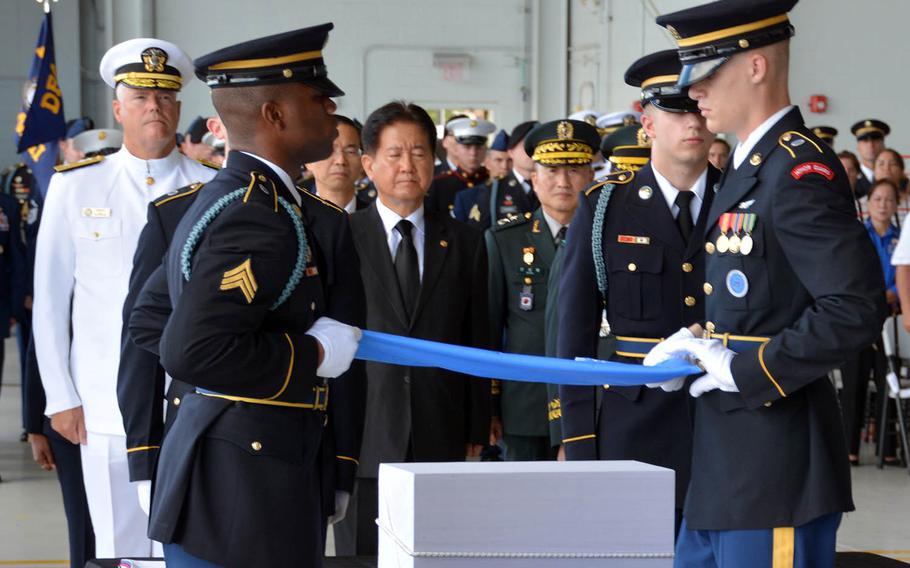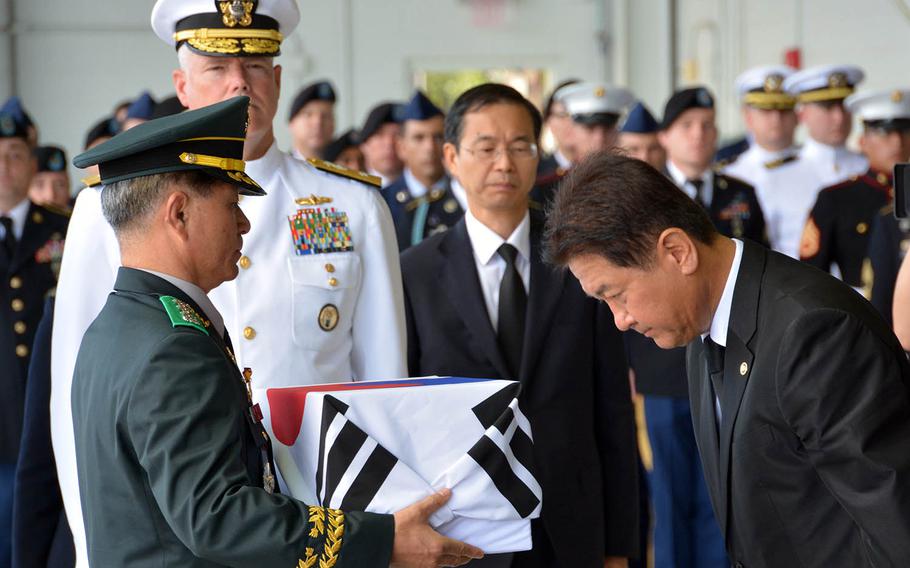 JOINT BASE PEARL HARBOR-HICKAM, Hawaii — The remains of 64 South Korean soldiers began their final journey home Thursday following a repatriation ceremony in Hawaii that included a front-row audience of American veterans of the Korean War.
"I am honored and humbled by the reason we are gathered here this morning for this repatriation ceremony: to pay our respect to the 64 fallen South Korean soldiers who today begin their journey back home," said Rear Adm. Jon Kreitz, deputy director of the Defense POW/MIA Accounting Agency, during the ceremony in a Hickam Airfield hangar.
The remains have been at the agency's labs since being returned following joint recovery operations conducted in North Korea from 1996 to 2005.
The remains of roughly 7,700 Americans are still unaccounted for from the Korean War, with about 5,000 of those believed to be in North Korea.
In July, North Korea returned 55 boxes containing an unknown number of American remains. DPAA identified two U.S. soldiers from those remains earlier this month.
"It is our fondest hope that [South Korea] will be successful in giving these heroes back their names and in reuniting them with their families in their country," Kreitz said.
Sixty-three of the microwave-sized boxes of remains – each shrouded with a South Korean flag – had been loaded into the hold of a C-130 cargo plane. One box, wrapped in a United Nations flag, was used in the formal transfer from DPAA to United Nations Command to South Korea's Ministry of National Defense.
Taking part in the ceremony were Choo Suk Suh, South Korea's vice minister of national defense; United Nations Command Chief of Staff Maj. Gen. Mark Gillette; and Col. Hak Ki Lee, commander of the South Korea KIA Recovery and Identification agency, known as MAKRI.
MAKRI will now continue the work of identifying the remains.
Plans originally called for 65 boxes to be transferred to South Korea, but this summer forensic scientists from MAKRI were able to identify one soldier from DNA samples taken in December 2017, said Jennie Jin, the Korean War project lead for DPAA in Hawaii.
Pvt. Yoon Gyeong-hyuk, who was killed in North Korea's South Pyongan Province, was repatriated in July, she said.
DPAA is nearing the end of the identification process for the estimated 200 individuals retrieved from North Korea from 1996-05, Jin said.
The task of separating the commingled remains of American and South Korean dead presented a forensic challenge particular to both countries, she said.
"My concern is not to send Asian-Americans back to Korea," Jin said. "[MAKRI's] concern is they cannot take North Koreans or Chinese into their laboratory. No enemy forces are allowed in their laboratory. So we had two different concerns. During the joint forensic review, they kept asking me, 'How do you know this is not North Korean or Chinese?'"
They came to an agreement over the 64 sets of remains based on DNA evidence, historical records and the search-and-recovery reports, she said.
Initially, DPAA scientists examined the remains for a type of DNA specific to maternal ancestry called mitochondrial, which generally revealed Asian ancestry, Jin said.
But because about 100 Americans still missing from the Korean War were of Asian descent, further evidence was needed.
"We then looked at all our Asian-American guys to see if they have family reference samples, and, fortunately, almost all of them that are still missing in North Korea have their family DNA on file," she said. "So we did the matching, and none of them matched the guys we're sending back to Korea today."
"Then we used historical information to find where these guys were lost, and then we looked at the actual recovery reports," Jin said. So, for example, if both Asian and American remains were found in a mass grave during the recovery operations, it was a good indicator that those Asians were not North Koreans or the Chinese who fought with them.
"We never buried enemy forces with our guys," she said. "So that was very strong evidence — circumstantial — but pretty strong evidence that these are not the North Koreans or Chinese."
Most of the 64 remains were recovered from sites associated with the Battle of Unsan or the Battle of Chosin Reservoir, both fought in late 1950 in what is now North Korea.
As the repatriation ceremony ended, Korean War veteran Jimmy Shin offered a pithy judgment of the affair.
"About time," he said.
olson.wyatt@stripes.com Twitter: @WyattWOlson
---
---
---