Hawaii crash recovery efforts wrap up with 3 Marines still missing
---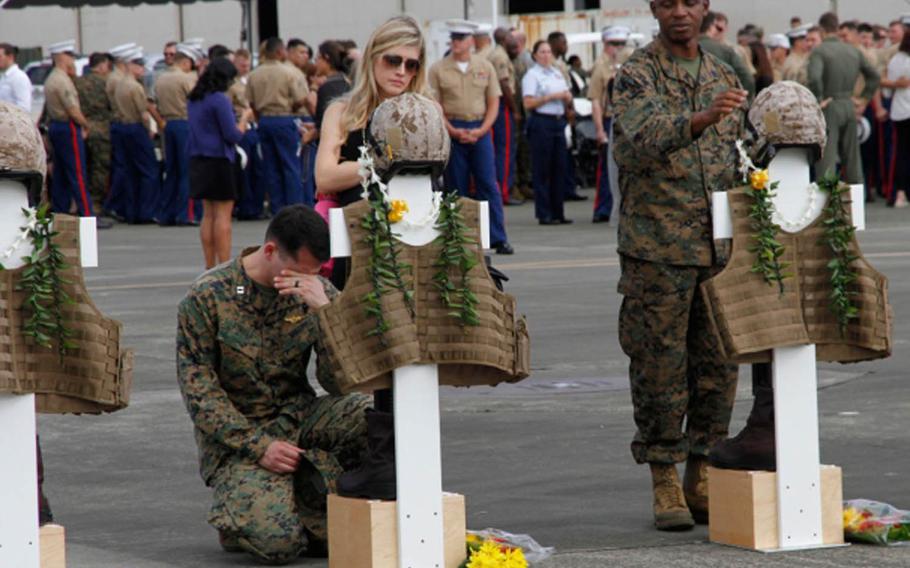 The remains of nine of 12 Marines killed when a pair of CH-53E helicopters crashed during routine training earlier this year in Hawaii have been recovered and identified, the Marine Corps said Thursday.
Efforts recently wrapped up to find remains and salvage wreckage after the Jan. 14 crash about two miles offshore of Waimea Bay in Oahu, a Marine Corps statement said. Initial around-the-clock searches yielded no survivors, and the Marines — assigned to Marine Heavy Helicopter Squadron 463, Marine Aircraft Group 24, 1st Marine Airlift Wing at Marine Corps Base Hawaii — were officially declared dead about a week later.
The remains of Sgt. Dillon Semolina, Sgt. Adam Schoeller and Cpl. Christopher Orlando were not recovered, the statement said.
Capt. Cassandra Gesecki, a Marine Corps spokeswoman, described remains of the others, found in February, as "trace DNA elements."
"Significant wreckage from both helicopters has been recovered," the statement said.
The USNS Salvor — a Military Sealift Command rescue-and-salvage ship — and Marine Group 24 used remotely operated underwater vehicles to search the crash site and map the debris field, which was strewn in an area roughly 300 feet below the surface. More than 100 dives were conducted at the site, the statement said.
Before wrapping up their efforts, "units twice swept the entire debris field, the surrounding area and the flight path from the debris field back up to the initial aircraft collision site," the statement said.
The cause of the crash is still under investigation.
Anyone who discovers additional debris washed ashore should call either the Honolulu Police Department at 808-529-3111 or the Marine Aircraft Group 24 duty officer at 808-590-6961.
kidd.aaron@stripes.com Twitter: @kiddaaron
---
---
---
---