Hawaii bases issue 'all clear' after Hurricane Douglas passes north of Oahu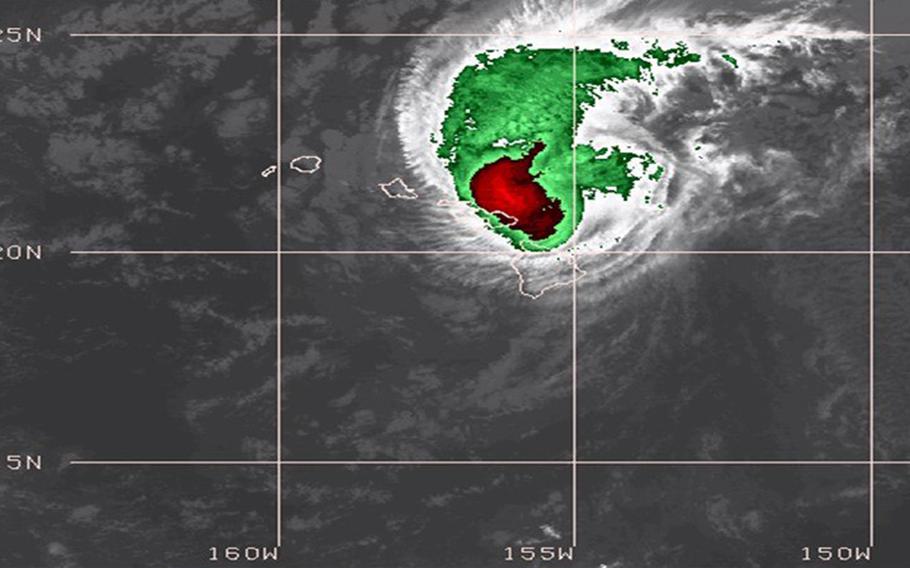 HONOLULU — Hurricane Douglas on Sunday evening slipped north of the island of Oahu, home to most of Hawaii's military bases, a close encounter in the night with a Category 1 storm packing 85 mph sustained winds.
Joint Base Pearl Harbor-Hickam, a combined Navy and Air Force installation, sounded "all clear" around 9:30 p.m., according to its official Facebook page. "No hazardous conditions exist. Resume normal operations," the post said.
Marine Corps Base Hawaii, meanwhile, announced it would operate under normal working conditions Monday, but urged personnel to be cautious during the morning commute and report any unsafe conditions.
The storm appeared headed for the island of Kauai, according to the National Weather Service's Central Pacific Hurricane Center. At 9:08 p.m. Sunday, the eye was about 75 miles from Honolulu, heading west-northwest at 16 mph.
"Gradual weakening is forecast during the next 48 hours, but Douglas is expected to remain a hurricane as it moves near Kauai later tonight," according to the center's 8 p.m. bulletin.
The Hurricane Hunters of the Air Force 53rd Weather Reconnaissance Squadron were flying their WC-130J aircraft into the storm to gather data, the center added.
Forecasters said Douglas would pass close to Oahu, which is home to most of Hawaii's military installations, including Joint Base Pearl Harbor-Hickam, Schofield Barracks and Marine Corps Base Hawaii.
Navy ships sortied out of Pearl Harbor beginning Saturday morning to avoid the storm. The Air Force meanwhile secured its aircraft at Hickam Airfield.
The Coast Guard set port condition Zulu for Oahu and Kauai islands on Sunday morning, which restricts all ports until the storm has passed.
The military moved Oahu to the highest cyclone readiness condition Sunday morning. Marine Corps Base Hawaii later reminded residents about gate, shop and beach closures and urged them to "make final preparations and continue to stay safe."
Joint Base Pearl Harbor-Hickam "strongly encouraged" its residents to hunker down at home. "Personnel should remain indoors, off the roads, and exercise extreme caution during peak storm hours," the statement said.
Information from The Associated Press was used in this report.