Hawaii-based ships sortie ahead of Tropical Storm Olivia
by
Wyatt Olson
September 11, 2018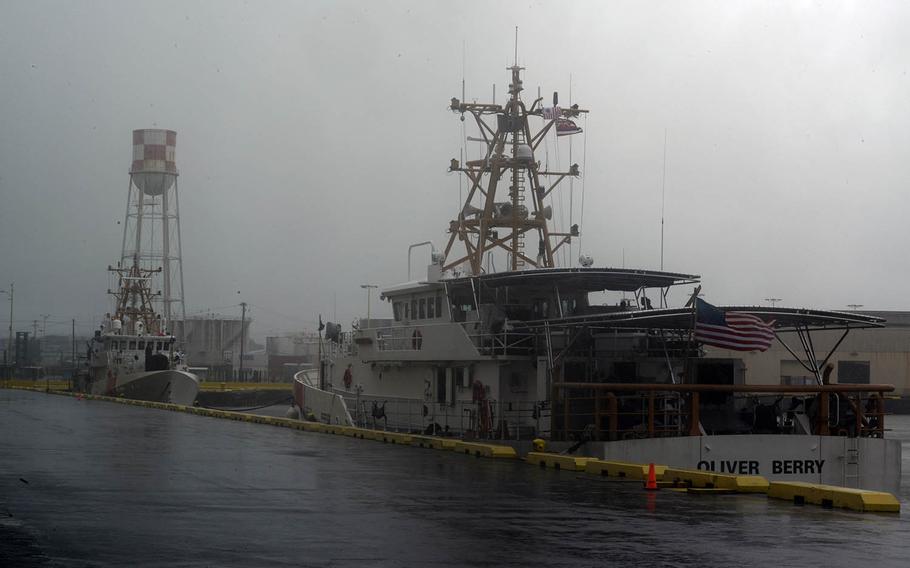 FORT SHAFTER, Hawaii — For the second time in less than a month, the Navy has ordered Hawaii-based ships and submarines to sortie as a storm approaches the islands.
Tropical Storm Olivia — at times surging to a Category 1 hurricane during past days — is expected to arrive in the Hawaiian Islands Tuesday afternoon local time.
"Sortie of our Pearl Harbor-based ships allows them the most protection from the approaching storm," Rear Adm. Brian Fort, commander of Naval Surface Group Middle Pacific, said in a Navy statement Monday evening. "An early sortie allows enough time to transit safely out of the path of the storm."
Last month, Fort ordered a sortie as Hurricane Lane approached Hawaii as a Category 4 before weakening to a tropical storm. While it soaked Hawaii and Maui islands, the storm turned sharply west and spared Oahu, home of Pearl Harbor and most U.S. military installations.
Some ships will not be able to sortie due to ongoing maintenance work, the Navy said. For those ships, commanders have the options of adding additional mooring and storm ties, dropping anchor and disconnecting from shore power cables.
The VA Pacific Islands Health System announced Monday that outpatient clinics on the big island of Hawaii, Maui, Lanai and Molokai will be closed Tuesday. The VA has enacted the Pharmacy Disaster Relief Plan, which allows veterans to refill prescriptions at any retail pharmacy if needed.
Clinics on Oahu are still scheduled to be open Tuesday.
olson.wyatt@stripes.comTwitter: @WyattWOlson