Hagel, Kerry to discuss future of US troops in Japan during meeting
by
Wyatt Olson olson.wyatt@stripes.com
October 2, 2013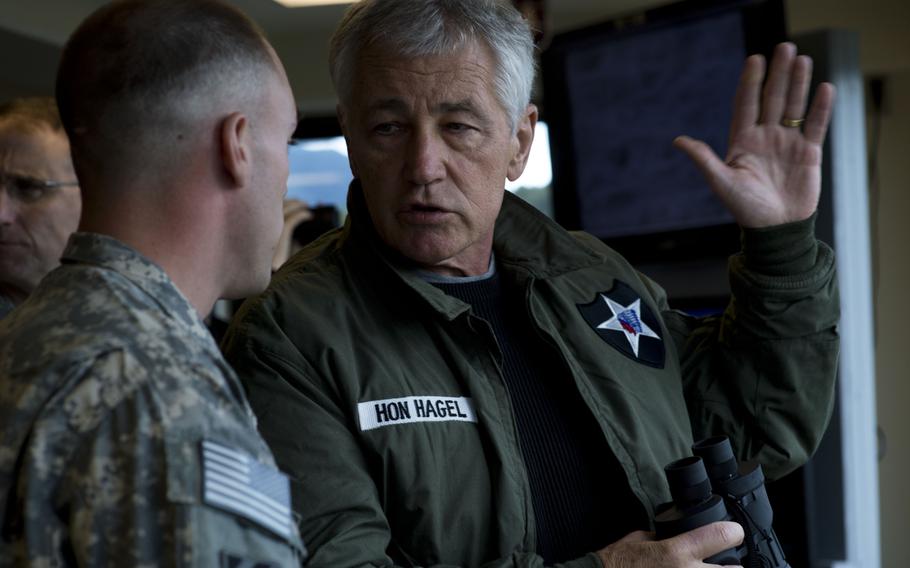 YOKOTA AIR BASE, Japan — Two top U.S. cabinet members will meet with Japanese officials Thursday and are expected to announce revisions to the defense alliance between the two countries.
Secretary of Defense Chuck Hagel and Secretary of State John Kerry will attend a meeting of the Japan-U.S. Security Consultative Committee, which last met in June 2011 in Washington, D.C.
The agenda is expected to include security and defense cooperation, as well as realignment of U.S. forces in Japan, particularly troops and equipment at Marine Corps Air Station Futenma and Kadena Air Base, both in Okinawa.
Hagel, arriving from South Korea, is also expected to hold an all-call with U.S. sailors in Tokyo before leaving Friday.
The committee meeting "represents the next step in further strengthening the U.S.-Japan alliance, providing an opportunity to build on our already broad and comprehensive bilateral relationship," State Department spokesperson Jen Psaki said in a statement.
The Obama administration announced last year a plan to rebalance forces to the Pacific from Europe and the Middle East. Now the U.S. is now in the throes of budget cutting, sequestration and, as of Tuesday, a government shutdown. The Pentagon is likely hoping Japan will pick up some of the financial slack in the alliance.
Since his election as Japan's prime minister in December, Shinzo Abe has been moving to expand the country's defense capabilities, driven in part by growing confrontations with China over the Senkaku Islands in the East China Sea. Japan controls the islands, but both countries claim ownership.
Under Abe, the Japan government is developing new defense program guidelines and establishing a domestic version of America's National Security Council that would help coordinate defense policy, according to Jeffrey W. Hornung, an Asia expert with the Center for Strategic and International Studies in Washington, D.C., in an analysis published Tuesday.
The country is also looking at expanding the role of the Japan Self-Defense Force, whose actions are restricted by the nation's constitution.
"These domestic changes impact bilateral dialogue with the United States and both must therefore go hand-in-hand to develop coherent defense and security principles," Hornung wrote. "This means that the allies have a lot to talk about regarding a review of their roles, missions, and capabilities and possibly new areas into which to expand the range of areas for cooperation, including cyber defense and joint intelligence, surveillance, and reconnaissance capabilities."
Hornung contends the U.S. will avoid any talks with Japan about its claims of sovereignty over the Senkakus.
"The furthest Washington will go is to reiterate its recognition of Japan's administrative control of the Senkaku Islands and attendant U.S. treaty obligations," he wrote. "Nor will the United States take sides in disputes over history."
Much of the discussion will undoubtedly focus on the ongoing saga over the presence of U.S. Marines on Okinawa. The U.S. and Japan agreed in 1996 to cut the number of Marines in half after the gang-rape of a 12-year-old Okinawan girl by servicemembers. Little progress has been made.
In April, the two countries unveiled a plan to reduce the U.S. footprint on Okinawa by relocating Futenma and turning over U.S. military land during the next 16 years.
Japan wire service Jiji Press reported Wednesday, quoting unidentified sources, that Hagel might announce that training time with Osprey aircraft on Okinawa would be cut in half to show that the U.S. is sensitive to local opposition to the hybrid craft.