Guam releases list of establishments visited by airmen infected with coronavirus
by
Wyatt Olson
June 25, 2020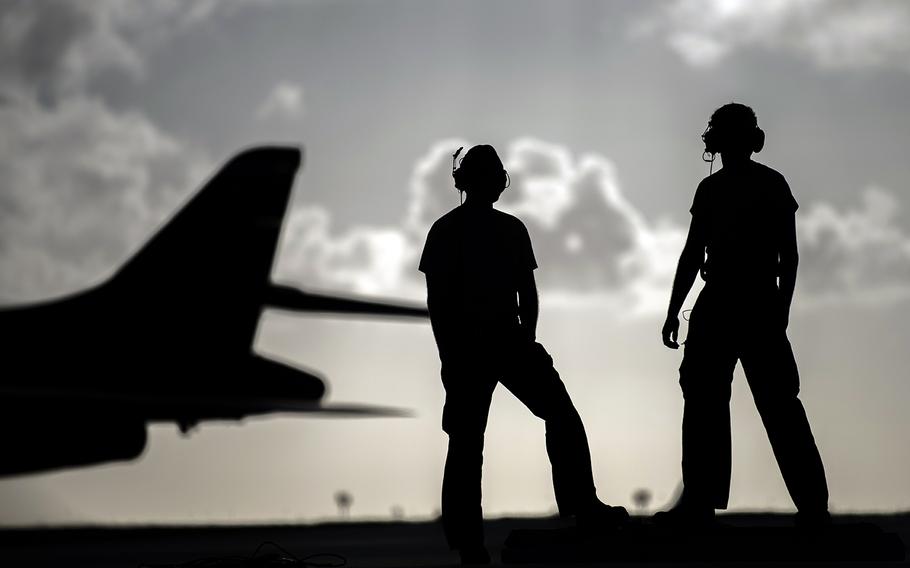 Stars and Stripes is making stories on the coronavirus pandemic available free of charge. See other free reports here. Sign up for our daily coronavirus newsletter here. Please support our journalism with a subscription.
Guam officials have advised the public to monitor their health closely if they frequented any of 30 restaurants or shops visited this month by U.S. service members infected with the coronavirus.
As of Wednesday, 35 airmen from the same unit had tested positive for the virus since arriving May 25 on Guam, according to the U.S. territory's Department of Public Health and Social Services. The first airman tested positive on June 12. The Air Force has not publicly identified the affected unit.
Brig. Gen. Gentry Boswell, commander of the 36th Wing at Andersen Air Force Base, said in a statement Monday that the base is investigating whether the infected airmen had followed health protocols after arriving on the island.
On Wednesday, Guam health officials issued a list of establishments visited by the airmen June 4-13.
Most of the businesses on the list are in Tumon, the island's entertainment and tourism hub, where the airmen stayed upon arrival at the Guam Reef Hotel, the only hotel on the list. Other Tumon locations include two ABC convenience stores, a Burger King, Eggs 'n' Things, Outback Steakhouse, Taco Bell and TGI Fridays.
One gym, Paradise Fitness in Hagatna, is on the list, which has been posted online.
"Since establishments have been practicing guidelines for social distancing with ordering and seating arrangements, the [Guam health department] has assessed that some of these locations may have low risk of close contact or prolonged exposure to these COVID-19 cases," a Guam Joint Information Center statement Wednesday. "Out of an abundance of caution, [the department] is notifying the public of all locations involved in the [airmen] cluster, including those that may be low risk."
The health department will begin offering testing next week for anyone suspecting contact with the infected airmen. The date and place of the testing has not yet been determined.
In response to the cluster of Air Force infections, Joint Region Marianas, the entity that administers the territory's military installations, extended until July 1 an order that prohibits all Navy, Marine Corps and U.S. Coast Guard active-duty members from dining in at restaurants or visiting bars.
As of June 18, service members permanently or temporarily assigned to Andersen are required to limit travel to essential trips, such as for grocery shopping or commuting to work. Service members violating the order will be subject to action under the Uniform Code of Military Justice.
Guam has had 226 confirmed cases of COVID-19, the disease caused by the virus, resulting in five deaths.
Aside from the cluster of 35 airmen, seven other service members have also tested positive, according to the Guam health department, which has not provided further details on the latter cases.
olson.wyatt@stripes.com Twitter: @WyattWOlson