Guam-based Global Hawks return home after spending another typhoon season in Japan
---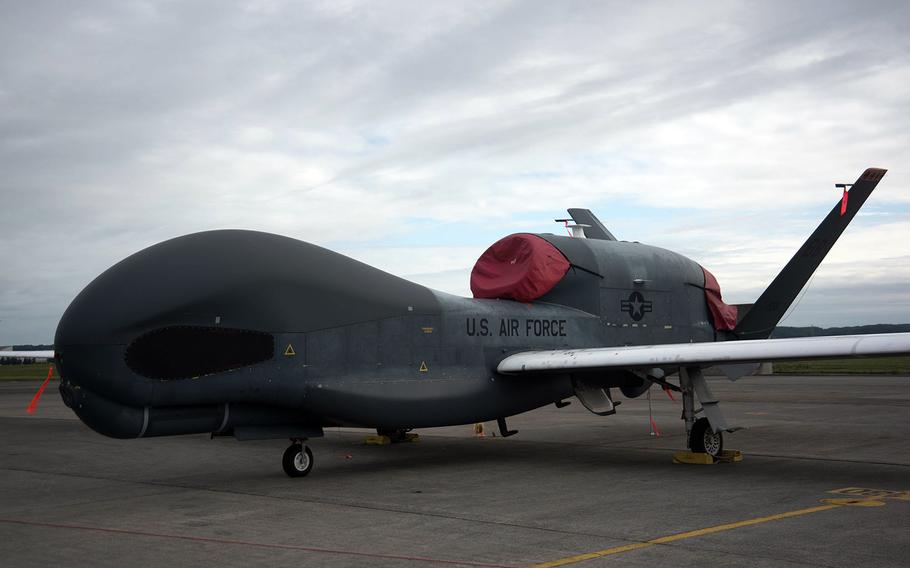 YOKOTA AIR BASE, Japan — Four RQ-4 Global Hawk surveillance drones returned to Guam this week after spending the summer flying out of the home of U.S. Forces Japan in western Tokyo, according to Pacific Air Forces.
The 319th Reconnaissance Wing aircraft — along with about 20 service members and 100 civilians from Andersen Air Force Base, Guam — operated from Yokota for the past three months to avoid extreme weather in the western Pacific.
"Our squadron of Global Hawks safely and flawlessly executed each mission daily, virtually unnoticed, without incident," Col. Ben Craycraft, 319th Operations Group Detachment 1 commander, said in a statement Monday.
The drones routinely relocate to Japan to avoid typhoons in Guam and the nearby Northern Mariana Islands, which include Saipan, Tinian and Rota. Last year saw 35 storms, including seven super typhoons, blow across the western Pacific. One of those, Yutu, the second strongest typhoon to ever hit a U.S. state or territory since record keeping began in 1958, devastated Saipan and Tinian in October. Months earlier, Super Typhoon Wutip brushed by Guam at 161 mph and interrupted the Cope North exercise at Andersen.
Two typhoons passed over Yokota during the drones' stay — Typhoon Faxai in early September and Typhoon Hagibis a month later.
In previous years, Andersen's Global Hawk detachment moved to Misawa Air Base on the northern tip of Japan's Honshu island. The drones moved to Yokota in 2017 because of runway construction at Misawa, which hosted the aircraft again last year.
The Northrop Grumman-built aircraft, which can cost $100 million depending on configuration, are thought to be capable of operating at an altitude of 60,000 feet. That's high above civilian air traffic, which normally does not surpass 40,000 feet. They have a range of 14,000 miles and can stay aloft for 34 hours.
In addition to supporting intelligence, surveillance, and reconnaissance requirements, the Global Hawk has been used for humanitarian-assistance and disaster-relief operations, such as Operation Tomodachi — the U.S. military response to the earthquake and tsunami that struck Japan in March 2011.
"In the past, the RQ-4s were instrumental in assisting with humanitarian assistance and disaster relief operations as well as providing unmatched capabilities with High Altitude, Long Endurance (HALE) Reconnaissance," Craycraft said. "As in 2017, Yokota Air Base ultimately provided the most ideal location for our operations due to the Kanto Plain's favorable weather and our ability to conduct operations without causing impact to flights or the local communities surrounding Yokota."
Curious locals got a chance to see one of the gray, hi-tech drones up close during Yokota's Japanese-American Friendship Festival in September. The annual event attracted more than 125,000 visitors this year.
robson.seth@stripes.com Twitter: @SethRobson1
---
---
---
---