Ground broken for two DODEA schools key to S. Korea relocation plan
by
Ashley Rowland
September 2, 2011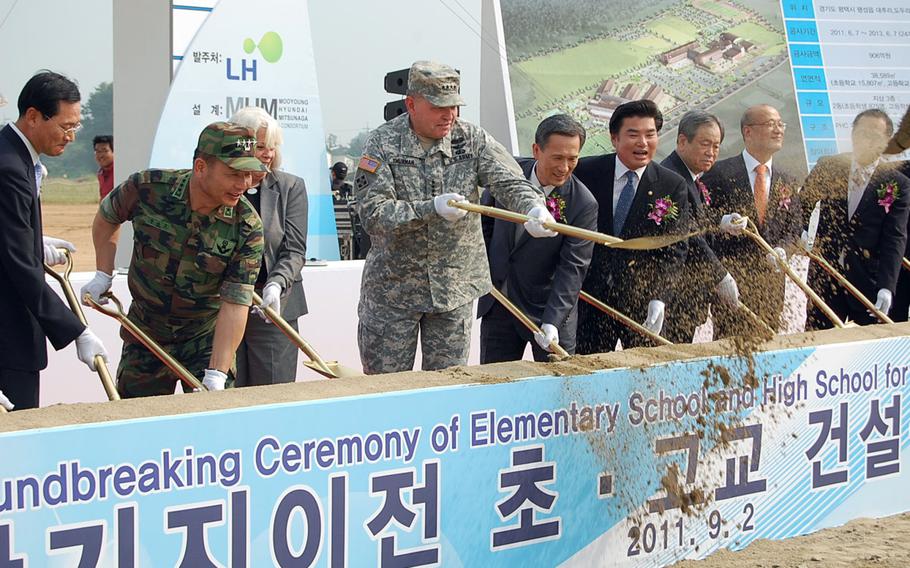 SEOUL — U.S. Forces Korea and South Korea held a groundbreaking ceremony Friday near U.S. Army Garrison-Humphreys for two DODEA schools that will play a key role in moving forward the military's relocation plan.
The schools, which have yet to be named, will serve approximately 1,700 students and are expected to be completed in June 2013, according to South Korea's Ministry of National Defense. The 90 billion won project – worth approximately $8.5 million – is being funded by South Korea as part of its financial commitment to the relocation plan, a spokesman for the MND-USFK Base Relocation Office said.
Under that plan, the 28,500 U.S. troop presence in South Korea will be consolidated into two regional hubs in Pyeongtaek and Daegu by 2016. Bases in and north of Seoul – including the flagship USFK base, U.S. Army Garrison-Yongsan – will be closed.
The centerpiece of the Pyeongtaek hub will be Humphreys, a once-sleepy helicopter base that is expanding to accommodate 17,000 troops.
But the relocation, now scheduled to be completed by 2016, has been pushed back repeatedly because of construction delays.
So has the expansion of a command sponsorship program that will eventually allow approximately 14,000 U.S. troops to bring their families with them on 2- and 3-year tours to South Korea, instead of the traditional one-year unaccompanied tours. A shortage of classroom space and family-friendly facilities on bases has forced the military to enact a priority system for troops who want command sponsorships.
The elementary school and high school will hold 850 and 950 students, respectively, and are scheduled to open for the 2013-2014 school year. The elementary school will hold kindergarten through 5th grade classes, and the high school will hold 6th through 12th grades until a new middle school opens the following year, according to DODEA Pacific spokesman Charly Hoff.
USFK spokesman Jason Chudy said the school sites are currently located approximately 700 meters outside Humphreys, but the base's perimeter will be redrawn after the schools are completed.
Lt. Gen. Kim Kie Soo, chief director of the MND-USFK Base Relocation Office, said in a news release that after the groundbreaking for the schools, "future construction works for the relocation effort will also pick up speed."
Construction contracts for barracks, a hospital, child development center and other facilities are expected to be awarded by the end of the year, according to the news release.