Analysis
Good news, bad news for US as alliance with South Korea teeters
by
Kim Gamel
November 24, 2019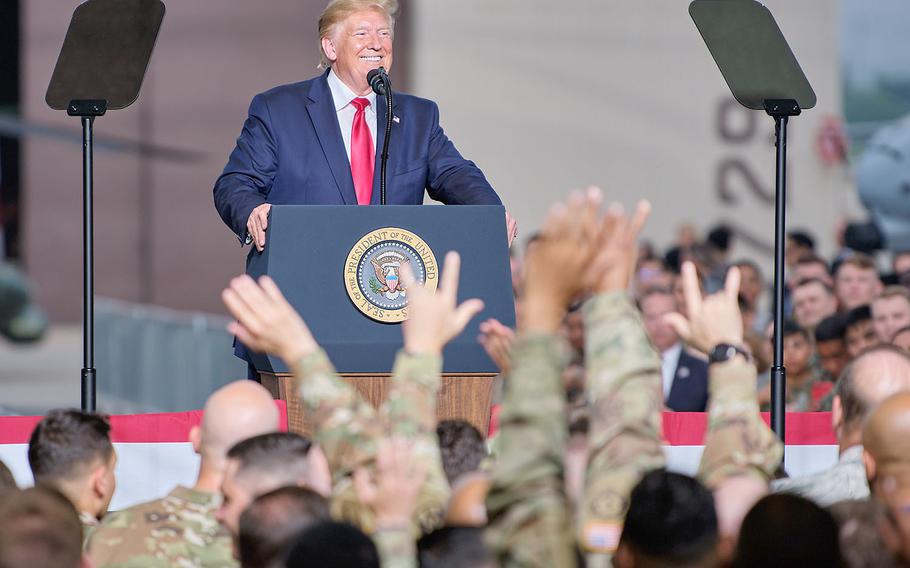 SEOUL, South Korea — South Korea's last-minute decision to extend a U.S.-backed military intelligence sharing pact with Japan was good news for Washington after a week of setbacks on the divided peninsula.
President Moon Jae-in's office announced the policy reversal on Friday after a concerted push by the United States to save the General Security of Military Intelligence Agreement, or GSOMIA.
Seoul insisted it could change its mind at any time depending on the outcome of future negotiations with Japan over trade and historical disputes.
The move lifted, for the time being, a major irritant in the relationship between South Korea and the United States, which considers the security pact vital for monitoring the growing nuclear threat from North Korea.
However, the longtime allies still face a rare public dispute over defense cost-sharing and growing fears of a return to tensions with the North amid stalled talks aimed at persuading it to abandon its nuclear weapons.
Welcome decisionThe U.S. welcomed Seoul's decision not to terminate GSOMIA, which had been due to expire at midnight Friday.
"Pres. Moon & Korea made a wise & judicious decision that greatly benefits our alliances & bilateral cooperation," Sen. Bob Menendez, the top Democrat on the Senate Foreign Relations Committee, wrote on Twitter.
Foreign Minister Kang Kyung-wha said South Korea had weighed the need for cooperation with the U.S. in reversing course.
The decision "buys more time" to settle the trade dispute with Japan, she said.
However, relations between the allies remain strained over President Donald Trump's demands for a sharp increase in South Korea's contribution to offset the costs of stationing some 28,500 U.S. troops on the peninsula.
Last week, U.S. negotiators stormed out of a meeting with their South Korean counterparts to discuss the Special Measures Agreement, as the defense cost-sharing contract is known, in Seoul.
"Unfortunately, the proposals that were put forward by the Korean negotiating team were not responsive to our request for fair and equitable burden sharing," lead American negotiator James DeHart said Tuesday.
He expressed hope that the South Koreans would bring new proposals to the next round of talks, although a date was not announced. The current agreement expires at the end of the year.
South Korean officials said the Americans were demanding that they "drastically" increase their share of the burden outside the range that is "mutually acceptable within the framework of the SMA."
Neither side released a figure or confirmed reports that the Trump administration is demanding a five-fold increase to nearly $5 billion per year.
Both countries insist the alliance, which was forged in the 1950-53 Korean War, is "ironclad." But the dispute has led to public protests with activists accusing the United States of "extortion."
The Pentagon also denied a South Korean newspaper report that it was considering withdrawing up to 4,000 troops from the country if Seoul doesn't increase its contribution.
Officials pointed out that Defense Secretary Mark Esper had committed to maintaining current troops levels during recent alliance talks.
Stalled diplomacyThe North Koreans, meanwhile, issued a barrage of statements rebuffing further diplomacy with the U.S. despite Esper's announcement that the allies would postpone planned air force drills.
Esper called it an "act of goodwill" meant to encourage Pyongyang to return to the negotiating table.
But North Korea, which considers all combined allied military exercises rehearsals for an invasion, called on Washington to cancel the drills entirely and to abandon its hostility toward the regime.
That has heightened concerns that the adversaries may be poised for a return to tensions that spiked in 2017 with a series of missile and nuclear tests by the North and threats of "fire and fury" by Trump.
Hopes for peace rose as the two Koreas and the U.S. held a series of summits and working-level meetings last year. But diplomacy has stalled since Trump and Kim failed to reach agreement during their second summit in February in Vietnam.
Stephen Biegun, the main U.S. envoy to North Korea, echoed the concerns last week during his Senate confirmation hearing to be the new deputy secretary of state.
"I can imagine that we could see a possibility of going back to some of the more provocative steps that preceded the start of this diplomacy to begin with," Biegun said Wednesday.
He dismissed an end-of-year deadline imposed by North Korea for the U.S. to offer a more flexible approach, calling it an "artificial deadline."
The communist state has called on the U.S. to lift punishing economic sanctions and offer security guarantees. Washington insists the North must give up its nuclear weapons first.
The North Koreans also appear to be losing patience with Trump, who has long touted a good personal relationship with leader Kim Jong Un as evidence of progress.
The North has launched several missiles and rockets this year but stopped short of lifting its self-imposed moratorium on long-range missile and nuclear tests.
"I think North Korea is beginning to see Trump's United States as not as powerful as it once thought," said Kim Hyun-wook, a professor at the Korea National Diplomatic Academy in Seoul.
He said the North appears to be hedging its bets by turning to China and Russia for economic and security support to offset U.S.-led sanctions.
Senior North Korean diplomat Choe Son Hui held meetings with Russian Foreign Minister Sergey Lavrov and other officials in Moscow last week.
"I think with the backup of China and Russia, North Korea does not need to continue such tedious working-level talks with the United States," he said.
gamel.kim@stripes.com Twitter: @kimgamel