Global Hawks from Guam land in Tokyo for summer stay
by
Seth Robson
June 1, 2020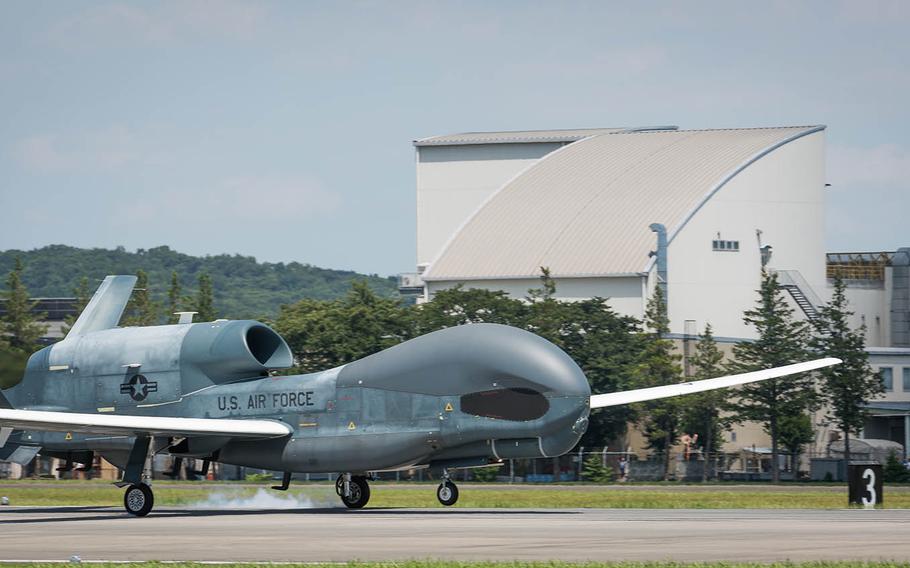 YOKOTA AIR BASE, Japan — Unmanned RQ-4 Global Hawk surveillance drones began a summer rotation to the home of U.S. Forces Japan in western Tokyo on Saturday.
Photographs of one of the planes were posted on Yokota's official website soon after it touched down.
"The rotation of the Global Hawks to Yokota provides a stable location from which the platform can operate when inclement weather in Guam, including typhoon activities, has the potential to hinder readiness," the Air Force said in a caption accompanying the image.
Airmen from the 319th Operations Group arrived at Yokota from Guam in phases ahead of the aircraft, 5th Air Force spokeswoman Maj. Helen Annicelli said in an email Friday.
Guam became a hotspot for military coronavirus cases after the USS Theodore Roosevelt aircraft carrier diverted there in March. More than 1,150 sailors, one of whom died, tested positive for the illness.
The airmen who arrived in Tokyo from the island completed the same 14-day restriction of movement required of all military personnel arriving in Japan in recent months, Annicelli said.
"Yokota Air Base continues to demonstrate it is one of the best locations to safely receive and privately house military members in a controlled environment," she said. "While we cannot discuss the specific security measures, both the medical and security plans in place are designed to ensure the full integrity of ROM procedures."
Sailors from Navy bases in Japan have been isolated at Yokota ahead of their deployments. Some of the sailors and staff supporting them in isolation tested positive for coronavirus last month, according to the Air Force.
In addition to supporting intelligence, surveillance and reconnaissance requirements, the Global Hawk has provided imagery during humanitarian-assistance and disaster-relief operations, such as Operation Tomodachi, the U.S. military response to the earthquake and tsunami that struck Japan in March 2011.
The Northrop Grumman-built drones, which can cost $100 million depending on configuration, are thought to be capable of operating at an altitude of 60,000 feet, high above civilian air traffic, which normally does not surpass 40,000 feet. They can stay aloft for 34 hours and have a range of 14,000 miles.
robson.seth@stripes.com Twitter: @SethRobson1