Global Hawk airmen arrived in Japan as a detachment, return to Guam as a squadron
by
Seth Robson
October 1, 2020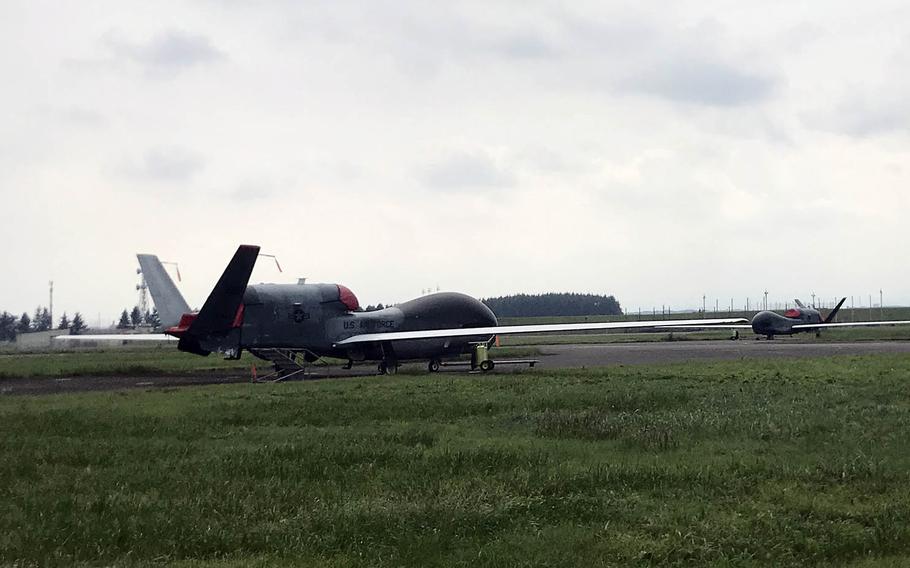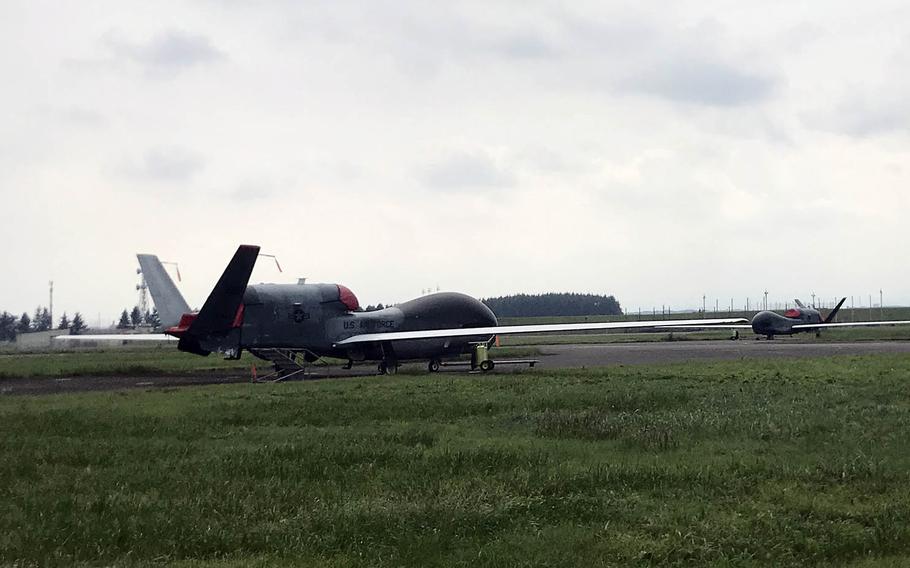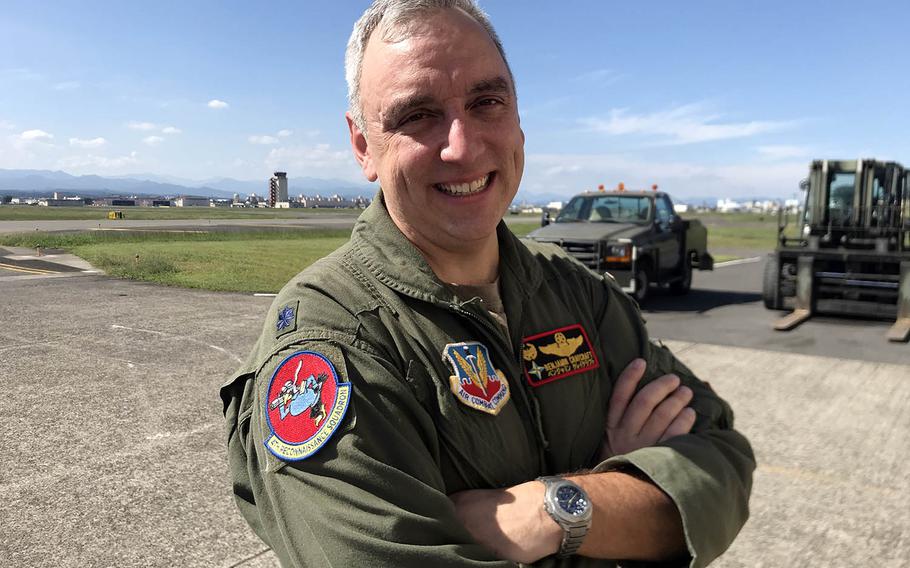 YOKOTA AIR BASE, Japan — The Air Force's newest RQ-4 Global Hawk squadron is soon headed for Guam after completing a four-month deployment in Japan.
The 4th Reconnaissance Squadron, which will return to Andersen Air Force Base sometime next week, operated five of the United States' largest unmanned aircraft from the home of U.S. Forces Japan in western Tokyo over the summer.
The unit started its deployment as Detachment 1 of the 319th Operations Group but finished it as a squadron due to its increased size after adding maintenance airmen to take over jobs that had been done by civilians, said squadron commander Lt. Col. Ben Craycraft.
The squadron traces its lineage to the 4th Observation Squadron of World War II. It was last active in Afghanistan in 2014, when it flew MC-12 Liberty aircraft.
On Wednesday, Craycraft watched airmen clear the unit's supplies out of one of a pair of old hangars that once housed C-9A Nightingale medevac planes at Yokota. He was wearing the squadron's new patch, which features a crow, a bird that is ubiquitous in the Japanese capital.
"We saw a crow outside the same day we transitioned [to become a squadron]," he said.
The unit deployed to Yokota with a single "cockpit," a metal box that looks like a shipping container where pilots control the drones.
"We control the airplane for about 200 miles and then hand off to the main operating bases," Craycraft said, referring to Beale Air Force Base, Calif, and Grand Forks Air Force Base, N.D., where drone operators fly the Global Hawks remotely during missions.
According to the aircraft's manufacturer, Northrop Grumman, the Global Hawk flies at 60,000 feet and has a line of sight to targets more than 340 miles away. The exact range of the aircraft's cameras and sensors is classified, but a Global Hawk flying near the Korean Demilitarized Zone, for example, could see well beyond the Yalu River that marks North Korea's border with China.
The biggest change that happened when the unit became a squadron was having airmen maintain the aircraft, a job that was done by civilian contractors on Guam, Craycraft said.
The squadron's 36 maintainers spent six months training for their new jobs before arriving in Japan, according to Global Hawk crew chief Master Sgt. Kevin Woodfill, 34, of Aztec, N.M.
"We had a handful of experienced guys from other Global Hawk bases come out … [but] at Yokota it was the first time a lot of these people had touched these aircraft," he said Thursday.
Most of the drone maintenance involves computers but there is still basic aviation maintenance involved, said the former C-130 Hercules and F-15 Eagle mechanic who worked on MQ-9 Reaper drones before joining the Global Hawk unit.
It takes four or five people on the flight line to generate an RQ-4 sortie, he said.
"They are flying computers, so they are pretty maintenance intensive," he said of the drones. "You can't just start them up and go. There are a lot of systems that need to be checked."
Guam-based Global Hawks, which recently got upgraded signals intelligence equipment, have been deploying to Japan during summer to avoid typhoons since 2014. The aircraft have flown out of either Misawa Air Base, in northeast Japan, or Yokota.
However, Craycraft said Tokyo, which so far hasn't been hit by typhoons this year, is a better location for the mission than Misawa.
At Misawa the drones share airspace with U.S. and Japanese fighter jets and commercial planes. In Tokyo, however, the drones have little impact on local operations, he said.
This year's mission in Japan was twice as long as last year's and involved twice as many sorties, Craycraft added.
The drone operators got on well with members of Yokota's 374th Airlift Wing, which flies conventional planes, including the C-130J Super Hercules, he said.
"They give me a lot of stick about not being a real pilot, but I used to fly the C-130 so I have some street cred with them," he said.
robson.seth@stripes.com Twitter: @SethRobson1