GI, soldier's wife view brawl outside South Korean nightclub differently
by
Yoo Kyong Chang Jon Rabiroff chang.yookyong@stripes.com rabiroff.jon@stripes.com
June 7, 2013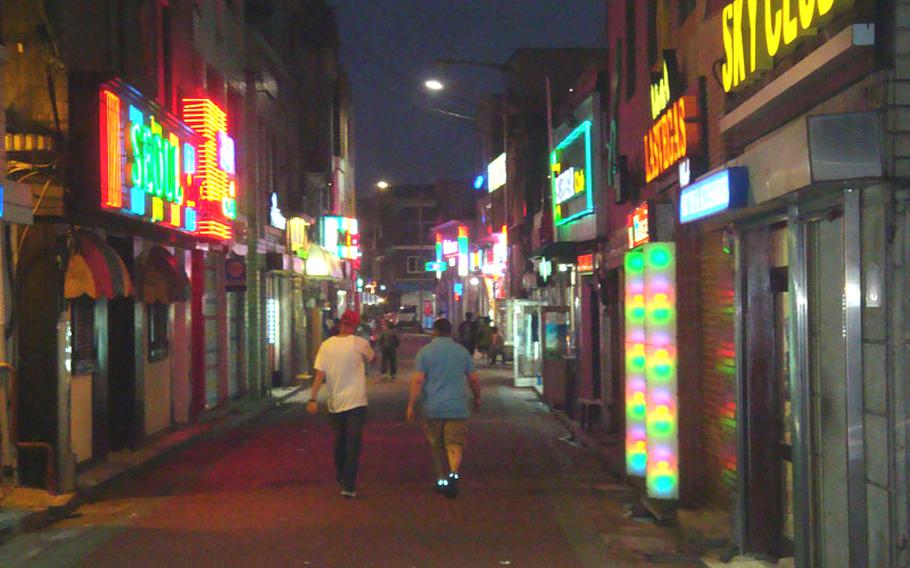 UIJEONGBU, South Korea — A U.S. soldier and a Korean bar owner were in court Friday for their roles in a March 16 brawl outside a Dongducheon nightclub, a melee in which three soldiers were stabbed.
During Friday's proceedings in Uijeongbu District Court, wildly different versions of exactly what happened during the 6 a.m. fight — which pitted a half-dozen U.S. soldiers against the bar owner, another U.S. soldier and the soldier's wife — in The Ville outside Camp Casey.
Club owner Lee Chang-hon, and Spc. Paul Noel are facing trial for "violating the act on the punishment of violence" for their parts in the brawl. Lee allegedly stabbed the three soldiers, and Noel was allegedly the most aggressive member of the group of soldiers during the incident.
According to police, everyone involved had been drinking before the fight broke out.
Abby Yu, the Philippine wife of U.S. Staff Sgt. Min Yu, told the court that she was walking with Lee on her way to join her husband at their car when one of the soldiers grabbed her shoulder and twice told her she was "pretty."
Saying she was scared by the soldier's aggressive actions, Yu said she told the soldier that Lee was the nightclub's owner, and tried to direct the group to a nearby bar where they could find attractive Filipinas. Almost immediately, she said, a fight broke out between Lee and the soldiers, and her husband brought a knife and aluminum baseball bat from their car and joined the fray, handing the bat to her.
Abby Yu said she found herself in a "life-or-death situation."
"They attacked," she said. "They were coming to hurt us. Even if we try not to fight or we fight back … we're going to get hurt."
Spc. James Robert Lassack, who was with Noel's group, countered that the trouble began when Abby Yu fell and was helped up by the soldiers.
"She even said 'thank you,' " he said. "There was no way to misinterpret helping a woman up."
But moments later, Lassack testified that Abby Yu "went crazy" and her husband came over and handed her a bat.
"Is this what you want?" he quoted her as saying and she swung the bat toward the soldiers. "Does this make you happy?"
Abby Yu said she eventually dropped the bat and raised her arms, telling the soldiers, "Stop. Don't hurt us. We've got kids."
"I didn't want to hurt anybody," she said. "I didn't want to get hurt. I was hoping they would listen and they would stop."
Instead she said, her husband was beaten by the group, and one of the soldiers hit her repeatedly with the bat. They were only able to get away when Lee grabbed the knife and stabbed a few of the soldiers in trying to protect the couple from further harm.
Lassack testified that the soldiers' battlefield training kicked in when the confrontation began.
Pressed repeatedly by the judge and prosecutor why the soldiers involved did not run away when challenged by a group armed with a knife and baseball bat, Lassack said, "We are taught when you are cornered … we disarm and then we get away. We get the threat away.
"You can't underestimate somebody coming at you with a knife and a bat," he said. "We didn't feel we could get away."
At one point Lassack shocked many in the courtroom when he asked the judge and prosecutor, through a translator, "Have you ever been in combat?"
He explained he was not being confrontational, but just trying to explain why "we really didn't have an option."
"It was chaotic," he said. "Everything happened so quickly."
The soldiers who were stabbed — Pvt. Edward Peedin (who was stabbed in the midsection); Spc. Alexander Jones (who was stabbed in the buttocks); and Spc. Bobby Wright (whose finger was cut) — have been fined undisclosed amounts for their parts in the confrontation, according to a Uijeongbu District Court official.
The Dongducheon brawl was the most serious of three incidents involving U.S. soldiers in South Korea over the St. Patrick's Day weekend, which prompted 2nd Infantry Division commander Maj. Gen. Edward Cardon to temporarily implement a number of restrictions, including a ban on alcohol consumption, on his 10,000 soldiers here. Those restrictions have since been lifted.
The trial is scheduled to resume June 17.
---
---
---
---