Gen. Brown bids farewell to Pacific Army command as he heads for retirement
by
Wyatt Olson
September 28, 2019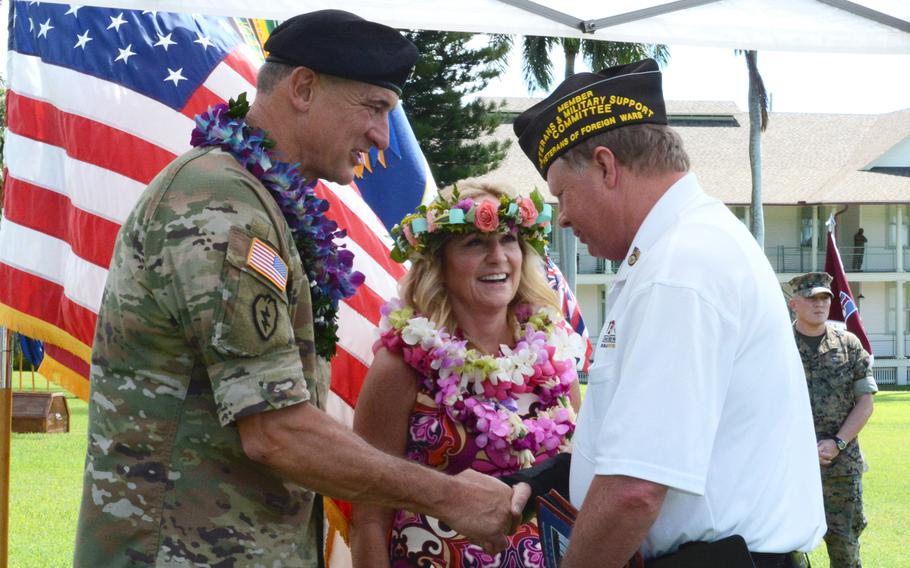 FORT SHAFTER, Hawaii — Back in high school in the 1970s, U.S. Army Pacific commander Robert Brown had been recruited to play basketball for the University of Michigan.
He went instead to West Point, drawn to the ideal of service to country.
"I was going to serve a few years and get out and be a coach," Brown told hundreds of soldiers and other guests gathered for a farewell ceremony at Fort Shafter on Friday, his final day as USARPAC commander.
"It's the people," he said. "That's what kept me in. I stayed in; I loved it. I think one of the things I'm proudest of is units I led called me coach."
Brown will retire from a 38-year Army career next month with an official ceremony on the mainland.
USARPAC deputy commander Maj. Gen. Pete Johnson will fill in as acting commander.
Gen. Paul LaCamera, who until earlier this month was XVIII Airborne Corps commanding general and commander of Combined Joint Task Force-Operation Inherent Resolve, is slated to take command of USARPAC.
President Donald Trump nominated LaCamera in April. The Senate confirmed his promotion to four-star this summer but has yet to confirm him for USARPAC command.
Brown took command of USARPAC in April 2016, and the three-plus years since have been eventful ones for the region.
"A couple years ago we were as close to war as we've ever been in North Korea, in my opinion," he said, alluding to a series of missile launches and other provocations by North Korea and its young leader Kim Jong Un. "It was pretty tense."
Brown recalled "nearly 24-7 operations for about 12 months" during that period to ensure that soldiers were prepared for outright armed conflict.
He championed the Army's Multi-Domain Task Force, a program that was piloted in the Pacific and has expanded to Europe for its second phase.
The Army is preparing for a battle environment in which it must coordinate effectively in the domains of air, cyberspace, land, maritime, space and the electromagnetic spectrum.
The task force was first tested in 2016 when the Army fired shore-based missiles to sink a ship at sea during the Rim of the Pacific drills in Hawaii.
The ceremony's most emotional moment came as Indo-Pacific Command leader Philip Davidson recounted an event in Mosul, Iraq, in 2004, when Brown, then a colonel, was serving as a brigade commander.
A suicide bomber killed 22 Americans at an on-base dining facility. Capt. William Jacobsen, the company commander, was among the dead.
"Upon receipt of this report," Davidson said, fighting back tears, "Bob immediately departed his headquarters, which was about 30 minutes away on the other side of the Tigris, traversing the dangerous streets of Mosul to meet with his junior officers.
"Bob gave each of those junior officers a hug, allowing them to feel his shared sense of loss and determination to keep going. For the mission, for the soldiers, for the team, it was exactly what those officers needed from their leader. It gave them the strength and resiliency to carry on in the face of a determined enemy."
Later in the ceremony, Brown invoked the name of Jacobsen and other soldiers who have died under his command, saying " we all owe them an incredible debt of gratitude."
"What I told myself along the way," Brown said, pausing as he choked up. "I've gotta serve for them. They deserve the best. I hope they think I did an OK job."
olson.wyatt@stripes.com Twitter: @WyattWOlson