Gates: Military exercise is no threat to China
by
Jon Rabiroff
July 20, 2010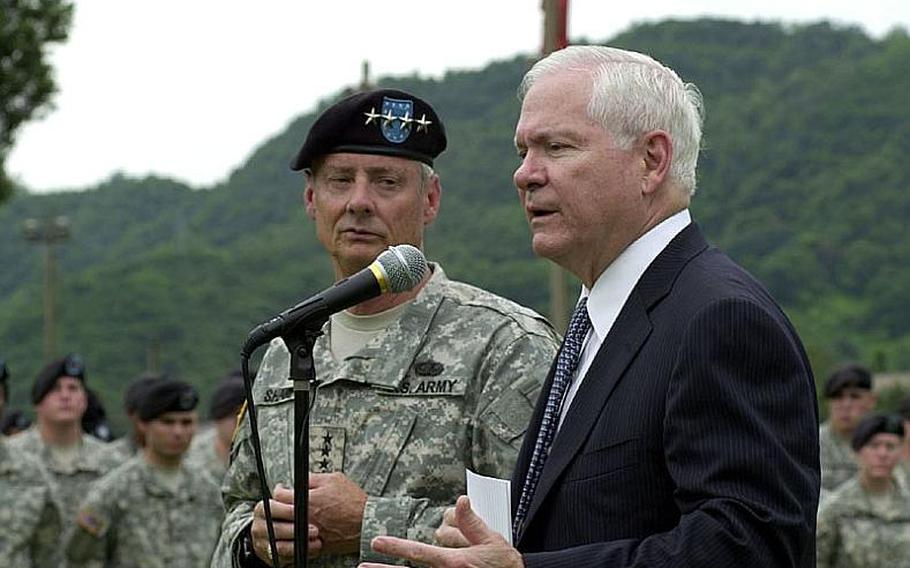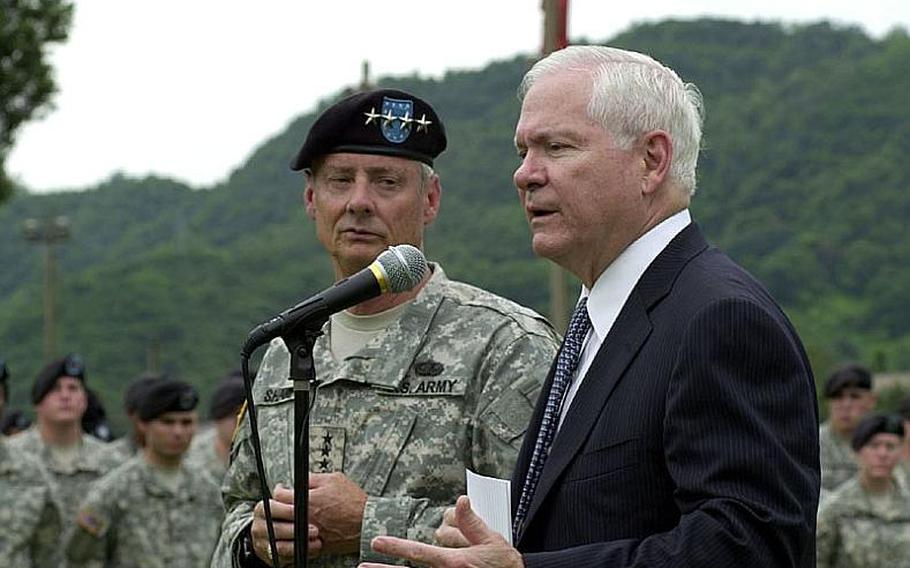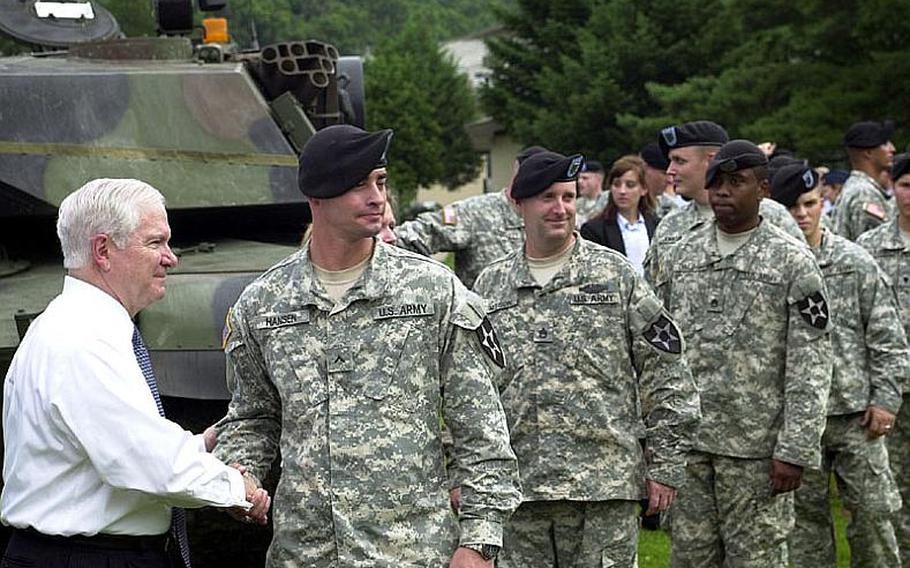 CAMP CASEY, South Korea — Sunday in the seas east of the Korean peninsula, the U.S. and South Korea will start the first in a series of joint military exercises to be conducted in the months ahead in response to North Korea's alleged role in the sinking of the South Korean patrol ship Cheonan.
"These defensive, combined exercises are designed to send a clear message to North Korea that its aggressive behavior must stop, and that we are committed to together enhancing our combined defensive capabilities," U.S. Defense Secretary Robert Gates and South Korean Minister of National Defense Kim Tae-young declared a joint statement issued Tuesday evening.
The aircraft carrier USS George Washington will lead the four-day "Invincible Spirit" naval and air exercise — "first in a series of … combined naval exercises that will occur in both the East and West seas," the statement said.
Earlier in the day, Gates dismissed the suggestion that objections from China had anything to do with decisions made about the staging of the first exercise. Chinese officials were reportedly uneasy about the George Washington and other U.S. ships staging an exercise west of the Korean peninsula in the Yellow Sea, near China's eastern waters.
"These exercises are off the coast of Korea, not off the coast of China," he said. "These are exercises like we have conducted for decades. We have conducted them in both the West and East seas, so there's nothing provocative about them at all."
Added Gates: "There should be no doubt in anybody's mind that we intend to exercise in both seas."
Gates' comments came in response to questions from reporters after he spoke to about 300 soldiers of the 2nd Infantry Division's 1st Heavy Brigade Combat Team at Camp Casey, a base about 20 miles south of the Demilitarized Zone that is home to some 7,000 troops.
The defense secretary said he and U.S. Secretary of State Hillary Clinton will meet with their South Korean counterparts and tour the DMZ on Wednesday as "a gesture of solidarity with our [South] Korean allies and a recognition that the issues of missile and nuclear proliferation in the North continue to be serious challenges for us and our allies, and we intend to take them seriously.
"I think it is a useful reminder that … [this] is a volatile region, as we saw with the Cheonan."
A South Korean-led international team of investigators determined that a torpedo fired by a North Korean submarine sank the Cheonan on March 26, killing 46 crewmen. South Korea has taken a number of economic and symbolic actions to punish North Korea for its alleged role in the Cheonan sinking, including taking the matter to the United Nations Security Council.
The North has denied any involvement in the incident.
Earlier this month, the Security Council issued a statement expressing "deep concern" over the findings of the Cheonan investigation, but stopped short of directly blaming North Korea.
Next week's joint military exercise is the latest way South Korea and the U.S. are responding to the sinking of the Cheonan and other provocative actions and comments from the North.
"This is an ongoing challenge that has to be managed over a period of years," Gates said. "I think North Korea … is about as isolated as a country can get in terms of the number of U.N. sanctions that have been voted against [it].
"There is a great deal of hardship in the North due to the policies of the leadership. I think that the pressure continues slowly to build on the North."
Approximately 8,000 U.S. and South Korean servicemembers will participate in the exercise, which will involve about 20 ships and submarines and 200-fixed wing aircraft, including the F-22 Raptor which will be flying training missions in and around Korea for the first time, according to a news release from U.S. Forces Korea.
"These readiness exercises serve to strengthen relationships, improve defensive capabilities and prepare the alliance to defend against threats we face together," USFK commander Gen. Walter Sharp was quoted as saying in the release.
Gen. Han Min-koo, chairman of the South Korean Joint Chiefs of Staff, said in the release: "We stand fully prepared to respond militarily to any further North Korean provocation."