Futenma relocation plan presents risk to Okinawa environment, governor's panel says
By
Chiyomi Sumida Travis J. Tritten
January 31, 2012
---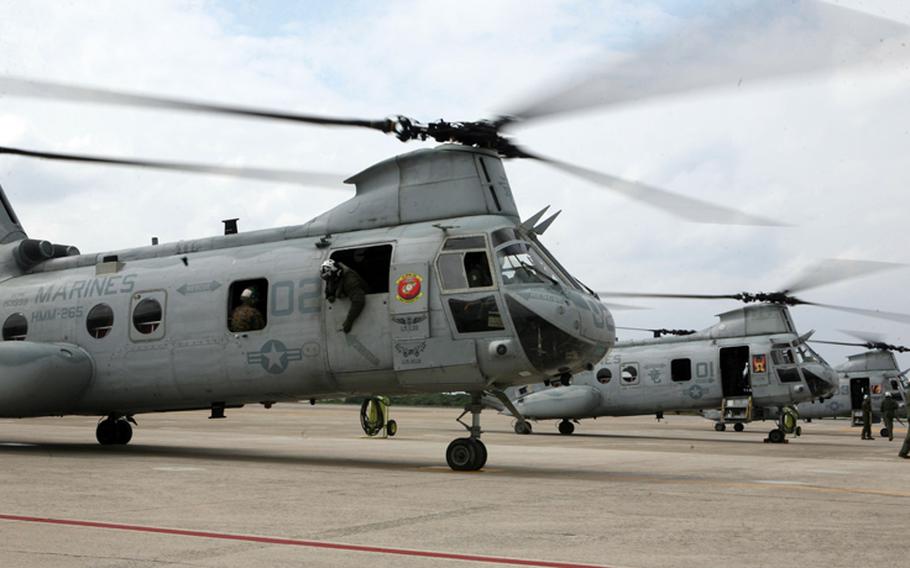 CAMP FOSTER, Okinawa — The U.S.-Japan plan to relocate Marine Corps Air Station Futenma farther north on Okinawa will cause irreparable environmental damage despite claims by Tokyo that any risks can be managed, a panel of experts advising the island's governor said Tuesday.
Valuable habitat and rare species could be harmed by building an offshore Marine Corps airfield, and the effects of new aircraft on the area are not fully known, according to 11 university professors, who spoke during a public meeting. It was the island's first assessment of a 7,000-page Ministry of Defense report issued in late December that found the U.S. and Japan could build the new base without harming the ocean or coastal area.
The ministry report was meant to be a first step toward starting construction of the troubled, six-year-old Futenma relocation project. But the panel rebuke Tuesday was a strong indication that Okinawa will continue its unwavering opposition to hosting the Marine Corps base by rejecting the project on environmental grounds.
"The problems are no small matter. Instead, the problems are too big to carry out the project at the planned site," said Kuniharu Miyagi, chairman of the panel and professor at Okinawa International University.
Filling the ocean bottom for a new V-shaped Marine Corps airfield will destroy coral and marine plants as well as habitat for the dugong, an endangered relative of the manatee, and an endemic species of goby fish, the panel told about 100 residents.
The panel also said Tokyo has not properly studied the effects of the Marine Corps' tilt-rotor Osprey aircraft on the quiet coastline where the project is planned. The service recently decided to replace its global fleet of aging helicopters with the new aircraft.
The panel's findings will be submitted to Okinawa Gov. Hirokazu Nakaima, who is expected to issue a formal response to the Ministry of Defense in the coming months.
The ministry declined to comment on the panel's comments Tuesday. "We will respond appropriately when we receive [the] governor's opinions," a spokesman in Tokyo said.
Meanwhile, Minister of Defense Naoki Tanaka told members of the Japanese parliament Tuesday that the ministry will conduct test flights and noise monitoring of U.S. Osprey on Okinawa, following complaints that the aircraft was not included in early environmental assessments.
"I am aware of the need," he said, indicating that the ministry will work together with the U.S. military on the tests.
---
---
---
---