Furlough of South Korean workers would have 'negative impact' on military operations and readiness, USFK commander says
---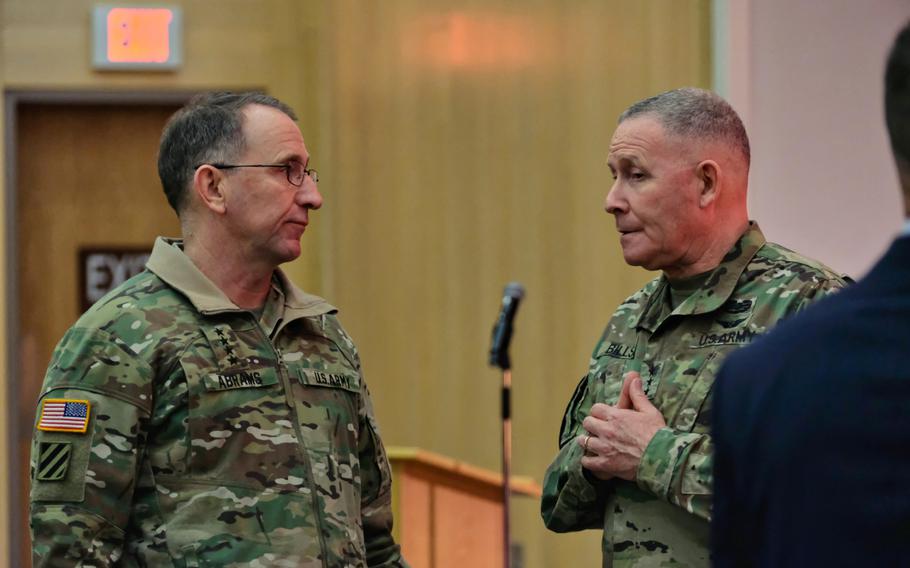 CAMP HUMPHREYS, South Korea — A threatened furlough of South Koreans who work for the U.S. military would have "a negative impact on military operations and readiness," the U.S. Forces Korea commander, Gen. Robert Abrams, said Monday, as the United States raised pressure on Seoul to agree to a new defense cost-sharing deal.
The Pentagon said in a statement Sunday it will fund critical contracts and salaries but warned that most South Korean employees will be furloughed in April if a new agreement isn't reached.
The comments came on the eve of a planned meeting in Washington between Defense Secretary Mark Esper and his South Korean counterpart, Jeong Kyeong-doo, nearly two months after the previous contract, known as the Special Measures Agreement, expired. The defense chiefs were to discuss the agreement and other bilateral issues.
South Korea's defense ministry promised to step up efforts to reach a deal but declined to discuss details, citing the ongoing negotiations.
"I can tell you that we will beef up our efforts to try to conclude the negotiations as soon as possible in order to minimize the effect of the absence of an SMA," ministry spokesman Moon Hong-sik said Monday at a press briefing in Seoul.
The allies have been unable to bridge the gap after Washington demanded that South Korea pay as much as $5 billion per year, a fivefold increase. U.S. negotiators said they have softened their demands but are reportedly still seeking to expand the number of costs covered by the agreement.
South Korea, which has helped support U.S. troops under the agreement since 1991, has insisted that negotiations should be kept within the current framework, with most of the funds used for more than 9,000 South Korean employees, logistical support and construction projects.
The funds aren't used for American troop salaries or military operations.
The vast majority of SMA contributions go back into the South Korean economy, the Pentagon said, adding that the clock was ticking for U.S. funds being used to sustain South Korean salaries after the deal lapsed at the end of last year.
U.S. funds will be exhausted March 31 unless the South Korean government agrees to materially increase its support for U.S. forces committed to the defense of South Korea, according to the Pentagon statement.
"It will be necessary to furlough most [Korean national] employees on April 1, 2020, and suspend many construction and logistics activities," if no deal is reached, the statement said.
However, the Pentagon announced that "critical" logistics cost-sharing contracts and the salaries of "key" South Korean employees will continue to be funded by the Defense Department.
"All other services supported by [Korean national] employees will need to be suspended in an orderly and deliberate fashion," it said, without elaborating.
Furloughs may be avoided if South Korea agrees to a "more equitable" Special Measures Agreement, it said, insisting the United States "remains committed to negotiating a mutually acceptable agreement which provides for fair and equitable burden sharing."
U.S. Forces Korea, which commands the 28,500 American service members stationed in South Korea, welcomed Esper's decision to fund critical contracts and services. It has been planning for the furlough by identifying key positions to mitigate risks to the force.
"As we just received this information, we're analyzing this decision now to include the number of [Korean national] employees who will not be furloughed," USFK spokesman Col. Lee Peters said Monday in an email.
The command also took the unusual step of sending a press release announcing plans to hold town hall-style meetings later Monday on bases across the divided peninsula to inform the military community about the likely effects of the furlough.
"The potential furlough will have a significant impact — both emotionally and financially — to our Korean national employees," said Abrams, the USFK commander.
"It will also have some negative repercussions to installation services," he added. "The USFK community relies heavily on our installations for quality of life services, and the potential furlough will have more than just a negative impact on military operations and readiness."
The allies also missed the deadline in 2018 but agreed a few weeks later to a stopgap measure increasing South Korea's contribution by 8.2% but only lasting a year.
Negotiations over the amount, previously held every five years, have always been contentious.
But President Donald Trump's administration has raised the stakes as part of his "America first" policies calling on U.S. allies to pay more for their own defense.
Stars and Stripes reporter Yoo Kyong Chang contributed to this report.
gamel.kim@stripes.com Twitter: @kimgamel
---
---
---
---