From collision fatalities to natural causes, Pacific mortuary sees death on many levels
by
Joseph Ditzler ditzler.joseph@stripes.com
April 21, 2019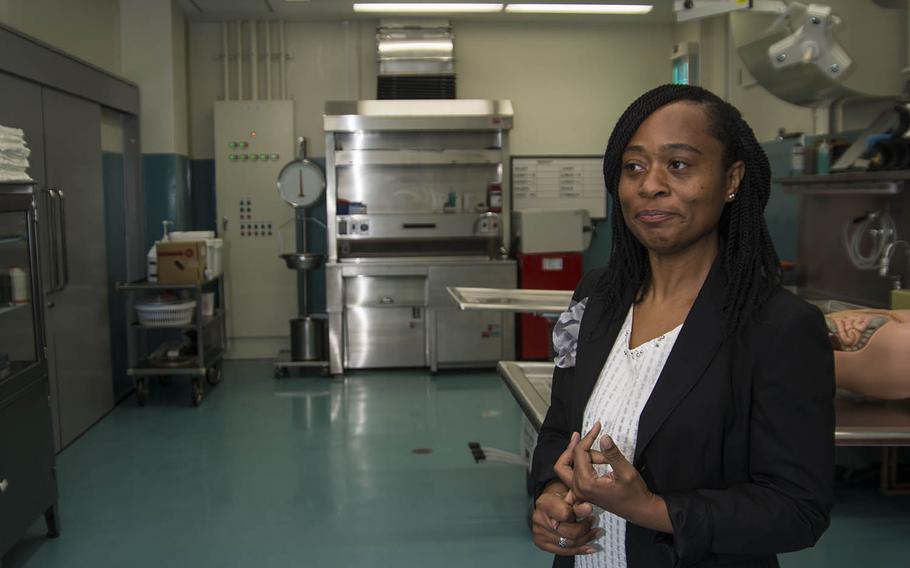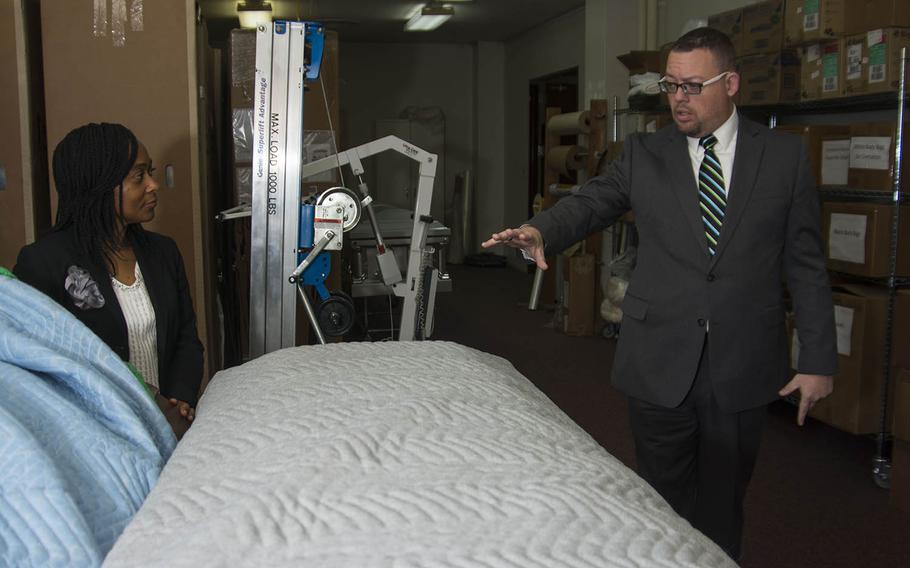 YOKOTA AIR BASE, Japan — The mortuary at the home of U.S. Forces Japan in western Tokyo, tucked away on a side street near the base bakery, is a way station for servicemembers who sacrificed their lives for their country in Asia.
But it's also where the routine final arrangements are made for almost anyone who dies while based in Japan by the Department of Defense. That means active-duty troops, civilian employees, contractors, eligible retirees and their families.
"We don't want to have to do our job, if at all possible," said mortuary director Matthew Metschke in a February interview with Stars and Stripes, "but we're here and people should know we're here to be trusted to do it."
The Pacific Air Forces Western Pacific Regional Mortuary has been in Yokota for almost five years, after moving from Okinawa in September 2014. The move saved money and put the mortuary in a more centralized position in the western Pacific, said Master Sgt. Michael Davis, a spokesman for the 374th Airlift Wing.
Being in metropolitan Tokyo also reduced the number of flights needed to carry the deceased to the United States. Metschke and Mable Justice, the assistant mortuary director, have served in the military. Metschke — tall, talkative and outgoing — was in the Army and said he knew his career path even as a child.
Justice — diminutive next to Metschke, with a perpetual smile and a ready laugh — is a native of Virginia's eastern shore. She came to the job by happenstance.
Overcoming fear A former National Guard member, Justice enlisted in the Air Force Reserve in the force support field — better known as "services," the people who run fitness centers, outdoor recreation and lodging on Air Force facilities.
Mortuary services fall under the same umbrella. Justice said the sales pitch only briefly touched on that.
"And the recruiter said, 'Oh, you would never work in this field called mortuary; they're gonna put you in either the dining facility or they're going to put you in lodging,'" she said.
"And I said, 'Sign me up!'"
Then came 9/11.
Justice, living in Maryland, was called to active duty and assigned to work at Dover Air Force Base, site of the one other Air Force mortuary, where the bodies of those killed in Afghanistan arrive home. Dover is also the largest facility under the Office of the Armed Forces Medical Examiner, said Master Sgt. Holly Roberts-Davis, spokeswoman for the Air Force Mortuary Affairs Department at Dover.
Justice recalled driving, fearfully, the hour and 15 minutes from her home to Dover to help process the remains of those who'd fallen in the fight against the Taliban.
"I do believe God works through people and when I got to Dover Air Force Base, I told a sergeant about my fears about working with the deceased. She understood 100%," Justice said. "She said, 'Whatever they require you to do, I'm going to do it with you."
Justice said she never knew what she might encounter when a body bag was opened. She turned to her faith for strength.
"I was very fearful but over time, I prayed and prayed, and God just took that fear from me," she said.
Later, Justice said, she watched a funeral director applying cosmetics to a body and felt a calling: "God spoke to my heart and I was called to go to school and become a mortician."
Among her other duties at the Yokota mortuary, Justice puts a final touch on the deceased, working in a bay furnished with a stainless-steel table. She said she aims not for a life-like appearance, but one of peace.
"We want to give the appearance to the remains of a peaceful state and a resting state (that) can bring closure to the family," she said. "At the end of the day, they're concerned that the body is well-preserved, but the family is concerned that their loved one is at peace and has a restful appearance."
The mortuary provides uniforms and caskets for the deceased. It does not offer cremation services but will cooperate with civilian providers to meet the family's or the deceased's final wishes, Metschke said.
In addition to Justice and Metschke, the mortuary staff has one other licensed mortician and two support personnel.
'My dream job' Metschke, 41, a native of Omaha, Neb., adopted southern Virginia, "where the Army dropped me off" at Fort Lee, as his home. Like Justice, he attributes his calling in part to his faith.
"I'm doing my dream job, actually," he said. "God's blessed me well and that's what I feel like I'm doing on top of it, in giving back on top of that and serving other people. I think this is what I was put on the planet to do."
He knew from a young age, he said, that he wanted to work as a funeral director, but he kept that to himself. The funeral directors who carried out the rituals at services for his grandfather and great-grandmother impressed Metschke as a boy, he said.
"How they walked down the aisle at the church, everybody's focused on them and what their job was, when they stand in front of the casket and slowly close it … to present that last, dignified measure to someone," he said, "I think that really kind of sparked an interest in me."
Metschke took the long road to his vocation. At Midland University in Nebraska, he had a full scholarship to become a teacher. He studied history and music and learned to coach football.
"I did horrible," he said. "In fact, I quit school."
Later, at a career fair at Metropolitan Community College in Omaha, where he studied to become a mortician, he opened a recruiting brochure to find information on mortuary affairs. He enlisted in the Army and spent the next 14 years at Fort Lee. Like Justice, he, too, has a personal connection to 9/11. Nine months into his Army tour, he reported with his unit from Fort Lee to the Pentagon to search through the debris left when American Airlines flight 77 smashed into the building, killing 189 people, including five hijackers, inside and on the airliner.
He went to work on the night shift within hours of arriving, assigned to pick through the rubble and recover bodies. His experience in civilian funeral homes did not prepare him for the moment, he said, but the experience reinforced his commitment to working with the dead.
"I was seeing things you can't put into your wildest imagination. Those images are etched into my brain," Metschke said. "Has anybody had enough training to be prepared for something like that?"
Before arriving in Yokota in October 2017 to become the mortuary director, Metschke worked for the National Cemetery Administration, rising in 2014 to become director of Ohio Western Reserve National Cemetery in Seville, Ohio.
'Not anything we can't handle' In summer 2017, the mortuary provided a temporary resting place for the sailors who died during the separate collisions, two months apart, of the USS Fitzgerald and the USS John S. McCain with commercial seagoing vessels. The combined 17 casualties from those events passed through the Yokota mortuary on their way to Dover, where they were processed before being turned over to their families.
A front page from Stars and Stripes with a report on the seven sailors killed aboard the Fitzgerald is posted on a hallway bulletin board, a reminder of the mortuary's place in history.
"We're trained to encounter death on many levels, whether it's an active member, civilians, contractors and whatever the Armed Forces Medical Examiner dictates to us, that's the route we will take," Metschke said. "There's not anything we can't handle here, but there is a point where things got bigger than what we are, then we have a team of three other mortuaries out there, two from the Army and then we have Dover."
Death is a silent inevitability for most, but for Justice, Metschke and the mortuary staff, it's a familiar presence. "I see it as a big honor to be selected to do this," Metschke said. "There's something about helping our military and their dependents that requires more of a special person. They're one of the best customers you can serve."
Justice said working with the deceased is an enlightening experience that calls on her to appreciate her own life.
"We're not on this Earth forever," she said. "Tomorrow is not promised to anyone."
ditzler.joseph@stripes.com Twitter: @JosephDitzler