Former USFK deputy chief assumes command of Pacific Air Forces
by
Wyatt Olson
July 12, 2016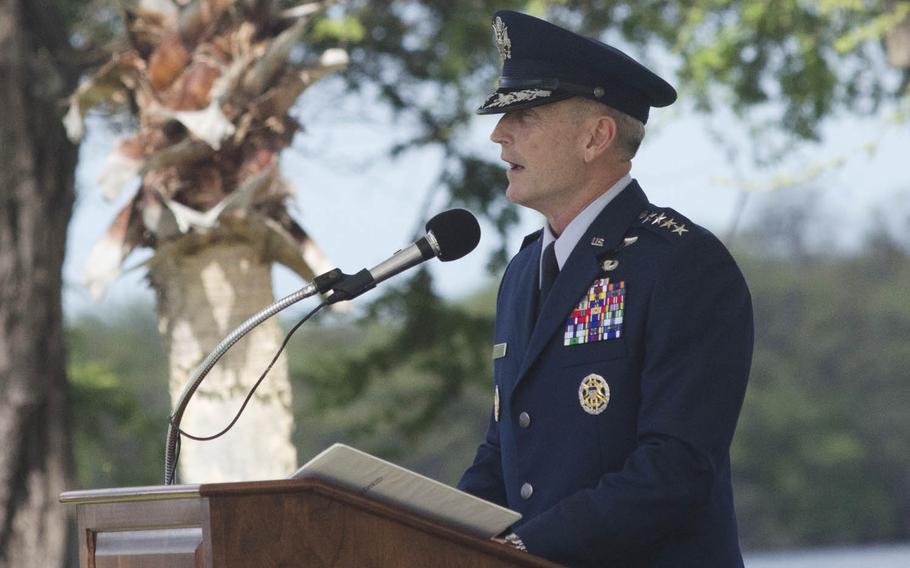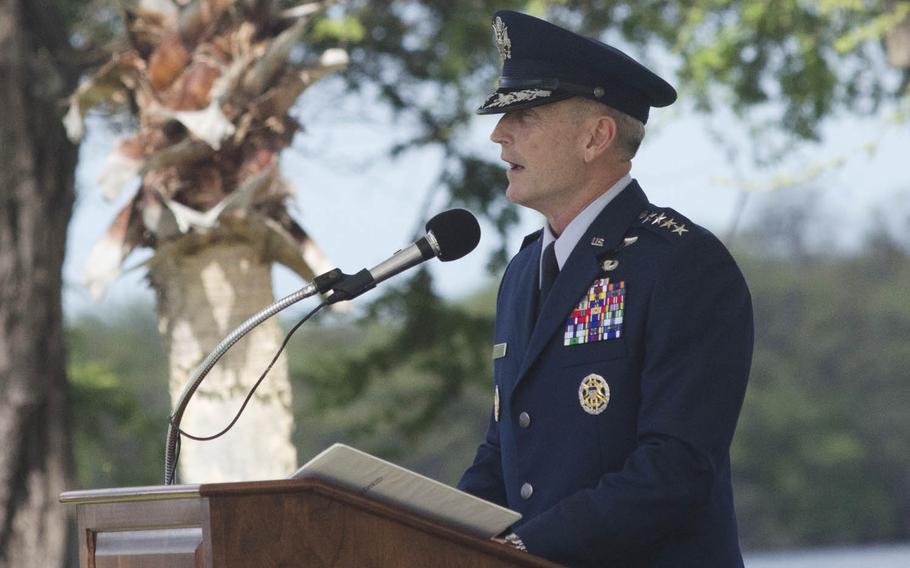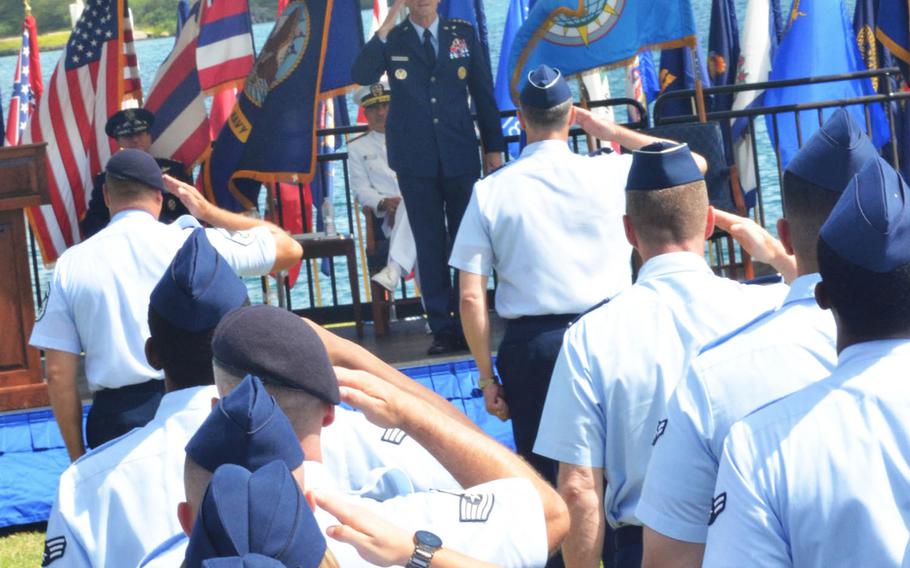 JOINT BASE PEARL HARBOR-HICKAM, Hawaii — The former deputy commander of U.S. Forces Korea assumed command Tuesday of U.S. Pacific Air Forces, saying those in uniform must stand firm against aggression in the region.
Gen. Terrence J. O'Shaughnessy was given his fourth star shortly before taking command during a ceremony that included remarks by Air Force Chief of Staff Gen. David L. Goldfein and U.S. Pacific Command head Adm. Harry Harris.
Former PACAF commander Gen. Lori J. Robinson departed in early May to become commander of U.S. Northern Command. Since then, PACAF had been temporarily led by Lt. Gen. Russell J. Handy, commander of 11th Air Force, which is based at Joint Base Elmendorf–Richardson, Anchorage, Alaska.
"Now we're going to send you back to Alaska with some aloha shirts," Harris said jokingly as he talked about the transition of commands, which are among a number whose nominations were recently held up in Washington, D.C.
PACAF's area of responsibility, or AOR, includes about 46,000 airmen based in Hawaii, Alaska, Japan, South Korea and Guam. They fly roughly 490 aircraft.
"There has never been a more important time in our history to command well, amongst a threatening and dynamic global environment affecting every part of your new AOR," Goldfein said to the new commander. "At the end of the day, our job as commanders is to take the greatest treasure in our nation's arsenal — our men and women in uniform, our airmen — mold them, train them, pair them with the best technology on the planet, and through our domains of air, space and cyberspace, make the world a safer place for our children and our grandchildren."
Harris listed off the hats worn by O'Shaughnessy while in Korea — Air Component Command, Republic of Korea/U.S. Combined Forces Command, and the Seventh Air Force, Pacific Air Forces at Osan Air Base, as well as the dual role as deputy commander of United Nations Command Korea and USFK.
"He can multitask well," Harris said.
During the outside ceremony in a park overlooking the Pearl Harbor channel, a Chinese ship slowly made its way out to sea for ongoing Rim of the Pacific drills.
O'Shaughnessy noted the beauty of the setting and of the Pacific region overall, then reiterated an often-used talking point regarding disputes over sovereignty of islands in the South China Sea by China and other Southeast Asian countries.
"But for those of us that wear the uniform there's much that needs to be done as we continue encouraging peaceful resolution of disputes, upholding principles, including freedom of navigation, and standing firm against aggression," he said.
"We must continue building cooperative regional architecture based on international rules and norms and enhance the capabilities of our allies and partners to provide security, not only to themselves, but to the region."
An international tribunal in The Hague earlier in the day had ruled largely against China in a case brought before it by the Philippines over disputed islands. China has said it will ignore the decision.
"Secretary [Ash] Carter recently said that the Asia-Pacific is the single most consequential region for America's future, and I couldn't agree more," O'Shaughnessy said. "I'm certainly excited to continue our nation's rebalance to the Pacific."
olson.wyatt@stripes.com Twitter: @WyattWOlson
---
---
---