Former Marine colonel pitches Australian-American amphibious force in western Pacific
by
Seth Robson
December 31, 2019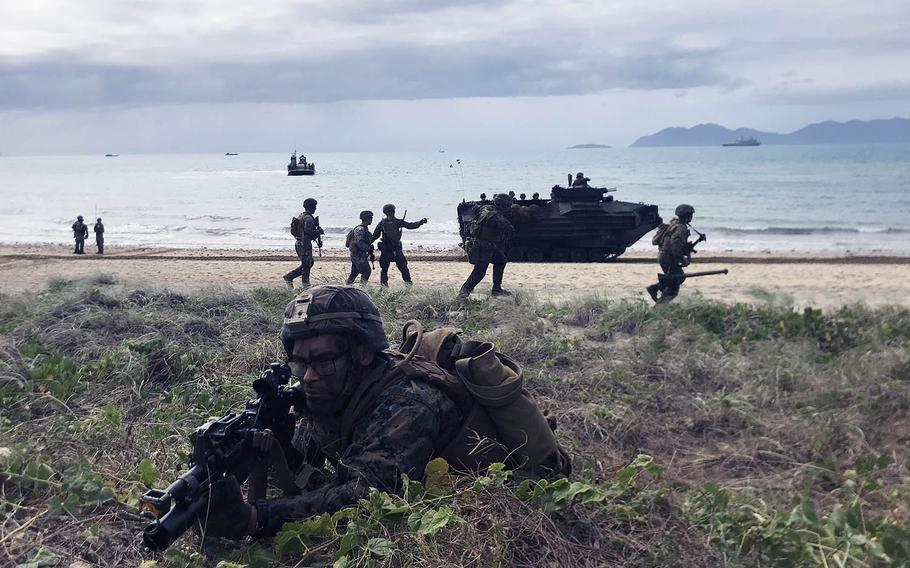 The U.S. and Australia should establish a combined amphibious force including 2,000 Marines and a similar number of sailors based in Darwin, Australia, to build regional support for countering China's ambitions in the western Pacific, according to a former Marine colonel.
Grant Newsham, now a senior researcher with the Japan Forum for Strategic Studies, Tokyo, said Monday that the Marine Corps, which rotated 2,500 Marines through Darwin during the summer, needs to see Australia as more than just a great place to train.
"I look at it as more of an opportunity to influence not just in Australia but right out to the heart of Southeast Asia," Newsham said.
Darwin is a lot farther from Chinese shore-based missile batteries than places where the Marines already have a permanent presence in the region, such as Okinawa.
Gen. David H. Berger, commandant of the Marine Corps, wrote in a commentary published Dec. 5 by War on the Rocks, a website on national security, about the challenges posed by the rise of Chinese military power in the Pacific.
Berger wrote that U.S. "forward bases and legacy infrastructure within the adversary's weapons engagement zone are now extremely vulnerable."
Newsham said an "Australian-American Amphibious Force" supported by amphibious ships from both nations could solve that problem. Such a force could be home-ported in Darwin along with facilities such as American schools and shops, he said.
The facility could serve as a schoolhouse for amphibious forces from other nations in the region such as New Zealand, Singapore, Japan and South Korea. And Darwin could host an amphibious version of the Rim of the Pacific exercise that is held in Hawaii every other year, he said.
"Draw foreign militaries into your orbit to have them see themselves as trusted partners and equals," he said.
Darwin-based Marines could travel to nearby Southeast Asia to train with locals and establish a presence, Newsham said.
"The more you do and the more places you do it the more influence you are going to have," he said. "Otherwise you are like the Harlem Globetrotters — you show up once in a while and go away."
Darwin is the perfect spot to work on guidance from Berger to send small contingents of Marines throughout the region, Newsham said.
"The Marines haven't done the work to get the access to put that policy into effect, but Darwin is a great place to build influence," he said.
The port already has plenty of room for amphibious ships but creating a purpose-built base would make it even better, he said.
The U.S. and South Korea armies activated their first combined division by adding South Korean troops to the 2nd Infantry Division in 2015. Newsham suggested that doing something similar in Australia would be a simpler task.
The Australian and New Zealand Army Corps (ANZAC), for example, was formed in 1914 during World War I.
The new amphibious force wouldn't require stationing an aircraft carrier Down Under, Newsham said. Air support for the Marines could be provided by aircraft operating from bases in the Northern Territory or new F-35B stealth jets flying off the decks of amphibious ships, he said.
James Holmes, a strategist at the Naval War College, wrote Dec. 9 in National Interest magazine that concerns about China could boost Australian support for a permanent U.S. military presence Down Under.
"Stationing military forces overseas inspires trust. In turn, an unbreakable bond between America and Australia could give China pause the next time it contemplates making mischief," he wrote.
robson.seth@stripes.com Twitter: @SethRobson1