Former Inherent Resolve commander takes over US Army Pacific and its 85,000 soldiers
by
Wyatt Olson
November 19, 2019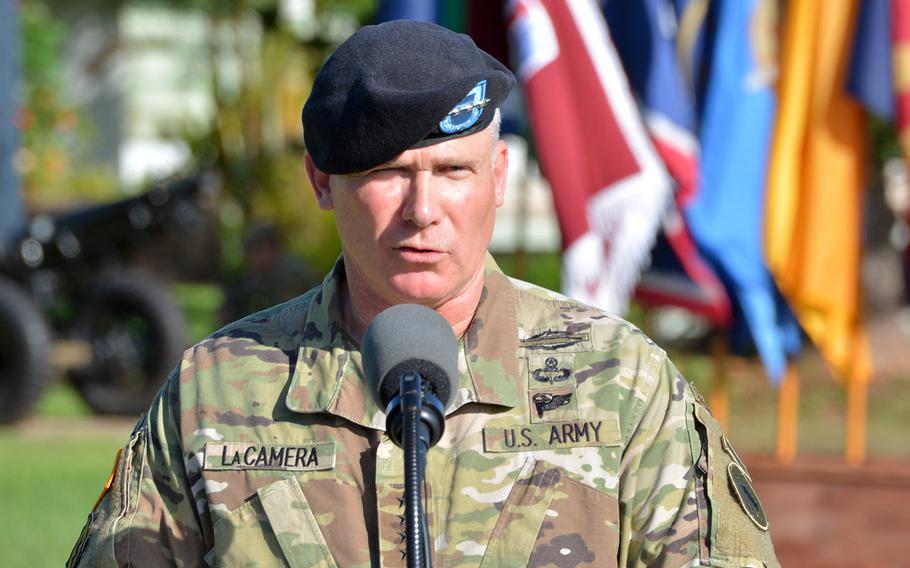 FORT SHAFTER, Hawaii — Gen. Paul LaCamera, one of the Army's most experienced combat leaders, has assumed command of U.S. Army Pacific after leading America's campaign against the Islamic State in Iraq and Syria.
"His operational experience is truly unmatched, with more than three decades of service in leadership positions within the infantry, airborne and special operations units," Adm. Philip Davidson, commander of U.S. Indo-Pacific Command, said during a brief ceremony Monday at Fort Shafter. "He has deployed for longer periods than just about anyone currently serving in the U.S. Army."
In September, LaCamera handed off command of Combined Joint Task Force-Operation Inherent Resolve in Baghdad. Earlier this month he stepped down as XVIII Airborne Corps commanding general at Fort Bragg, N.C.
"Under his leadership, Inherent Resolve recovered more than 100,000 square kilometers of territory across Iraq and Syria, liberating nearly 8 million people from ISIS control," Davidson said.
Gen. Robert Brown, the former Army Pacific commander, retired in September.
Army Pacific deputy commander Maj. Gen. Pete Johnson was acting head until LaCamera's arrival, which was delayed pending Senate confirmation of the appointment.
LaCamera is not likely to catch his breath as he takes command of the more than 85,000 soldiers based primarily in Japan, South Korea, Hawaii, Alaska, Guam and Washington state.
The Pacific is now the top priority for the U.S. military, Joint Chiefs of Staff chairman Gen. Mark Milley told reporters in Tokyo last week.
China and Russia are a growing military presence in the region, while North Korea seems to be on course to again commence full-on ballistic missile testing.
LaCamera, of Westwood, Mass., is a 1985 West Point graduate and has deployed to Panama, Haiti, Afghanistan, Iraq and Syria during his career. He was deputy commander of the 25th Infantry Division in Hawaii from 2010 to 2012.
"Paul, you are the only four-star I personally know who has not been assigned to Washington, D.C.," Davidson said. "I suppose it has something to do with the fact that you've been in combat for nearly a decade."
Speaking briefly to the audience, LaCamera succinctly summed up his philosophy of winning in warfare.
"Combat is simple blocking and tackling, executed with discipline and leadership," he said. "To me, we must be able to trade our equipment with the enemy and still win. That to me is leadership and training."
He said he would continue to work with allies and partners to make joint integration of forces "the norm."
"Just like our current fight, our next one will be joint, interagency and coalition," he said.
olson.wyatt@stripes.com Twitter: @WyattWOlson