Former Fitzgerald commander pleads not guilty to criminal charges from collision
by
Dianna Cahn
July 10, 2018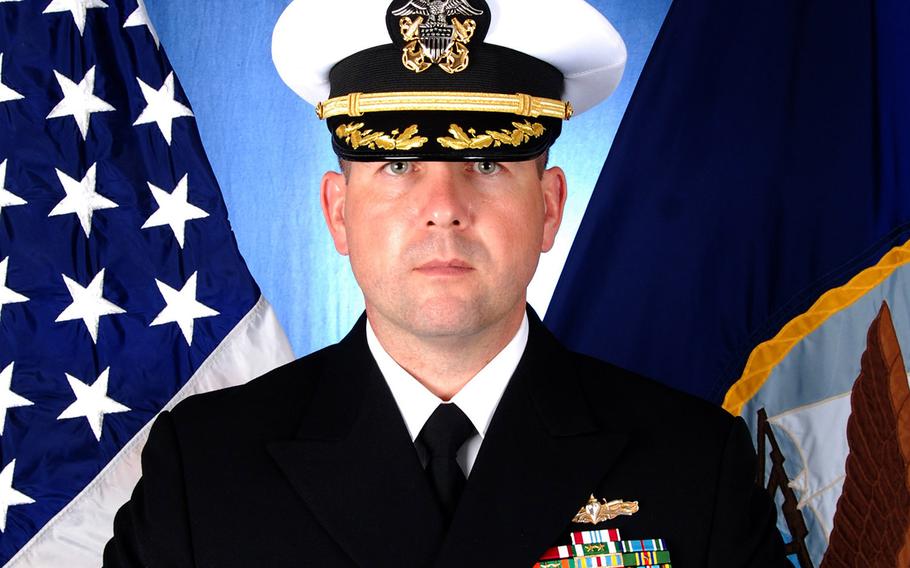 WASHINGTON – The former commanding officer of the Navy destroyer USS Fitzgerald pleaded not guilty Tuesday to criminal charges stemming from the deadly collision of his ship and a commercial vessel off Japan just over one year ago.
Cmdr. Bryce Benson was arraigned at the Navy Yard in Washington, where a Navy prosecutor read the charges against him aloud. Seven sailors died aboard the Fitzgerald on June 17, 2017, when it was traversing through the busy waters of the southern coast of Japan after midnight.
Benson is charged with two specifications of dereliction of performance of his duties through neglect – one count "resulting in death." He is also charged with one count of improper hazarding a vessel. A charge originally brought against him of negligent homicide was dropped from the indictment.
In the first count, Benson is accused of having "negligently failed to ensure the safe navigation" of the Fitzgerald and "provide adequate oversight of the ship's watch considering the navigational and traffic conditions; approve an adequate watch bill; revise standing orders to account for degraded equipment." The charge says that dereliction resulted in the deaths of the seven sailors, listing the rate, rank and initials of each man who died.
The second dereliction count charges that Benson "negligently failed to adequately train and inspect the conduct of members under his command, as was his duty … to not foster a client of complacency and to assure proper watch standing practices are executed."
The last charge states that by failing to ensure safe navigation using proper watch standing measures, Benson negligently hazarded the vessel resulting in the collision with the ACX Crystal.
Details of the collision, released through investigations and pretrial or other court proceedings, revealed that Benson was in his quarters the night of the collision leaving a more junior officer to serve as officer of the deck. She and other junior officers in the combat information center below deck barely communicated throughout that night as the ship crossed through busy waters to get out to sea. Testimony also revealed a degradation of the radar system, which was beset by visual "clutter" that obstructed clear view other vessels around the Fitzgerald. It is unclear how many watch standers were serving as physical lookouts.
Four other Fitzgerald officers were brought up on dereliction of duty charges in May. One, the officer of the deck, pleaded guilty. Two others, who oversaw operations in the combat information center, pleaded not guilty in a joint pretrial Article 32 hearing in early May.
The hearing officer recommended charges against both be dismissed. But Adm. Frank Caldwell, who was appointed as consolidated disposition authority in the cases, decided to dismiss one and proceed with a court-martial against the ship's tactical action officer. The date of that court-martial has not been released.
Benson's court-martial is scheduled to proceed Jan. 28, with dates in October and November for preliminary appearances.
cahn.dianna@stripes.com Twitter: @DiannaCahn