Food truck trend hits Waikiki, bringing good eats and a casual atmosphere — but just temporarily
by
Wyatt Olson
September 14, 2018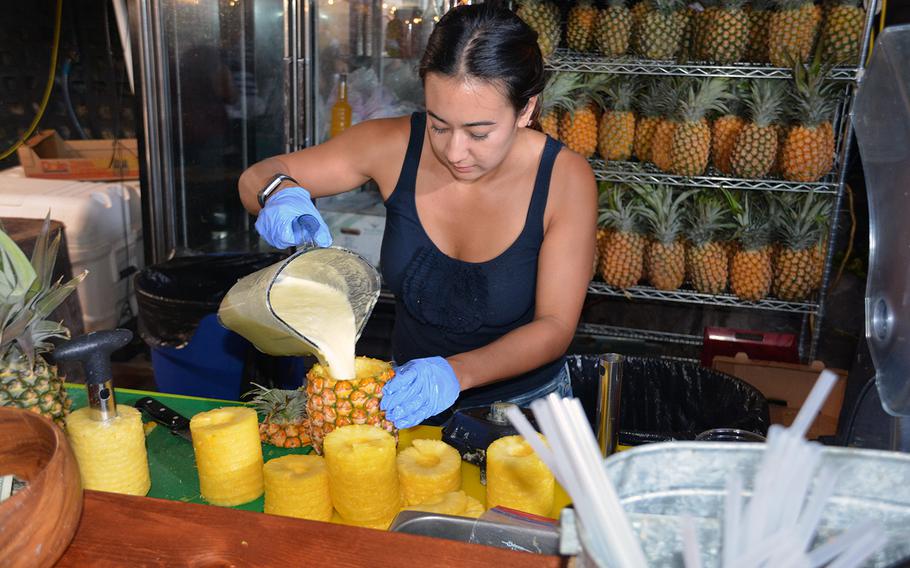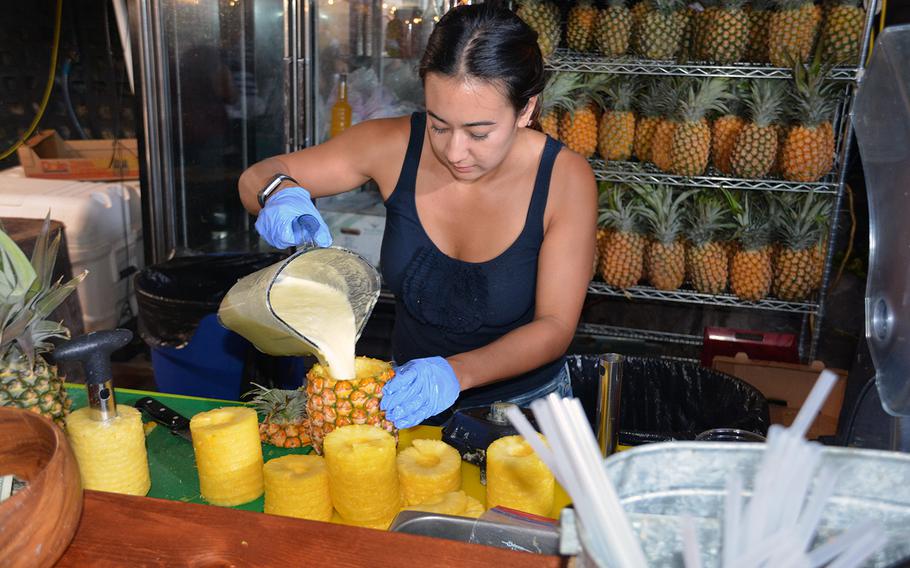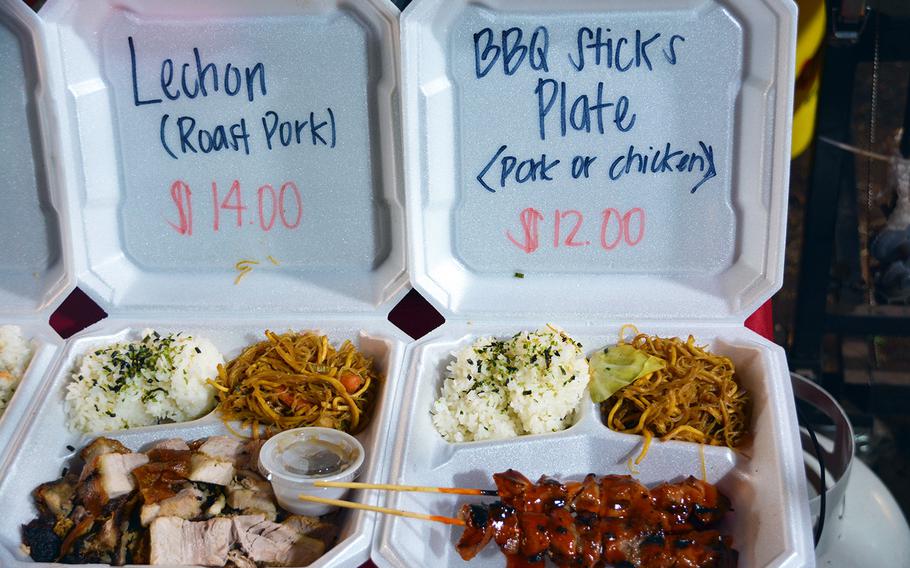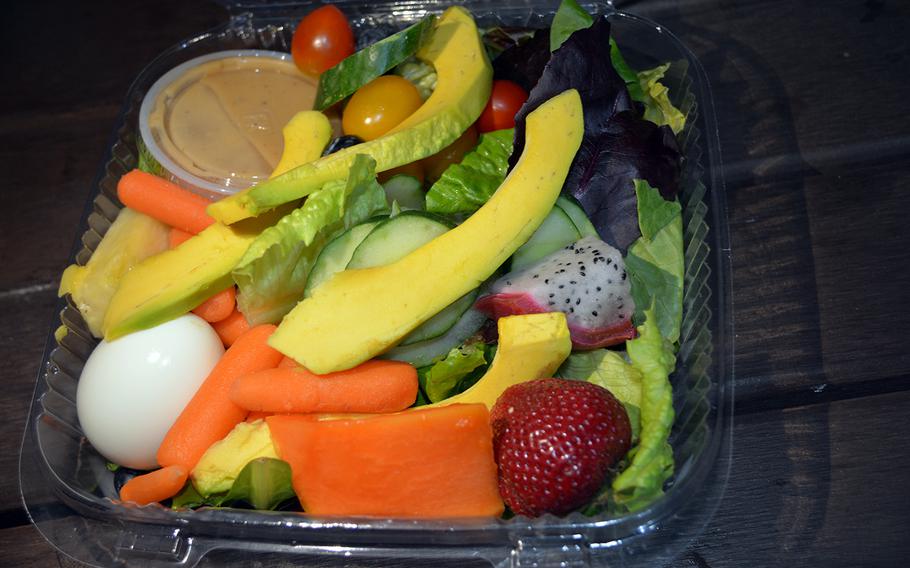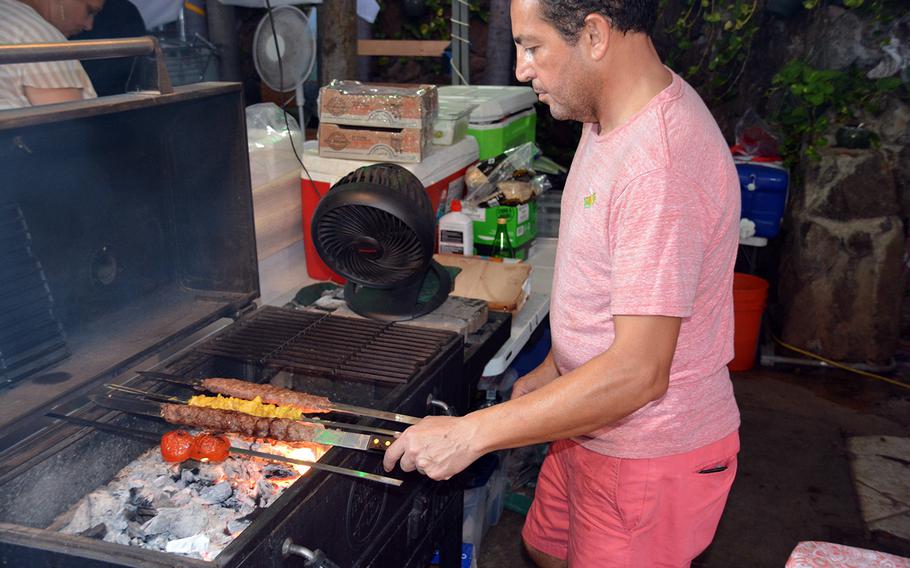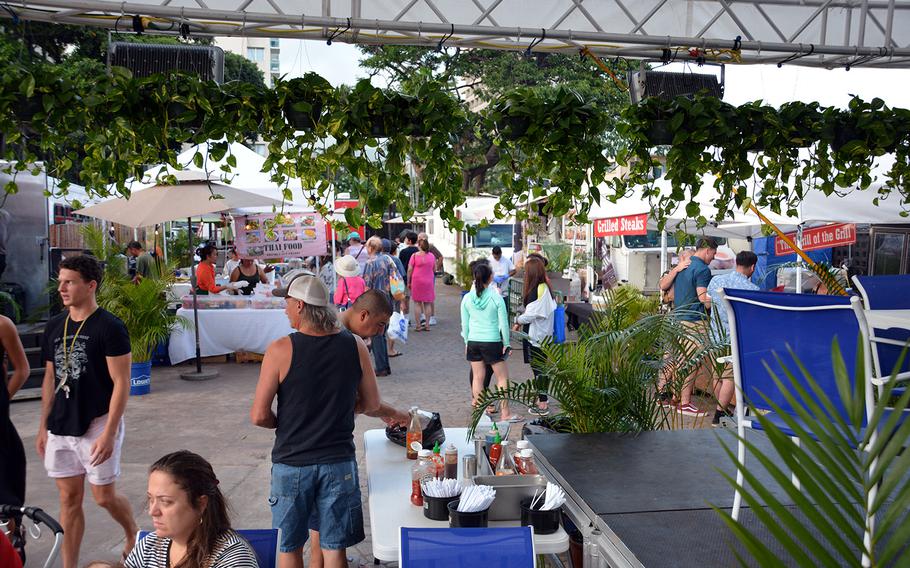 Upscale development has driven most mom-and-pop eateries out of Waikiki Beach, but a bevy of food trucks and kiosks have found a temporary spot to thrive in this crowded tourist mecca.
In the past year, more than a dozen food trucks and portable kiosks have popped up on the corner of Kuhio Avenue and Kanekapolei Street — the former site of the Makittii restaurant, which was torn down last year.
Most evenings, the site is a high-energy hive of paper plates, cold fruit drinks and grills with billowing smoke. Throngs of diners are drawn in by the hubbub — but most stay for the diversity of offerings, which includes everything from Hawaiian, Thai, Japanese, Filipino, Vietnamese and even Laotian food, among others.
For a filling meal, you can't do much better than Kabab Nooni, located near the site's entrance. Shahim and Yasmine Gholami serve up kebabs inspired by those sold in their native Iran.
"This is like restaurant quality, but on the street," boasted Shahim, as he tended to foot-long chicken and beef-lamb kebabs over a thick bed of charcoal.
A one-kebab plate — which includes saffron-infused basmati rice, grilled tomatoes and shirazi salad, a Persian melange of crisp cucumbers, ripe tomatoes, onions and fresh herbs — is $13. Additional kebabs can be added for just $2 more, but one is often enough for the typical diner.
The Gholamis also offer a kebab wrap, which is a practical dining option for those who can't find a seat at one of the many umbrella-shrouded picnic tables located on-site. The wraps use Indian naan bread instead of the traditional Middle Eastern lavash.
"It's hard to get real bread from Iran here," Shahim explained.
The nearby Shawarma stand also serves Mediterranean-style food, offering beef or chicken on plates with rice and salad ($13) or as wraps ($8).
Blue Water Shrimp and Seafood brings the taste of Oahu's world-renowned seafood to its humble food truck in the form of garlic shrimp. The truck's garlic shrimp plate ($14) comes with a heap of shrimp — each as large as a linebacker's thumb — along with corn, white rice and salad. The plates are finished off with a distinctly Hawaiian touch: a garnish of an orchid and a pineapple slice.
You'll have to work a bit to strip the shells off the shrimp, but diners will be rewarded for their efforts with succulent meat infused with decadent garlic butter.
Blue Water also operates a nearby smoothie stand, which offers pineapple smoothies served inside hollowed-out pineapple shells.
For a cheap and portable snack, try the Thai food stand's lemon chicken satay ($3) — a type of grilled skewer that's a popular street food item in its native Thailand.
Gourmet Sticky Rice, another one of the many vendors located on the site, sells unique takes on classic Laotian dishes. The fruit salad ($5) overflows with large slices of exotic fruits such as papaya and dragon fruit — along with more familiar offerings such as avocado, strawberries and cherry tomatoes. The dish is finished off with an egg and a deliciously sweet, yet tangy, mango dressing.
There is plenty to choose from at this little culinary corner of Waikiki, and the wide variety of offerings makes the location worth repeated visits. Just don't wait too long — construction of a 260-foot-tall condo tower is slated to begin on the site late next year.
olson.wyatt@stripes.com Twitter: @WyattWOlson
Waikiki Food Truck HavenLOCATION: 2380 Kuhio Ave., Honolulu, Hawaii
HOURS: Hours vary, but most vendors are open in the evenings, while some stands are also operational during lunch hours.PRICES: Prices range from $3.00 for skewers and snacks, to $12.00 and up for full dinner plates.DRESS: CasualINFORMATION: Many of the vendors accept credit cards. Ample outdoor seating is available, but can be crowded during peak hours. Metered street parking is available nearby, but is extremely limited. The nearest public parking area is located about a block away at the International Market Place, at the intersection of Kuhio Avenue and Walina Street.