First US service member to contract coronavirus has recovered in South Korea, military says
by
Kim Gamel
April 16, 2020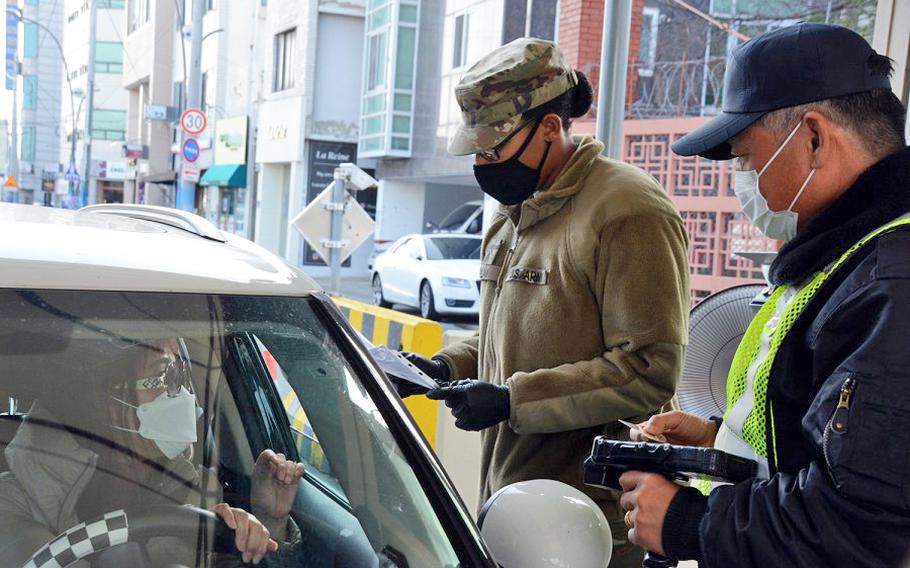 Stars and Stripes is making stories on the coronavirus pandemic available free of charge. See other free reports here. Sign up for our daily coronavirus newsletter here. Please support our journalism with a subscription.
SEOUL, South Korea — The first U.S. service member to test positive for coronavirus has recovered and been released after 49 days in isolation in South Korea, the military said Thursday.
The announcement came as the pace of infections has slowed across South Korea since an outbreak began in the southeastern city of Daegu in late February.
Only 22 new cases were recorded on Wednesday, the lowest daily number in more than two months, according to the Korea Centers for Disease Control and Prevention.
Only four of those were in Daegu, which is home to a U.S. Army garrison that has been at the epicenter of the coronavirus pandemic in South Korea.
Noting the progress, U.S. Forces Korea removed Daegu from its list of hotspots deemed off-limits to nonessential personnel.
It was a largely symbolic move since travel and access restrictions remain in place for bases across the divided peninsula, with service members banned from most off-base activities.
"The only change to [health protection] measures for USAG Daegu is general officer approval to travel to and from Daegu is no longer required," the garrison said.
The soldier, who was stationed at Camp Carroll, and his wife, who also had been infected and was cleared, have returned to their off-base home while he awaits a decision on when he will return to duty, U.S. Forces Korea said.
The couple has a child, but USFK has not commented on the child's condition.
The soldier, who was 23 when he tested positive on Feb. 26, was the second person affiliated with USFK to be infected after an outbreak began in the southeastern city of Daegu, which is home to the U.S. Army garrison that includes Camp Carroll.
He was one of two soldiers infected in South Korea, although USFK has reported 22 other cases among military dependents, contractors and other U.S. and South Korean civilian employees.
The Pentagon says 2,486 U.S. service members have been confirmed to have coronavirus, with two deaths and 446 recovered as of Wednesday.
The soldier was cleared "after having been asymptomatic for more than seven days, being fever-free without the use of fever-reducing medications, successfully passing two consecutive COVID-19 tests with negative results at least 24 hours apart, and being cleared by USFK medical providers," the command said in a press release.
USFK said 10 other American and South Korean dependents and civilians have been declared free of the virus since March 15.
More than 28,500 U.S. service members are stationed in South Korea, which remains technically at war with the North after their 1950-53 conflict ended in an armistice instead of a peace treaty.
The military has imposed a partial lockdown of Camp Humphreys and Osan Air Base after recent cases were reported on those installations. USFK also has restricted access to bases across the divided peninsula.
USFK said it "remains at a high level of readiness" and "continues to maintain a robust combined defense posture" to protect South Korea while "maintaining prudent preventive measures to protect the force."
The 22 new cases raised South Korea's total to 10,613, with 229 deaths and 7,757 patients discharged after recovery.
South Korean health authorities said the threat from cluster infections remains high and urged people to continue measures to prevent the spread of the virus including social distancing and thorough hand-washing.
gamel.kim@stripes.com Twitter: @kimgamel