Fight over US veterans' remains in Philippine graves continues
By
Matthew M. Burke burke.matt@stripes.com
June 29, 2014
---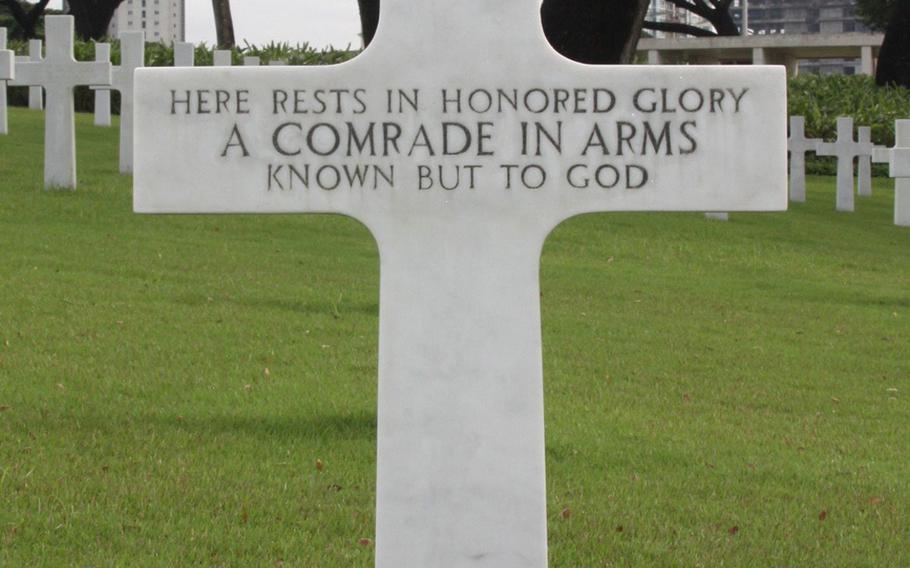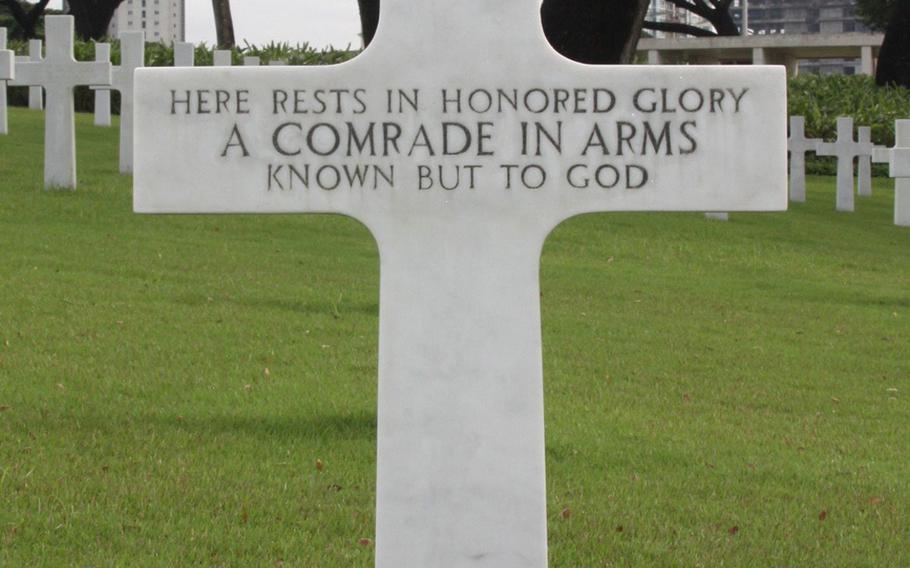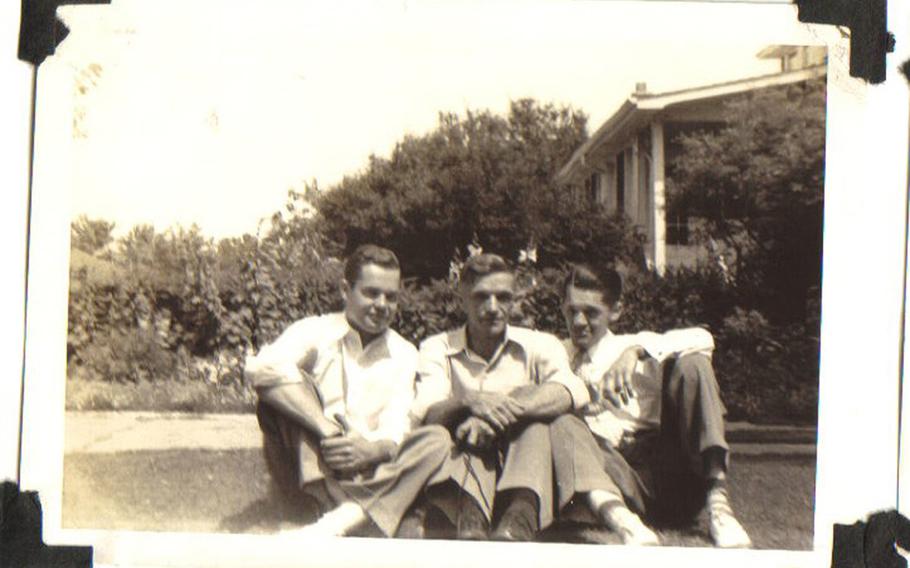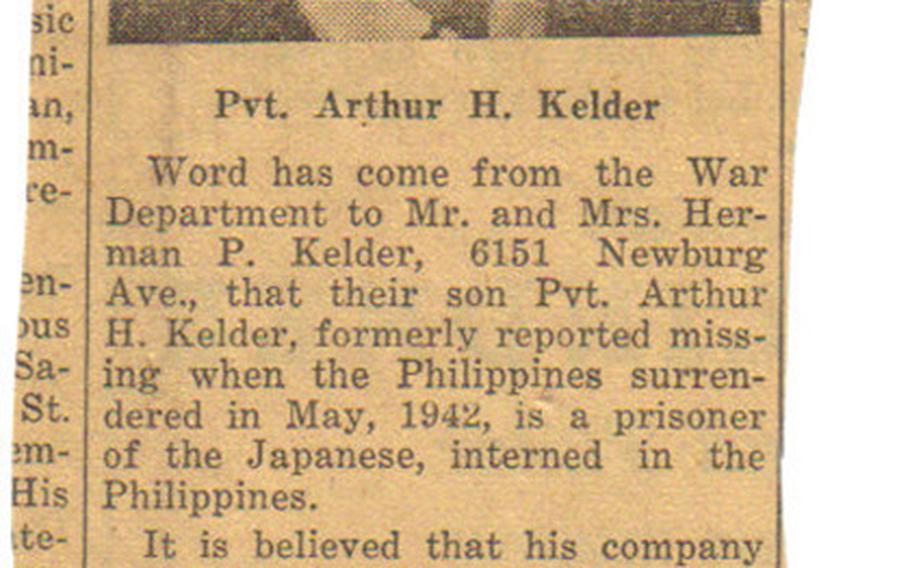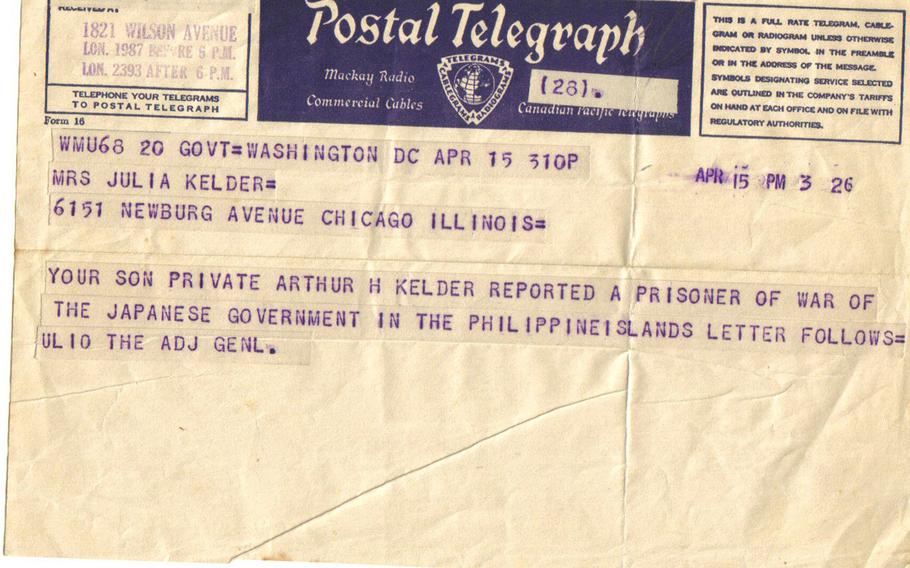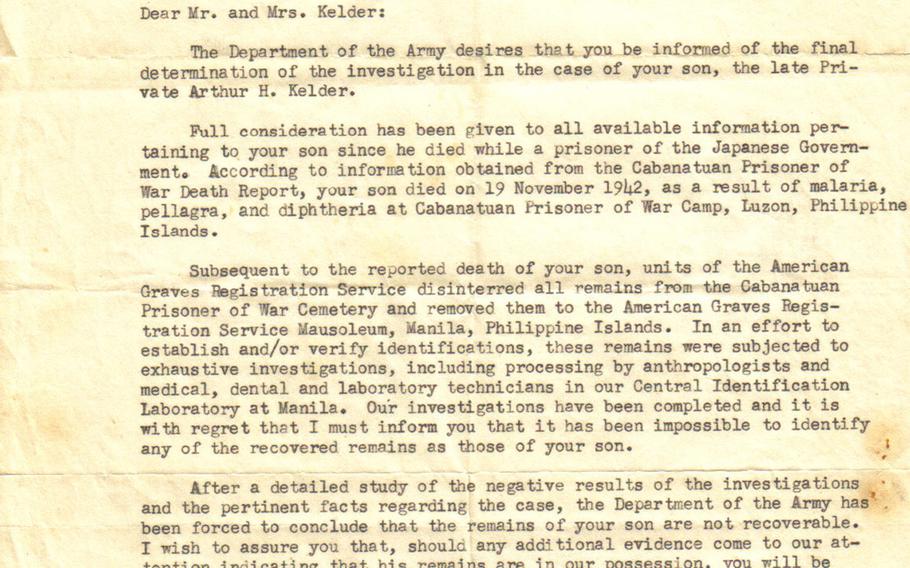 Note: A clarification has been added to this story.
CAMP FOSTER, Okinawa — The Defense Department's accounting agencies have agreed to disinter and conduct DNA testing on the remains of 10 World War II servicemembers who were buried as unknowns in the Philippines, after years of fighting against unearthing the bodies.
But now the relative of one veteran believed to be buried there might block the exhumation over fears that the Defense Department's accounting agencies — the Joint Prisoners of War, Missing in Action Accounting Command, Defense POW/Missing Personnel Office, and Armed Forces DNA Identification Laboratory — are not equipped to properly test the remains.
For years, John Eakin has fought with JPAC/DPMO to exhume the remains for identification. Eakin's cousin Pvt. Arthur "Bud" Kelder was one of the 10 moved to the Manila American Cemetery from the Cabanatuan Prisoner of War Camp in Luzon.
Records show that Kelder survived the Bataan Death March in April 1942, but succumbed to malaria, pellagra and diphtheria in the camp on Nov. 19. The 26-year-old Army medic was buried with 13 other Americans who died that day in communal grave 717.
Just last year, JPAC/DPMO – which has been under intense scrutiny following a series of missteps - said there was not enough conclusive evidence to warrant disinterment of the remains.
On Jan. 28, 2013, the scientific director of the JPAC Central Identification Laboratory, Thomas Holland, drafted a memorandum that could have closed the case on Kelder and the other nine. In it, Holland wrote, "the existing and available data do not meet the level of scientific certainty required by current DOD disinterment guidance."
But earlier this month, the lab reversed its decision.
"Based upon forensic and historical input … from JPAC and DPMO, this month the Army concurred with the recommendation to disinter unknown remains referred to as "X-816", as well as the other unknown remains previously interred in Common Grave 717, given the probability the remains are commingled," Defense Department spokeswoman Navy Cmdr. Amy Derrick-Frost wrote in a statement to Stars and Stripes. "The disinterment decision was based upon a forensic and historical review by JPAC and DoD that included a number of factors, to include the development of new techniques not available in the 1940s and 1950s (e.g., osteometric sorting, DNA analysis, etc.) and the possibility of multiple identifications if all ten Unknowns are disinterred."
And despite what appears to be a hard-fought victory with JPAC/DPMO, Eakin said he may now have to go back to court to stop JPAC/DPMO because he is worried that the Defense Department's testing methods are outdated and will not produce results.
"I feel conflicted trying to stop them after working so hard to get them to do it," Eakin said during a telephone interview from his Texas home. "I think we have to get control of the situation here.
According to DPMO's website, its lab uses mitochondrial DNA to test remains. But Eakin said he believes nuclear DNA testing provides the best chance to identify the remains of his cousin.
Ed Huffine, vice president of international development for forensic DNA firm Bode Technology Group, Inc. and a former AFDIL DNA chief, said mitochondrial DNA is less precise than nuclear DNA and is best used to support a presumptive identification.
Nuclear DNA provides a definitive ID and can stand on its own, but it's also a far more difficult test, Huffine said.
Inexperienced analysts often have a hard time getting a complete DNA profile from a sample due to environmental factors, which could include the acidity of the soil or remains being buried with metal objects. It takes about a year and more than 100 tests for an analyst to learn how to listen to a sample and set their extraction parameters properly, he said.
If analysts aren't careful, a sample will come back as having no available DNA, he said.
"It's almost an art to get nuclear DNA from skeletal remains," Huffine said. Huffine said that the FBI uses nuclear DNA testing to identify the aged remains of missing persons. He wasn't sure why the Defense Department didn't as well.
Cousin's journey continuesDerrick-Frost, the DOD spokeswoman, said planning for the disinterment is underway and a timeline still being worked out.
Eakin said the DOD has denied families' request to travel to the Philippines and accompany the remains to JPAC/DPMO's lab in Hawaii.
DPMO declined to be interviewed for this story.
For Eakin, the odyssey to bring Kelder home started in 2009 when he began pouring over declassified records pertaining to the 14 unknowns from grave 717, he said. He traced their journey from Luzon to Manila. Four of the individuals were identified using prisoner-maintained burial records, identification tags and military dental records.
Kelder's file indicated that the Army knew he was one of the 10 remaining unknowns.
Eakin then contacted his family members and discovered that Kelder had gold inlays in his teeth, courtesy of his dentist brother. Two of the 10 unknowns had dental patterns that matched Kelder, yet only one had gold inlays. Those remains, designated Manila #2 X-816, were buried beneath the white cross in grave A-12-195.
Yet, the DOD "denied the remains were Bud," Eakin said.
Johnie Webb, JPAC's deputy to the commander for external relations and legislative affairs, verbally denied Eakin's request for disinterment saying there was no evidence to support continued investigation.
But Eakin fought on.
His conclusions were backed by two forensic dentists, both who have consulted with JPAC in the past.
In 2012, Eakin sued the American Battle Monuments Commission and Defense Department to have the remains disinterred for identification.
The case has been working its way through the courts, and Eakin said he believes a judge was about to compel the U.S. government to produce the remains for testing.
Eakin said his family was floored by the call from the Army's Casualty and Mortuary Affairs Operations Center saying the disinterment would take place.
However, he said the exhumation looks like a ploy to gain control of the remains so they can be brought back to Hawaii where JPAC can do the testing without scrutiny, on their own terms, on their clock. Eakin fears this could lead to a wait of many years or worse yet, a botched DNA test.
"I just want to ensure it's done properly," he said. "I just want my cousin's remains returned."
Clarification: A July 3 story about World War II remains being disinterred from graves in the Philippines should have stated the Armed Forces DNA Identification Laboratory uses both nuclear and mitochondrial DNA methods to test remains of U.S. servicemembers. Samples of remains are sent to AFDIL by the Joint POW/MIA Accounting Command. Scientists at AFDIL then decide — based on a variety of factors — which test or combination of tests provides the best chances of acquiring a DNA identification. Stars and Stripes did not contact AFDIL for the story.
---
---
---
---