Fewer dollars means cuts to Pacific quality-of-life programs
by
Seth Robson
April 5, 2012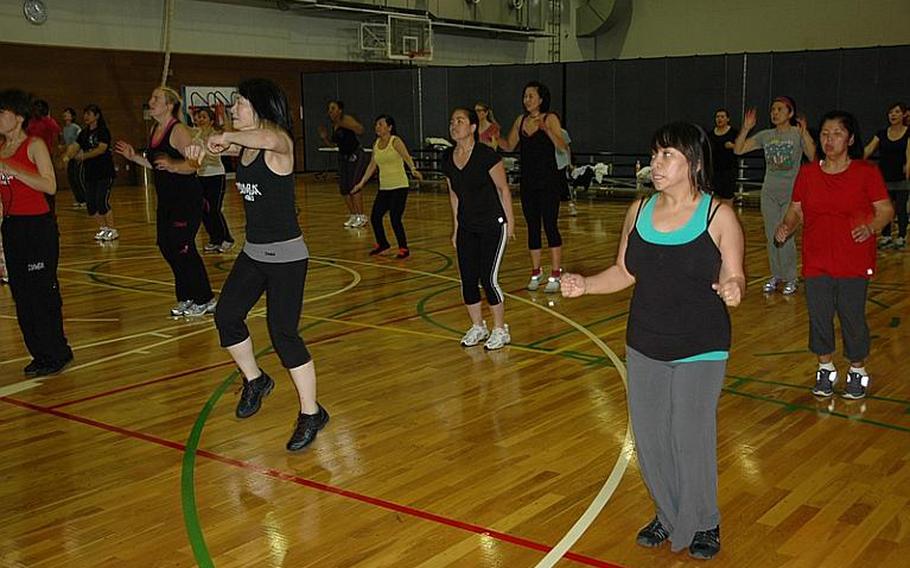 YOKOTA AIR BASE, Japan — Military bases in Japan and South Korea are cutting spending on quality-of-life programs for troops and their families even as the U.S. boosts its commitment to peace and stability in the region.
America's recently announced "strategic pivot" towards Asia includes the deployment of Marines to Australia on six-month rotations, the possible stationing of four warships off Singapore and making more use of military facilities in the Philippines. However, the Pacific buildup also comes at a time when the Department of Defense is looking for ways to trim $487 billion from its budget over the next decade with the possibility of $500 billion of additional cuts if politicians can't agree on a deficit-reduction deal by year's end.
Some of those budget savings are being found in service programs.
Bases in Japan and South Korea reported a range of cutbacks and changes to support services last month, including new fees for gym classes, reduced education center and dining facility hours and fewer library magazine subscriptions.
Base officials would not provide exact dollar figures for how much funding has been lost for quality-of-life programs, although they said bases are looking at additional cost-cutting.
"The many cost-saving measures that are being assessed and considered at all our region garrisons are being done to help off-set the reduction in funds, without having an adverse effect on the quality of our services and programs," according to the Installation Management Command Pacific Region public affairs chief Lawrence Reilly, who said the Army reduced funding for services and programs at posts across the Pacific during fiscal year 2012.
Cuts to support services on Army posts take into account what is available on nearby military bases operated by others services. For example, the Army decided to close Hawaii's Fort Shafter Arts and Crafts Center based partly on the fact that the Joint Base Pearl Harbor-Hickam Arts and Craft Center is only a few miles away, Reilly said.
Some garrisons have reduced operating hours for craft shops and libraries, and others have cut back on gardening and facility custodial contracts, he said.
Services and programs that provide family care, family support and family advocacy will continue to be a priority, but the cost-cutting will continue throughout the Pacific, he said.
"Garrison commanders are conducting customer surveys to help identify what services and programs are valued by community members and should continue," Reilly said. Commanders will identify redundancies and eliminate duplications before reducing or cutting programs and services, he said.
Air Force spokesman Michael Dickerson said funding also has been reduced in various areas across the Air Force.
"Each commander and their wing commanders will need to evaluate the resources provided and balance those with mission and support requirements," he said.
At Osan Air Base in South Korea, for example, education center and dining facility hours were recently reduced, according to Capt. Cody Chiles, a base public affairs officer.
"There is a potential for additional cuts to non-mission essential services such as our indoor pool," he added.
Efforts to rein in spending got under way at Yokota Air Base, Japan, in March with a new system of fees for exercise classes at the Samurai Fitness Center.
Air Force spouse Almira Punla, 35, of the Philippines, who took part in a Zumba class with several dozen women on a basketball court at the gym one morning last month, said she doesn't mind paying.
"It's well worth it," she said. "You are working out at the same time as dancing and having fun with all these gorgeous ladies."
Other austerity measures include less funding for its dining facility, and cutting some magazine subscriptions at the base library.
Base spokesman Master Sgt. Matthew Summers did not list other programs slated for cuts, but said Yokota's ability to fund events in 2012 has been substantially reduced.
"Our [Force Support Squadron] team has been working incredibly hard to balance a reduced budget with the… wing's priority to care for our family members here at Yokota," he said.
Finally, the Navy is also taking steps to do more with less on bases in the Pacific.
Dave Lee, a public affairs specialist with the Navy Installations Command, said fitness programs, single sailor programs, libraries and child and youth programs will remain the highest priority on overseas Navy bases. However, restaurants, bars, golf courses, bowling centers and movie theaters could raise their prices to generate more revenue, he said.
---
---
---
---