Fewer bases, same number of troops in South Korea, US ambassador says
---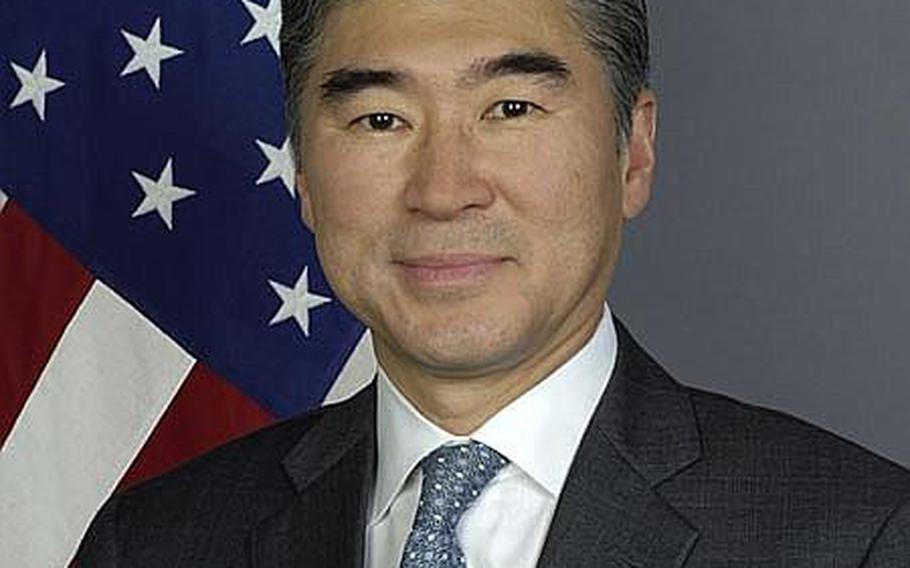 SEOUL — The new U.S. ambassador to South Korea said this week that the only impending change to the U.S. military presence on the peninsula will be the relocation of servicemembers to a smaller number of bases — not a decrease in troop levels.
During a forum Tuesday, Ambassador Sung Kim addressed longstanding concerns that the U.S. might station fewer troops in South Korea as part of the military's overall cost-cutting efforts. Many South Koreans believe such a move would make their country more vulnerable to a North Korean attack, particularly following the death of dictator Kim Jong Il in December and uncertainty about his enigmatic son and successor, Kim Jong Un.
Sung Kim said the relocation of most troops in Seoul or north of the capital city to hubs in Pyeongtaek and Daegu — scheduled to take place "sometime around the year 2016" — would reduce the number of U.S. installations from 107 to 48. But the force level of about 28,500 U.S. troops in the country would remain stable.
His remarks come about one week before U.S. and North Korean envoys are scheduled to meet in Beijing to discuss the North's denuclearization program. The Feb. 23 meeting will be the first direct talks between the two countries since Kim Jong Il's death, and could reveal further information about the younger Kim's priorities and strategies.
"North Korea needs to show the rest of us that they will be serious negotiating partners when negotiations resume," said Sung Kim, a Korean-American who was born in Seoul and appointed ambassador in October.
Unification Ministry officials told reporters on Tuesday that the North is making significant efforts to deify Kim Jong Il and Kim Jong Un and that the country, at least on the surface, appears to be stable two months after Kim Jong Il's death.
Thursday would have been Kim Jong Il's 70th birthday — a date that is expected to be marked in various grandiose ways, including ceremonies and the issuance of commemorative stamps and coins in the North. The Associated Press reported that an 18-foot-tall statue of the deceased leader was unveiled on Tuesday as part of the birthday commemorations.
Little is known about the younger Kim, who ministry officials say has been active since assuming power. He has made 17 public appearances, a dozen of which involved the military.
Much speculation has surrounded whether Kim Jong Un ordered two attacks against the South in 2010 that killed 50 South Korean troops and civilians.
Kim Ki-woong, the ministry's director general of intelligence and analyses, said that who ordered the attacks was not as important as the fact that they occurred, and they were likely coordinated by more than one person.
"A provocation is not something that can be done by just one person," he said. "It is a decision of the North Korean regime."
---
---
---
---