Ferry spotted near Yokosuka won't host ship passengers quarantined for coronavirus, Japan says
by
Hana Kusumoto Caitlin Doornbos
February 7, 2020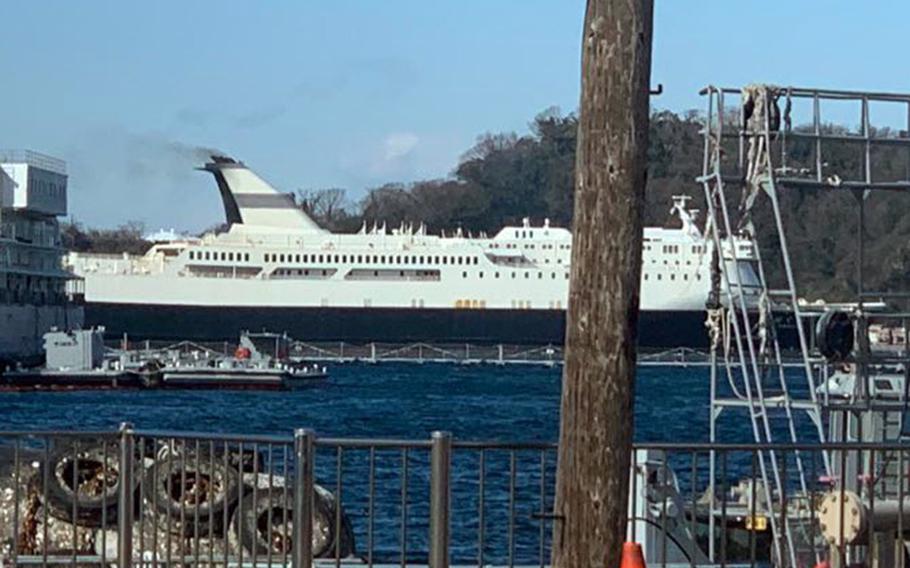 YOKOSUKA NAVAL BASE, Japan — A maritime ferry has carried 40 Japan Self-Defense Forces personnel from Yokosuka to Yokohama, where they are rendering aid to thousands of cruise-ship passengers quarantined for possible exposure to the new coronavirus.
The 17,000-ton Hakuo, chartered by the Ministry of Defense, was berthed at the Japan Maritime Self-Defense Force base in Yokosuka and visible Thursday from the Yokosuka Naval Base pier less than a mile across the bay. The ferry has 94 rooms and is being used by the Self-Defense Forces as a base for those assisting passengers on the Diamond Princess cruise ship quarantined in Yokohama since Tuesday.
As of Friday morning, 61 people on the ship had tested positive for coronavirus, according to Kyodo News.
Reuters reported Thursday that the Hakuo could host Diamond Princess passengers, causing a commotion among some U.S. base residents. Some posted pictures on social media of the Hakuo, calling it the "SS Coronavirus."
The defense ministry decided later to employ the ferry as sleeping quarters for its personnel, a joint staff spokesman told Stars and Stripes on Friday. Some Japanese officials customarily speak on condition of anonymity.
The Self-Defense Forces personnel aboard the Hakuo, which is now berthed at Yokohama's Honmoku Pier near the Diamond Princess, began tending to the cruise ship's passengers and crew on Friday, the joint staff spokesman said. They are providing medical care and other assistance.
The Diamond Princess had been on a 16-day cruise from Yokohama that made stops in Hong Kong, Vietnam, Taiwan and other parts of Japan before returning to Yokohama on Tuesday, according to The Japan Times. The quarantine went into effect after a guest tested positive for coronavirus six days after leaving the ship in Hong Kong on Jan. 25.
Health officials screened 2,666 guests and 1,045 crew aboard the Diamond Princess on Wednesday, according to Princess Cruise Lines.
The ship is to remain under quarantine until Feb. 19 at Yokohama's Daikoku Pier, just across the bay from the city's popular Red Brick Warehouse.
The coronavirus causes fever, cough and shortness of breath, sometimes with fatal outcomes. It was first reported in Wuhan, China on Dec. 31, and China's National Health Commission on Friday said 636 of the more than 31,000 people infected in the country have died. To date, there are no treatments or vaccinations.
doornbos.caitlin@stripes.com Twitter: @CaitlinDoornbos
kusumoto.hana@stripes.com Twitter: @HanaKusumoto