GALLERY / VIDEO
Feral cats undergo mass sterilization surgery to control population at Yongsan
by
Matt Keeler Kim Gamel
May 1, 2019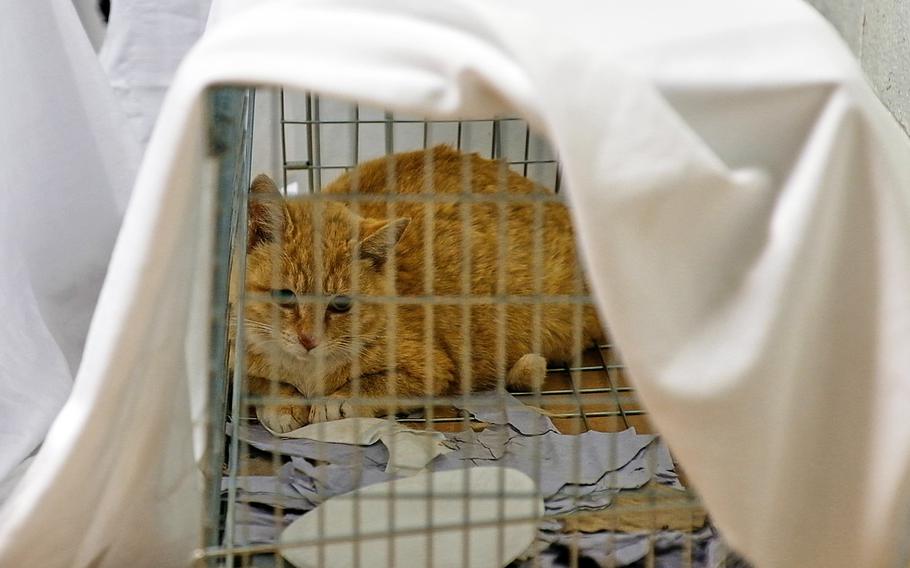 YONGSAN GARRISON, South Korea — Volunteers led by a military spouse/animal welfare specialist rounded up dozens of feral cats over the weekend for a mass sterilization surgery to contain the growing population on this Army garrison in the heart of Seoul.
The operation was the culmination of a monthslong effort by Kerri Burrows, who noticed the problem after moving to Yongsan in July when her husband, an Air Force pilot, was assigned to the U.S.-led Combined Forces Command based there.
"It seemed to be an enormous amount of cats in comparison to other places that I've been," she said, estimating that 200 cats are on Yongsan, which is spread over about 630 acres in one of the trendiest parts of Seoul.
The issue has taken on urgency as the garrison is in the process of closing and eventually returning the land to the South Koreans after most U.S. forces moved to a new hub south of Seoul. Many buildings and stores already have been shuttered, leaving lots of empty space for the cats.
The first hurdle was getting the Army to make an exception to a policy banning the release of stray animals on military bases so the felines could be returned to their original location after being sterilized.
Trap, neuter, release, or TNR, programs are widely considered the most humane way to control feral cat populations, but it took four months to convince policymakers — even with the support of the Yongsan command.
"Policy was a big challenge for us," garrison spokeswoman Julie Kelemen said Sunday. "It went to a legal review and veterinarian consultations … but eventually we came out with a policy that says that this is an approved program."
It's impossible to know where the cats came from. Many are likely endemic to the area, which has been occupied by the U.S. military since the 1950-53 Korean War and Japanese colonial forces before that.
Officials also fear that some soldiers and other members of the military community may have abandoned pets, although none of those trapped over the weekend had microchips that would confirm that.
"It's the right thing to do. Once we leave, the cats might not have a food source and that might lead to suffering," Kelemen said. "Some have been left behind, and so it's a problem we've created and it's one that we want to solve in a humane way."
Burrows, a native of Colombia, Mo., with two decades of experience working with cats, finally got the go-ahead in February and began contacting South Koreans and Americans who had been privately feeding cats.
They began leaving food in open, metal traps so the cats would be unsuspecting when the time came to trigger the doors shut. Meanwhile, a local cat shelter, Nabiya Saranghae, recruited South Korean veterinarians to do the surgery pro bono.
The garrison, which provided 100 traps and an empty building that was turned into an operating room, helped with an awareness campaign in English and Korean to encourage community participation.
On Saturday, the effort came together. Some 30 volunteers from the shelter as well as residents on the base fanned out and trapped 76 cats. They also found one litter of five kittens, which was turned over to the shelter.
All but three of the cats were eligible for the surgery, which was performed in a span of three hours Sunday by a team of 26 South Korean veterinarians and assistants. They donated their time and equipment.
"The vets were fabulous," Burrows said. "Their incisions were impeccable. The cats were under anesthesia for a very little amount of time."
The cats were then safely released after a recovery period.
The president of the Korean Veterinarian Association agreed to repeat the effort, probably in the fall, so they can trap the cats that got away on Saturday as well as any kittens.
Burrows, meanwhile, has a broader goal to persuade the military to change its overall policy.
"If we can have a successful project here and reduce the population here at Yongsan then we can look at changing the guidance for pest control for the entire Army and there would be opportunity for other organizations to do this at other Army bases," she said.
gamel.kim@stripes.com Twitter: @kimgamel