F-35B bird strike at Marine air station in Japan does over $2 million in damage
by
Seth Robson
May 17, 2019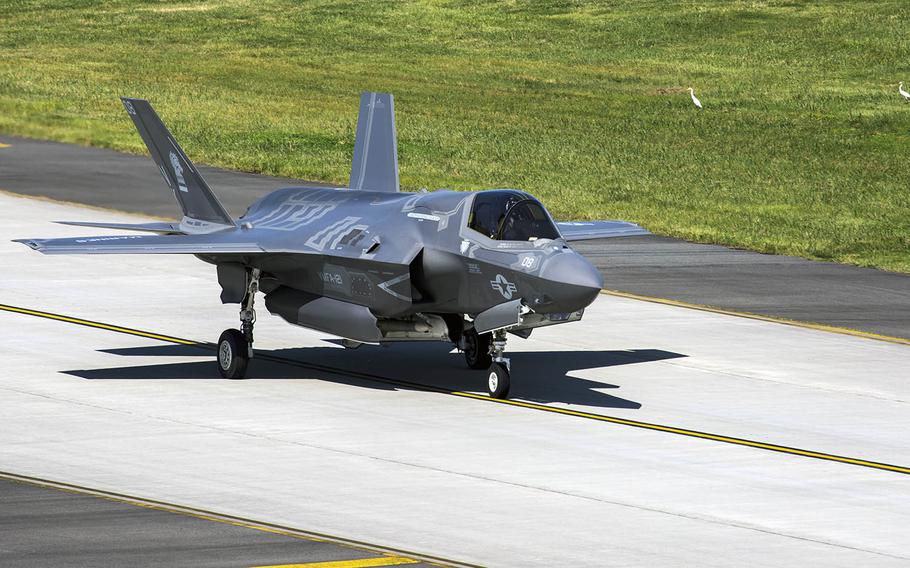 A bird strike has caused more than $2 million damage to a Japan-based Marine Corps F-35B Lightning II fighter, according to a U.S. military spokesman.
"On May 7, 2019, an F-35B with Marine Aircraft Group 12, 1st Marine Aircraft Wing aborted take-off due to a bird strike at Marine Corps Air Station Iwakuni and safely taxied off the runway," Capt. Marco Valenzuela, a spokesman for the Iwakuni-based Marine Aircraft Group 12, said in an email Friday.
Valenzuela did not state whether the aircraft was in the air or on the ground when the strike happened. He did not state what type of bird struck the F-35B.
A safety investigation and a complete damage assessment are ongoing, he said.
"An initial assessment estimated the damage to the aircraft as exceeding the two million dollar threshold, classifying it as a Class A mishap," he said.
Iwakuni, in Yamaguchi prefecture on Japan's largest island, Honshu, has been home to F-35Bs from Marine Fighter Attack Squadron 121 — the Green Knights — since January 2017.
The short-takeoff, vertical-landing version of the aircraft was designed to replace the F/A-18 Hornet, AV-8B Harrier and EA-6B Prowler jets.
Japan's military has been searching for a Japan Air Self-Defense Force F-35A stealth fighter and its pilot, based at Misawa Air Base, who crashed off the eastern coast of Japan May 8.
In April 2018 an Iwakuni-based F-35B with a maintenance issue made an emergency landing at the Japan Air Self-Defense Force's Tsuiki Air Base in Fukuoka Prefecture.