F-22 fighters arrive at Osan Air Base amid North Korea crisis
by
Paul Alexander
February 17, 2016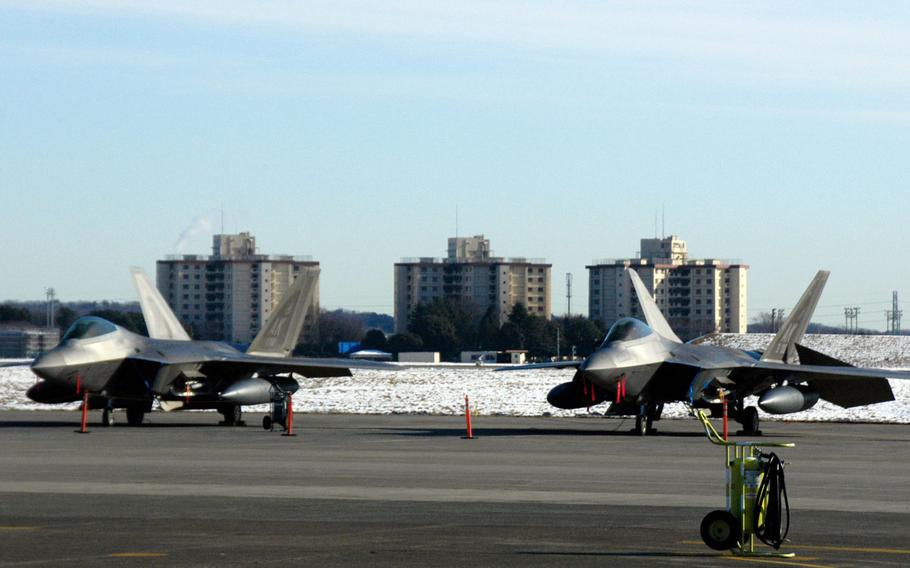 Four U.S. F-22 stealth fighter jets arrived Wednesday in South Korea in the latest salvo of what appears to be a joint strategy with Seoul to pressure North Korea to halt its nuclear weapons and missile programs.
Making another show of force — a B-52 bomber flew over Osan Air Base recently — the U.S. dispatched the jets from Okinawa to Osan, where they were escorted by other U.S. and South Korean fighters before landing. U.S. officials would not say how long they would be there.
On Tuesday, South Korean President Park Geun-hye announced a toughened policy toward Pyongyang, two days after the U.S. deployed an extra Patriot anti-missile system in the country.
Pyongyang, which refers to U.S. and South Korea as war mongers plotting to topple the communist regime, is certain to see the series of moves as a threat. In addition, Park's speech came during birthday celebrations for leader Kim Jong Un's late father and predecessor, Kim Jong Il, and referred to the country's leadership as "merciless" while employing an "extreme reign of terror."
There has been speculation, fueled by media reports citing South Korean government sources, that the North could be preparing for yet another nuclear test after conducting its fourth underground blast on Jan. 6, followed by a rocket launch on Feb. 7 that was widely seen as a test of ballistic missile technology aimed at being able to reach the continental U.S.
38 North, a website run by Johns Hopkins University that monitors North Korea, said although there has been little sign of over preparations for another blast at the North's underground test site, the country has made changes aimed to make satellite monitoring of such activities more difficult and it might be able to "conduct another detonation with little or no warning."
The tit-for-tat escalation of the latest crisis on the peninsula also has seen the resumption of loudspeaker propaganda broadcasts by both Koreas across the Demilitarized Zone, a low-level flight over Osan by an American B-52 from Guam, and the closure of the Kaesong industrial park that had been the last remaining symbol of inter-Korean cooperation.
The U.S. and South Korea also are discussing deployment of the Terminal High-Altitude Area Defense system. Seoul has resisted hosting the system out of concern that it will anger China, a major trade partner, and Russia, who say the system could be used against them.
In a nationally televised address to Parliament, Park spoke for the first time of "regime collapse" if the North doesn't give up its nuclear weapons program. Pyongyang has demanded that it be accepted as a nuclear power, something that Washington has said it will never do.
Park also mentioned unspecified "stronger and more effective" measures. The target so far has seemed to be to hit the impoverished North hard financially. In announcing the closure of Kaesong, where South Korean factories produced goods with cheap North Korean labor, the goal was to deprive the North of its major source of hard currency. Park said Pyongyang had been directly siphoning off the workers' salaries.
Seoul has gone so far as to ask South Koreans to avoid North Korean restaurants abroad, citing concerns that the proceeds go to the regime and finance its local embassies.
This is expected to be broadened soon in a push to cut North Korea's growing exports of labor. South Korea's Yonhap News cited a government official as saying the North's overseas workers has jumped to around 50,000-60,000 in recent years from some 20,000 in 2010.
The U.N. Security Council has been trying to work out new sanctions against the North over the nuclear test and rocket launch, but there are concerns that China is resisting anything with real teeth out of concerns its neighbor could collapse under too much pressure, sparking a flood of refugees and raising the prospect of a pro-U.S. government rising on its doorstep.
Chinese Foreign Minister Wang Yi told reporters Wednesday that the North should "pay the necessary price" for its recent provocations but also said negotiations are key to resolving the situation.
---
---
---