Experts, analysts react to State Department's terse response to N. Korea's missile test
by
Kim Gamel
April 5, 2017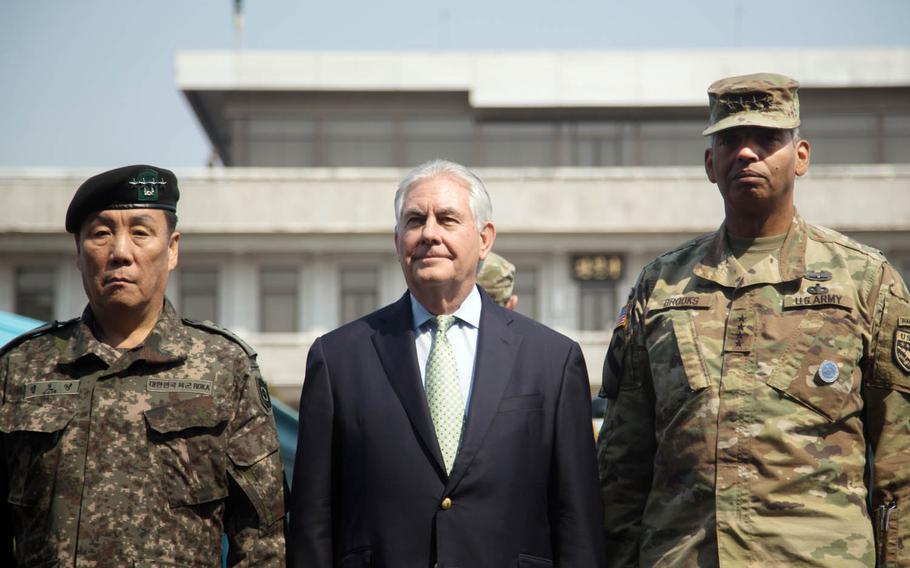 North Korean missile tests usually elicit condemnation, outrage, perhaps a threat of further action, and almost always pledges of solidarity with allies.
Secretary of State Rex Tillerson was unusually terse in his response to the North's latest provocation.
Secretary Tillerson: The United States has spoken enough about North Korea. We have no further comment. https://t.co/ccVPjWTWdX
— Department of State (@StateDept) April 5, 2017"North Korea launched yet another intermediate range ballistic missile. The United States has spoken enough about North Korea. We have no further comment," he said in a statement posted on the State Department's website. It was then distributed on official social media sites.
U.S. Pacific Command said initial assessments indicated the missile fired into the sea off North Korea's east coast on Wednesday [South Korea time] was a KN-15 medium-range ballistic missile. Medium-range missiles are typically classified as having a lesser range than IRBMs.
U.S. Pacific Command Detects, Tracks North Korean Missile Launch https://t.co/IDI0haq6Fy
— U.S. Pacific Command (@PacificCommand) April 4, 2017
Tillerson statement is short, but manages to add confusion. PACOM said MRBM; State says IRBM? (The difference matters.) #NorthKoreapic.twitter.com/BN8apwRvSE
— Ankit Panda (@nktpnd) April 4, 2017Democratic critics reacted swiftly with online criticism and mockery.
Hillary Clinton's former foreign policy adviser, Laura Rosenberger, tweeted that she would've been fired for such a post.
California Rep. Ted Lieu, a Democrat, compared the statement with Tillerson's refusal to respond to questions from reporters about a suspected chemical weapons attack in Syria.
Retweet if you think Rex Tillerson & @realDonaldTrump are in way over their heads. They are no longer for profit CEOs. Lives are at stake. https://t.co/ycoIRuIHUX
— Ted Lieu (@tedlieu) April 5, 2017
Others were more analytical, suggesting it may have been a rebuff of North Korea's propensity to seek attention or possibly even a subtle warning of possible military action that Tillerson has raised previously.
SecState Tillerson denies NK the thing it wants most: attention. "The US has spoken enough about North Korea. We have no further comment"
— Anne Rumsey Gearan (@agearan) April 5, 2017
So either Tillerson is signaling a massive attack on North Korea or he's crawled up inside his sleeping bag at the Jamboree.
— John Podhoretz (@jpodhoretz) April 5, 2017
This is a pretty brilliant response from State to NK launch: "The US has spoken enough about North Korea. We have no further comment." pic.twitter.com/xdsiEa8w1Q
— Jim Sciutto (@jimsciutto) April 5, 2017
Scuitto later added that "attention is like catnip for Kim [Jong Un]. This is diplomatic equivalent of ignoring a rowdy teenager."
And, of course, a parody site that mimics the tone of North Korean media had to weigh in.
Laughably stupid hayseed Rex Tillerson makes mockery of US "diplomats" with limply worded letter with all the impact of weak flatulence. pic.twitter.com/BdwsyFXHAc
— DPRK News Service (@DPRK_News) April 5, 2017
Tillerson, a former Exxon Mobil executive who has largely avoided media contact since becoming America's top diplomat, was more forthcoming about the growing nuclear missile threat from North Korea during his visit to South Korea last month.
At that time, he vowed all options were on the table, including the possibility of military action.
"Let me be very clear: The policy of strategic patience has ended," Tillerson said at a press conference in Seoul. "We are exploring a new range of security and diplomatic measures. If they elevate the threat of their weapons program to a level that we believe requires action, that option is on the table."
gamel.kim@stripes.com Twitter: @kimgamel
---
---
---