Experts: Amid posturing, little chance of all-out war in Korea
by
Jon Rabiroff
June 7, 2010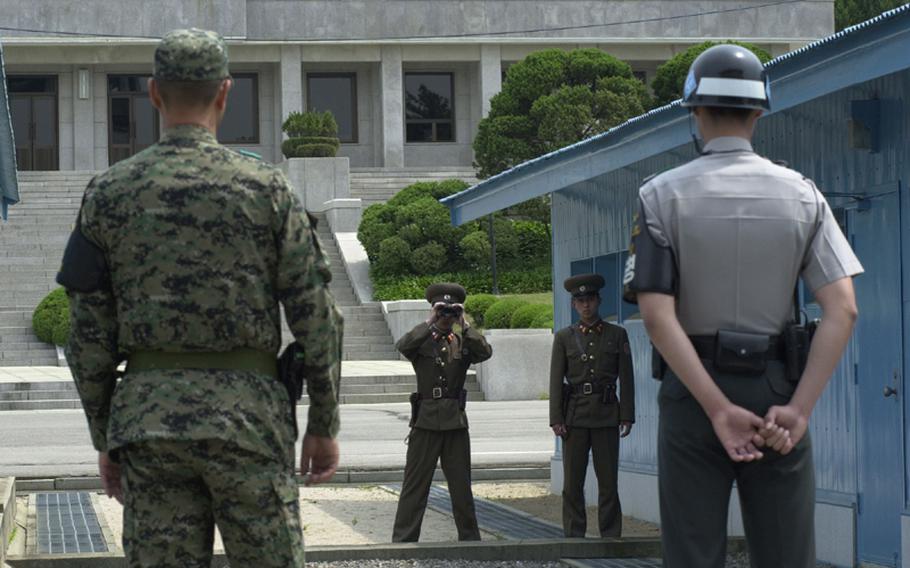 SEOUL — North Korea has threatened attacks and South Korea has warned of consequences, but both sides have already blinked in their stare-down across the Demilitarized Zone.
There is little chance for all-out war over the March 26 sinking of a South Korean warship, according to experts in inter-Korean relations.
"Their emotions got carried away … but [neither side] wants to destroy everything," said David Garretson, a Seoul-based professor of international relations at the University of Maryland University College. "There is just a lot of posturing being done."
And the posturing has continued in recent days.
On Sunday, North Korea's Committee for the Peaceful Reunification said its military would deliver "stern punishment" if the South does not stop its "smear campaign" in retaliation for Cheonan, a sinking that the North has consistently denied any involvement. An international investigation led by South Korea determined a torpedo fired from a North Korean submarine blew the Cheonan in half in the Yellow Sea near the disputed maritime border between the two Koreas.
In a statement carried by the official Korean Central News Agency, the committee said South Korea committed an "unpardonable grave provocation" on Friday by bringing the matter before the U.N. Security Council.
Also Friday, South Korean President Lee Myung-bak again lashed out at the North, called the incident a "reprehensible action" and said North Korea will have to "suffer the consequences" if it continues to "taunt" South Korea.
But the strong words belie any tangible actions.
"The good thing is that we're not headed for war. Neither side wants that," said longtime Seoul-based journalist Mike Breen, author of "The Koreans" and "Kim Jong Il: North Korea's Dear Leader."
After the results of the Cheonan investigation were released last month, Lee issued a laundry list of things his country would do in response, including stopping all trade with North Korea, barring North cargo ships from South Korean waters and resuming "psychological warfare" through the broadcasting of anti-North propaganda from banks of loudspeakers set up near the DMZ.
North Korea responded by threatening "all-out war" if further provoked. It said any propaganda-blasting speakers would be fired upon, and it threatened to bar South Koreans from commuting to the Kaesong Industrial Complex, where workers from the North and South continue to work side by side just north of the DMZ.
The South has since backed off its threat to put up the speakers, according to South Korean media reports. And the North has since barred South Korean companies from removing equipment from factories the South put up and help run in the North's Kaesong Industrial Complex, an apparent contradiction to the North's earlier threats to shut down the operations.
Meanwhile, U.S. officials are trying to tone down the rhetoric.
Defense Secretary Robert Gates on Saturday said plans for a joint U.S.-South Korean naval exercise tentatively scheduled for this week in the Yellow Sea are on hold pending U.N. Security Council response to the Cheonan, and because the exercise might provoke North Korea.
Kim Byungki, an international relations professor at Korea University in Seoul, said that despite threats and harsh words, leaders in both the North and South know an all-out resumption of the Korean War — which was only stopped by armistice in 1953 — would almost certainly mean catastrophic losses of life on both sides of the border and the "wiping out of North Korea as a nation-state."
"As a historian of war, the only thing I can know for a fact is that the use of military force is like the use of a musical instrument — it has a very specific purpose," he said. "There has to be a reason for starting a war."
Kim said he would not be surprised if North Korea did something on a smaller scale — "another show" — like a nuclear or missile test.
South Korean officials have taken a harder line, Garretson said, "but they are finding out it doesn't work. It just makes North Korea come after them even more."
Breen said while there is "credibility factor" in backing off previously issued threats.
"You don't want to stick to your guns out of pride and stubbornness to the point that it gets hundreds of your young men killed," he said.
The best course of action for South Korea is a "contained and controlled" response, Breen said — "You put your hand on his forehead as he swings his fists at you."
The Associated Press contributed to this report.
---
---
---
---