Esper's jaunt to Hawaii, Palau and Guam may include meetup with Japanese defense minister
by
Seth Robson
August 20, 2020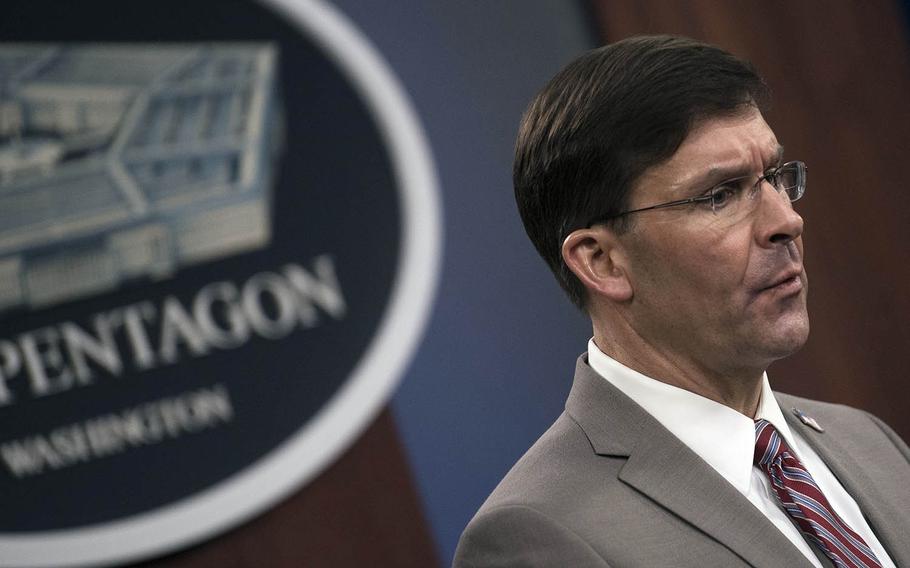 Secretary of Defense Mark Esper will fly out next week for Hawaii, Palau and Guam, where he'll visit troops, meet with local leaders and attend events marking the 75th anniversary of the end of World War II, his office announced Wednesday.
The secretary's exact itinerary is being withheld due to security concerns, Defense Department spokesman John Supple said in an email Thursday.
However, Japanese press reports said Japanese Defense Minister Taro Kono would meet Esper on Guam, with China and North Korea expected to be high on their agenda.
A Japanese Defense Ministry spokesman on Thursday said nothing had been decided regarding a trip and that official schedules are usually released a day before travel.
High-dollar military construction projects on Hawaii, Palau and Guam are highlighted in "Regain the Advantage," a report on resource requirements prepared by Indo-Pacific Command leader Adm. Philip Davison earlier this year.
For example, the report proposes spending $185 million from fiscal years 2022-26 on a tactical, multi-mission, over-the-horizon radar in Palau that will provide long-range capability to detect and track air and surface targets.
A proposed Homeland Defense System-Guam that is forecast to cost just under $1.7 billion for fiscal years 2021-26 would provide 360-degree air-missile defense, according to the report.
"In the future this system will provide the opportunity to provide long-range precision strike capability to the First Island Chain," the report states, referring to archipelagoes that stretch from the Kuril Islands north of Japan to Okinawa, Taiwan, the northern Philippines and Borneo.
Homeland Defense Radar-Hawaii, also referenced in the report, would cost just over $1 billion from fiscal years 2021-26 and fill a gap in the military's ability to detect, track, discriminate and defeat ballistic, cruise and hypersonic threats.
Kono and Esper, along with Australian Minister for Defence Linda Reynolds, had a virtual meeting July 7 where they talked about responding to the coronavirus pandemic and security issues in the East and South China seas, the Department of Defense said in a statement that day.
"With regard to the South China Sea, the ministers reinforced strong opposition to the use of force or coercion to alter the status quo and reaffirmed the importance of upholding freedom of navigation and overflight," the statement said.
Stars and Stripes reporter Hana Kusumoto contributed to this report.
robson.seth@stripes.com Twitter: @SethRobson1
---
---
---
---