Embattled Trump thanks North Korean leader for praise, says 'we will get it done together'
by
Kim Gamel
September 6, 2018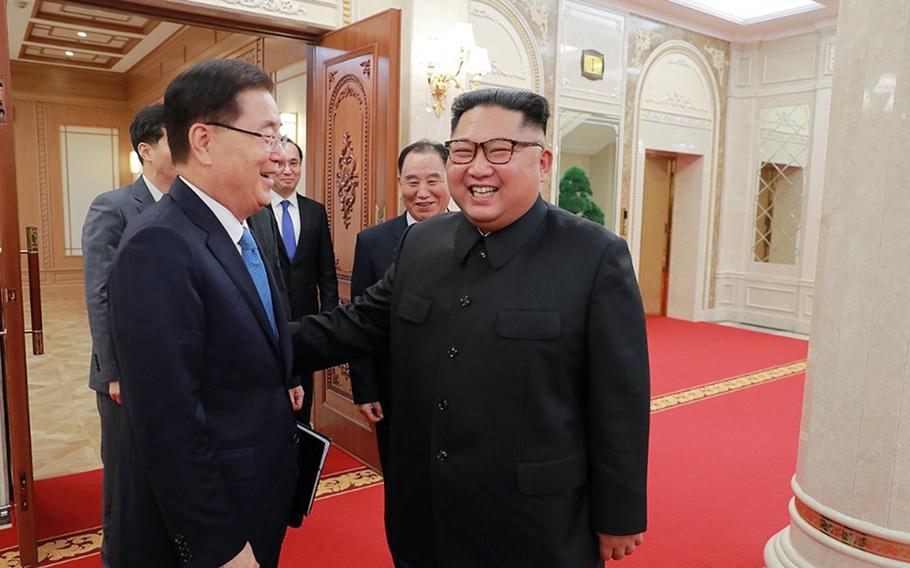 SEOUL, South Korea — President Donald Trump said Thursday that he and Kim Jong Un will "get it done together" after the North Korean leader reaffirmed his commitment to a nuclear-free peninsula.
The tweet came hours after Kim was quoted as saying he still has faith in Trump despite recent setbacks that have caused nuclear talks to deadlock nearly three months after the two leaders met in Singapore.
However, Kim demanded reciprocal goodwill measures and called for a declaration to formally end the Korean War, offering assurances that it would not be linked to the withdrawal of U.S. troops, an envoy said.
"Chairman Kim stressed that he has never spoken negatively about President Trump to his staff or anyone," Moon's national security adviser, Chung Eui-yong, told reporters Thursday, a day after meeting with Kim in Pyongyang.
The praise was welcomed by Trump, who is facing political controversies at home.
"Kim Jong Un of North Korea proclaims 'unwavering faith in President Trump.' Thank you to Chairman Kim. We will get it done together!" Trump wrote.
South Korea, meanwhile, announced that President Moon Jae-in will meet with Kim Sept. 18-20 in Pyongyang for their third summit this year.
The developments raised hopes for a revival of talks that began earlier this year, reversing months of tensions that spiked as the North test-fired several missiles and conducted its sixth and most powerful nuclear test.
The Trump administration would likely seek more specific measures such as a declaration of nuclear-related facilities, said Scott Snyder, the director of the U.S.-Korea policy program at the Council on Foreign Relations.
"There is evidence of progress," he said in a telephone interview. "The question is whether there's enough in Chung Eui-yong's statement to entice the U.S. back into direct talks."
Troubled talksKim expressed hope for ending decades of hostilities "and realizing denuclearization by improving the North Korean-U.S. relationship within Trump's first term," Chung said, adding that Kim had asked him to deliver his message to Washington.
"Chairman Kim Jong Un has made it clear several times that he is firmly committed to denuclearization and expressed frustration over skepticism in the international community over his commitment," Chung said.
"He said he has pre-emptively taken steps necessary for denuclearization and wants to see these goodwill measures being met with goodwill measures," Chung added.
Kim also reaffirmed his commitment to denuclearization in a message reported by the state-run Korean Central News Agency earlier Thursday. The leader said it was "his will to completely remove the danger of armed conflict and horror of war from the Korean peninsula and turn it into the cradle of peace without nuclear weapons and free from nuclear threat," according to KCNA.
Efforts to declare a formal end to the 1950-53 Korean War, which concluded with an armistice after the parties failed to agree on a peace treaty, have emerged as a key issue.
Kim and Moon agreed to work toward "declaring an end to the war and establishing a permanent and solid peace regime," during their first summit on April 27. Trump initially suggested he was open to the idea, tweeting "KOREAN WAR TO END!" that same day.
But his administration has resisted, saying North Korea should give up its nuclear weapons first.
Critics say the declaration, although largely symbolic, would be seen as a prelude to a peace treaty and may strengthen arguments for reducing the U.S. military footprint on the peninsula, something Trump himself has expressed a desire to do.
Elusive peaceSome 28,500 U.S. troops are stationed in South Korea, a legacy of the decades-old alliance that was forged in the war. The North and its communist ally China have long sought to eject the Americans from the region.
But Kim told the South Korean envoys that "the end-of-war declaration has nothing to do with weakening the South Korean-U.S. alliance or the withdrawal of the U.S. forces in the South," Chung said.
North Korea's official newspaper reiterated the declaration demand. "The U.S. should no longer stick to a position of attaining denuclearization before signing a peace treaty," Rodong Sinmun said in a commentary.
"It's easy to be skeptical," said Duyeon Kim, an analyst with the Center for a New American Security.
She said the North Koreans could use try to use a declaration as a propaganda victory and push for an early peace treaty, which could undermine the rationale for the U.S. presence.
"If what Kim Jong Un said is true, then North Korea should have no problem agreeing to an end-of-war declaration that explicitly states that there is no change to the armistice in any way, shape or form," she said.
The North has suspended nuclear and missile tests, blown up its main nuclear testing complex and reportedly begun dismantling a major missile launch site, but critics say those steps may be reversible and the communist state has reportedly continued nuclear activity.
Signaling increasing frustration, Trump canceled a planned trip to the North by Secretary of State Mike Pompeo last month due to what he called insufficient progress nearly three months after an unprecedented U.S.-North Korean summit in Singapore.
Talks have reportedly stalled over Washington's demands for an inventory of the North's weapons and a timeline while the North seeks a phased approach that includes rewards for steps taken.
Chung did not outline any new measures but said Kim vowed that the work on dismantling the engine-test site meant "a complete suspension of future long-range ballistic missile tests."
The two Koreas will hold talks next week to prepare for the summit. Chung also announced plans to open a liaison office in the North Korean border city of Kaesong beforehand.
Moon and Kim met two previous times in the truce village of Panmunjom, which straddles the heavily fortified border, as diplomatic efforts to persuade the North to abandon its nuclear weapons surged after tensions last year raised fears of a nuclear war.
Trump and Kim promised to work toward the "complete denuclearization of the Korean Peninsula" when they met on June 12 in Singapore for the first-ever U.S.-North Korean summit.
Pompeo said that "there is still an enormous amount of work to do," although he refused to elaborate.
"We haven't had any nuclear tests, we haven't had any missile tests, which we consider a good thing," he said Thursday during a visit to India. "But the work of convincing Chairman Kim to make the strategic shift that we've talked about for a brighter future for the people of North Korea continues."
gamel.kim@stripes.com Twitter: @kimgamel