GALLERY
'Eating away at us': US troops honor George Floyd with candlelight vigil at Camp Humphreys
by
Matthew Keeler Kim Gamel
June 11, 2020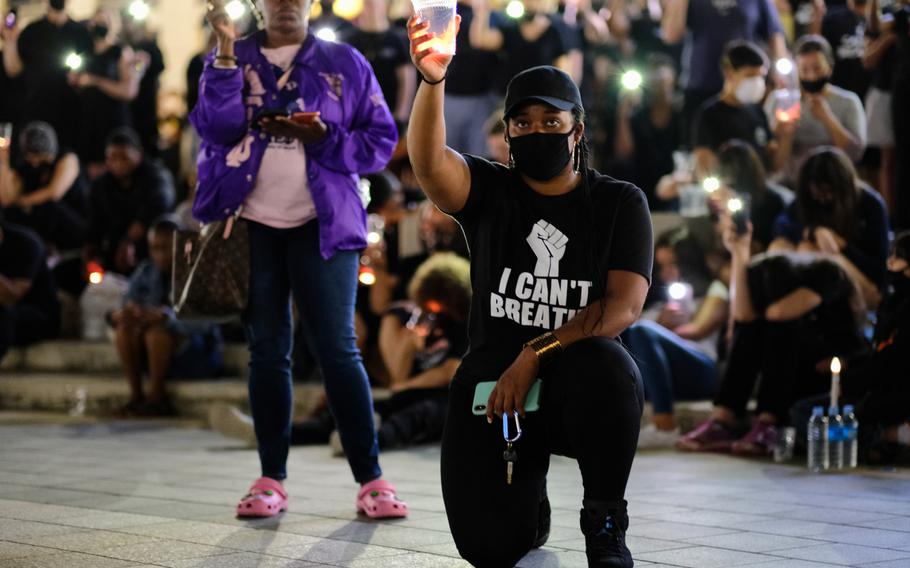 CAMP HUMPHREYS, South Korea — Hundreds of American troops, their loved ones and civilians waved candles and sang during a vigil on Camp Humphreys honoring George Floyd and showing solidarity with the anti-racism movement his death has inspired.
The hourlong gathering on Thursday night was the brainchild of Spc. David Perkins, who secretly distributed some 2,300 flyers at dining facilities, stores, bus stops and other public areas last week before gaining support from the garrison.
It gave the military community an opportunity to commemorate Floyd, a 46-year-old black man who died on May 25 as a white Minneapolis policeman pinned him down with his knee.
"I know the unlawful killing of George Floyd has been something that's been eating away at us," Perkins told the crowd gathered on a plaza in the base's main shopping and entertainment area. "It's been weighing heavily on every conversation, every thought."
"I don't want to see this fire fizzle out and be put on the back burner," he said. "We're not only here for George Floyd but also for families around the globe affected by unjust police and racial prejudices."
Floyd's death has also forced a reckoning in the military about how to confront racism in its own ranks after years of priding itself on diversity.
Gen. Robert Abrams, who commands U.S. Forces Korea, has expressed outrage over the killing and held a town hall-style meeting Sunday after directing subordinate leaders to initiate dialogue with their units.
Perkins, who is assigned to the 304th Expeditionary Signal Battalion, 1st Signal Brigade, said he modeled the candlelight vigil after the popular style of protest in South Korea.
But politics remained largely off-limits. USFK has posted guidelines on the do's and don'ts of self-expression in the military, including a ban on "using contemptuous words" against the president, the vice president, Congress and other government officials.
Some troops were reportedly told last week that they would not be allowed to attend, but officials gave the green light on Sunday.
Many people wore T-shirts emblazoned with "Black Lives Matter" and "I Can't Breathe" as they listened to speeches and a fiery sermon by the hospital chaplain, Lt. Col. Isaac Opara of the 65th Medical Brigade, who also led the crowd in singing "God Bless America."
The crowd hushed for a period of silence that lasted eight minutes and 46 seconds, the length of time the police officer Derek Chauvin kept his knee on Floyd's neck.
Staff Sgt. LaQuawn Stone, 30, said he was amazed that the gathering had taken place, especially since it was organized by a junior enlisted soldier.
"I'm glad the military actually got involved in something," he said after the commemoration. "You always see the military promoting Army 10-milers and Army fun runs, but for once we got involved in something that America was involved in."
His wife, Shaswaila Stone, said she felt rage and fear during the period of silence as she imagined what it would have been like to be there.
"A lot of thoughts came over me, like I don't want that to be my husband; I don't want that to be my son or any of my family members or friends," she said.
Chauvin has been charged with second-degree murder in Floyd's death; three other ex-policemen who were at the scene also face charges of aiding and abetting.
Lt. Col. N.I. Okpowasili, the 2nd Infantry Division command surgeon, usually avoids crowds, but he wanted his five children "to see people gathering for a cause peacefully, and especially for a cause that will hopefully help black people."
He was cautiously optimistic that the momentum toward racial justice will continue but noted that Floyd was only the latest in a string of unarmed black men killed by police.
"Quite frankly in the last 10-15 years so many black folks have been killed and hunted," he said. "So I think this is good, but talk to me in two years."
gamel.kim@stripes.com Twitter: @kimgamel
keeler.matthew@stripes.com Twitter: @MattKeeler1231