Drills over Hawaii preview Alaska's future as a mecca for fighter jets
by
Wyatt Olson
February 1, 2020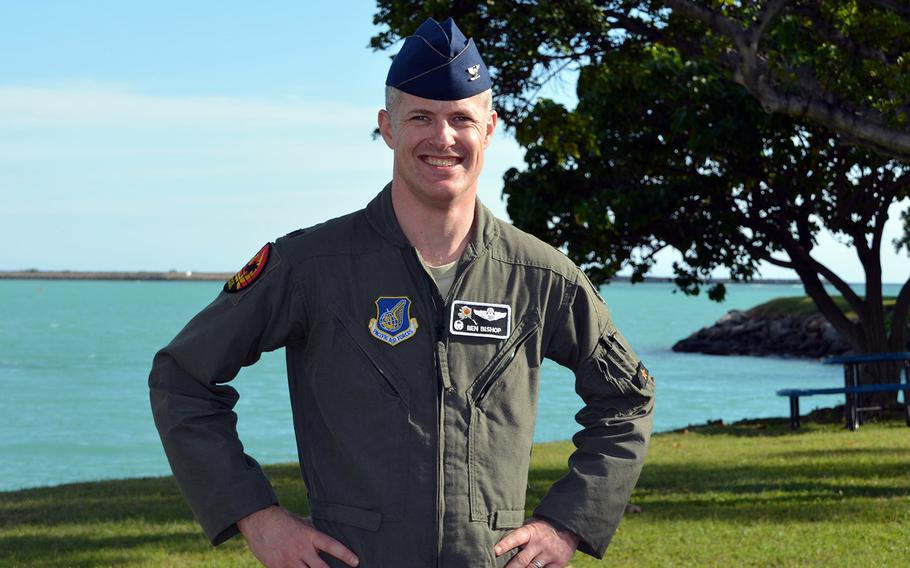 JOINT BASE PEARL HARBOR-HICKAM, Hawaii — In April, Eielson Air Force Base in Alaska will receive its first three F-35A Lightning IIs. By the end of next year, the 354th Fighter Wing there will be flying 54 of the advanced stealth fighters in two squadrons.
If you want to know how that's going to change the Alaskan skies, you needed only look upward in Hawaii this week.
"A good snapshot is what I flew this morning," said Col. Benjamin Bishop, the 354th's commander, during an interview Thursday at Joint Base Pearl Harbor-Hickam.
Bishop led a group of four F-16s and, joined by four other F-16s and four F-22s, posing as enemy adversaries in an Aloha Sentry training drill. The opposing "good guys" were F-22s from the Hawaii Air National Guard and F-35s from Luke Air Force Base, Ariz.
"That's going to be daily operations at Eielson Air Force Base once F-35s are there," Bishop said. We're going to be training regularly, habitually, with F-22s. Our F-16 squadron is going to remain there as the two F-35 squadrons come in."
He now returns to Eielson, where $500 million of infrastructure improvements are underway to make way for the F-35s and about 1,300 additional airmen and their families set to arrive by the end of next year. That's almost double the 750 airmen who were stationed there when the Air Force announced its decision in April 2016 that Eielson would host the service's first operational overseas F-35As.
"We don't see any problems delivering the aircraft and operating the aircraft because of infrastructure," Bishop said.
The combination of two squadrons of F-22 fighters based at Joint Base Elmendorf-Richardson in Anchorage and the full fleet of F-35As will make Alaska home to more fifth-generation fighters than anywhere else in the world, top Air Force officials have said.
Viewed from atop the globe, Alaska is "in the center of every major theater in the northern hemisphere," Bishop said.
From Eielson, the F-35 — with tanker support — can in one sortie cover most of the area under the U.S. European and Indo-Pacific commands, he said.
And the Arctic itself is of growing strategic interest to the United States as climate change melts away ice and exposes once difficult to reach natural resources, resulting in greater competition among nations to control the realm.
The Defense Department's Arctic strategy issued last year declared that American armed forces "must be able to quickly identify threats in the Arctic, respond promptly and effectively to those threats, and shape the security environment to mitigate the prospect of those threats in the future."
The F-35s are essential in achieving that goal.
"As the northern most fighter wing in the Department of Defense, the 354th has the unique ability to operate in the Arctic and become familiar with what it takes to operate in the Arctic," Bishop said. "Being able to project air power from there is an exciting opportunity."
Bishop will witness the next step in April as Eielson's 356th Fighter Squadron welcomes its first F-35s into the fold. His two-year command is up this summer, however, so he won't be on hand at year's end when the squadron's full complement is expected to be in place.
olson.wyatt@stripes.com Twitter: @WyattWOlson